Mexico feels like a second home to me. It was a family favorite trip destination, and I've made return trips here more than anywhere else. On our latest visit, we had every intention of doing nothing. With a 4-month-old and a 2-year old, life was crazy (still is) and we were tired (still are)! But that travel bug and sense of adventure won't die, it seems to grow stronger and stronger every year. We enjoyed the beautiful Mexican beaches and followed a relaxed schedule, but we also explored some new things this time around. We were on a mission to discover some cenotes with a baby and toddler.
A cenote is a natural sinkhole where limestone collapsed in and exposed natural groundwater beneath. Most known cenotes are in Mexico's Yucatan Peninsula, and there are a few elsewhere in the world. Since the ground has literally fallen in, cenotes are not necessarily the easiest to access, and especially not with a baby and toddler. I was intrigued and determined though, and I had heard some might be family-friendly. I researched several since I didn't want to arrive and realize we couldn't make it in with the kids.
You can find some group tours going to cenotes, or arrange for a private tour. We rented a car for more flexibility. Read below for the cenotes we visited and the additional ones we considered.
Yucatan Cenotes with a baby and toddler
Cenote Ik Kil is less than 10 minutes down the road from Chichen Itza. It's strikingly beautiful with 80+ foot lush vines hanging from the large opening, reminiscent of Indiana Jones and Avatar.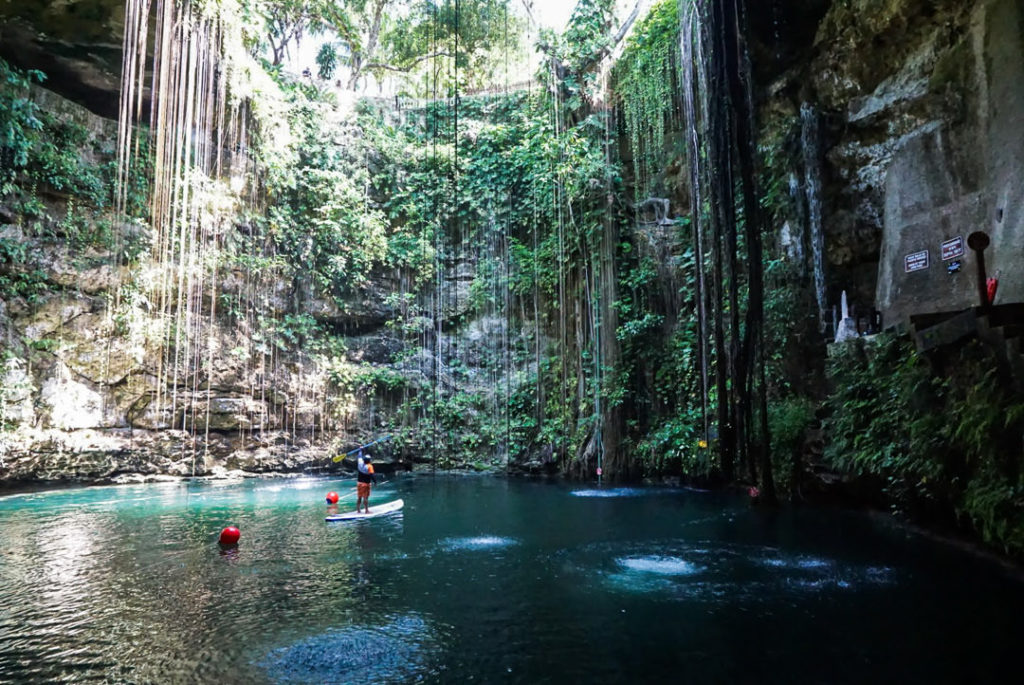 When we entered we were ushered right away to use the changing facilities, store our belongings in lockers (for an additional fee) and rinse off in the showers before walking down to the cenote. We could have brought our backpack down with us but didn't realize at the time.
You have to walk down a wide stone staircase, approximately 85′ (26m) below ground. There are a few different viewpoints to peek into the cenote on your way down. I wore the baby in our Ergo carrier and had flip flops on as I walked down. It's damp and can be slippery, but it's a properly structured staircase with chain railings along the walls for balance so doable with a toddler.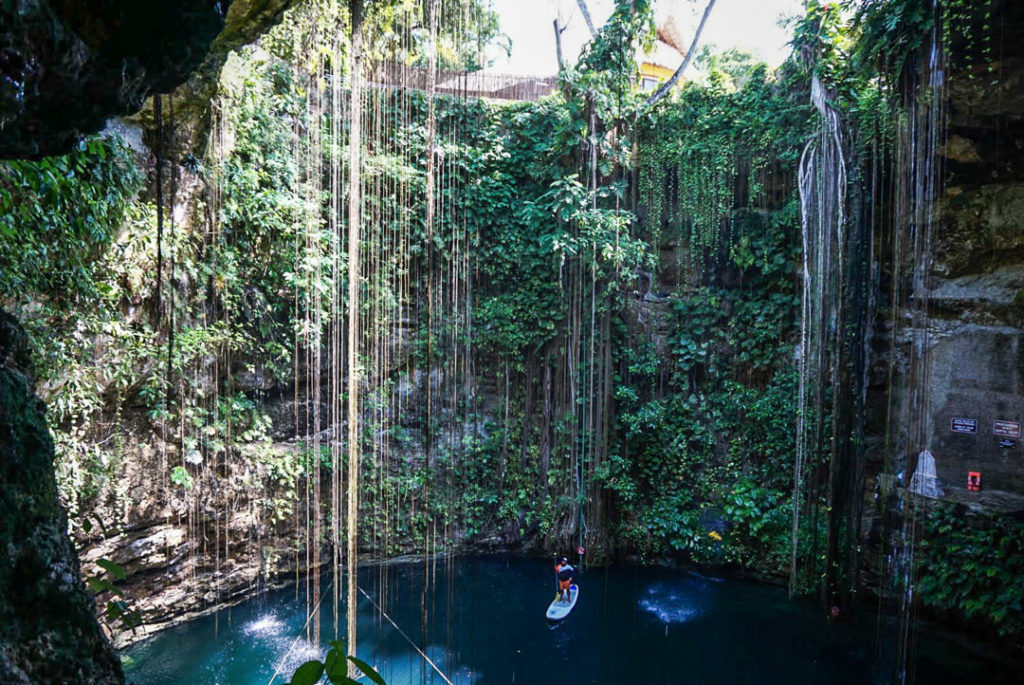 There's a platform around part of the pool and a separate staircase that goes about halfway up to jump. Steve and I both jumped from the platform, so fun! The pool is about 130′ (40m) deep, and approximately 200′ (60m) in diameter. It's a big, beautiful natural pool! There are large wooden ladders to assist in getting in and out of the cenote. Since this one is so deep you have to be extra careful with kids, but it's still possible to bring them.
If bringing kids, make sure (a) you're a strong enough swimmer to swim/tread water while holding them, or (b) they have a flotation device that will keep them completely above water, or (c) they're older and strong enough swimmers to manage on their own. I would not feel comfortable bringing a baby in the pool itself because it's so deep and difficult to climb in and out while holding something else. They have life jackets available to rent, but we brought our own inflatable ring for Elden, and he went in with Steve. You can also visit to admire the vines without swimming if you want.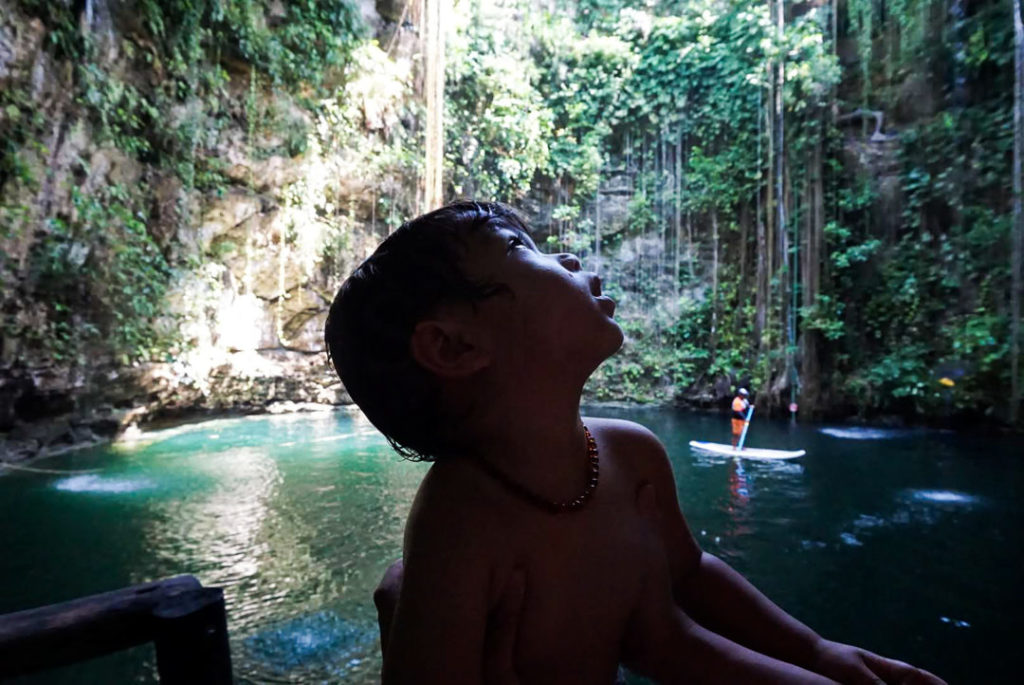 Since Cenote Ik Kil is so close to Chichen Itza many tour buses stop at both attractions and it can get very crowded. If you want to avoid the crowds, don't join a big group tour and try to get there early. We arrived at 10am and only a few other people were there.
Cenote Suytun is about 45 minutes from Chichen Itza and only about 10 minutes from Valladolid. Like Cenote Ik Kil, you have to walk down a big stone staircase to access the cenote. The stairs got steeper as we went down, but it was dry and there are rope railings on the wall. The stairs are probably easier for little ones because they have smaller feet!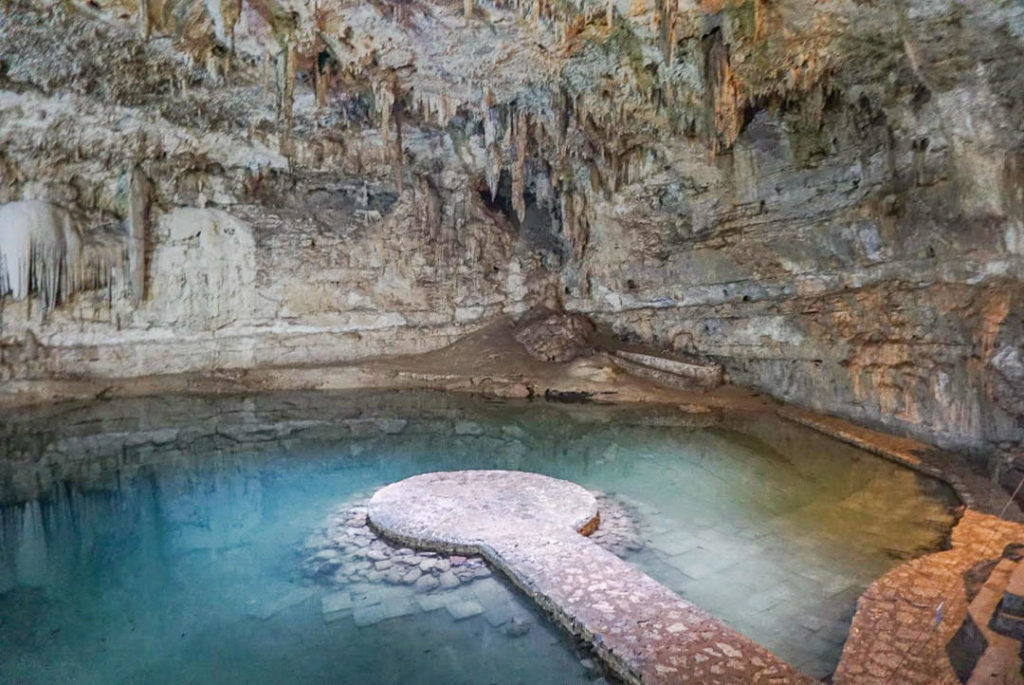 The sinkhole where the ground fell in is fairly small, but the cave beneath is significant. The hole lets in sunlight which shines directly on a stone center platform in the middle of the pool. It felt like a platform for praying to the sun god or for sacrificial offerings. We visited at the end of a long day and decided not to swim in this one, but the pool is shallow and should be good for kids. They have life jackets to use if you swim.
It's not as popular as the other two on this list but is gaining awareness. We arrived shortly before closing and we had the place completely to ourselves. This made our visit even more special, but also a little eerie! We were deep underground and Steve said it reminded him of the cave in Harry Potter and the Half-Blood Prince.
Cenote Azul is about 20 minutes south of Playa del Carmen, and about 30 minutes north of Tulum. It was the most family-friendly cenote we visited. This one is different from the other two as it's completely open to the sky, not underground in a cave. Cenote Azul is big. There are a couple of smaller pools and one huge pool that seems to go on and on with amazing little nooks and coves.
Throughout the jungle-like property, there are limestone stairs and walkways which provides a little more natural grip, but some parts are uneven so watch your step. Orlo slept nearly the whole time we were here and I had him in the carrier (both in and out of the pool!). I felt better having him in the carrier at all the cenotes since my hands were free to hold a railing and catch a fall (thankfully I didn't slip at all).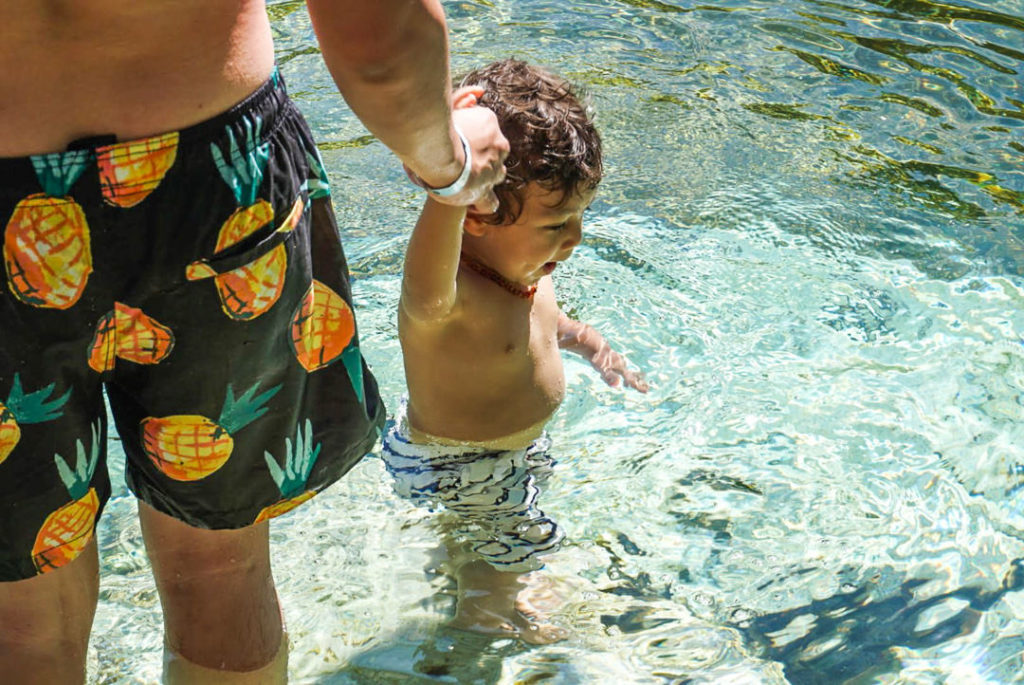 There are various sized rocks throughout the pools. Some are massive and flat which are best for young kids. There were multiple areas of the cenote with rocks like this where Elden (2 years old) could stand and still only be about half underwater. It was the perfect depth for him. He had a blast splashing in the "blue pool." There are some boardwalks over the pool so you can walk across, and many people relax on them as well. People seemed to camp out here for several hours, setting up towels, food, and whatnot like a day at the beach but on a bunch of big rocks.
Cenote Azul is naturally home to the lovely little fish that nibble on your feet. Have you ever been to a fish spa? This cenote is a natural fish spa, if you keep your feet still in the water they'll swim up to you and nibble the dead skin off your feet. It tickles, but is nice for anyone with rough feet! If you move around in the water they will avoid you. Elden was amused watching the fish, but they wouldn't get close to him as he can't stay still.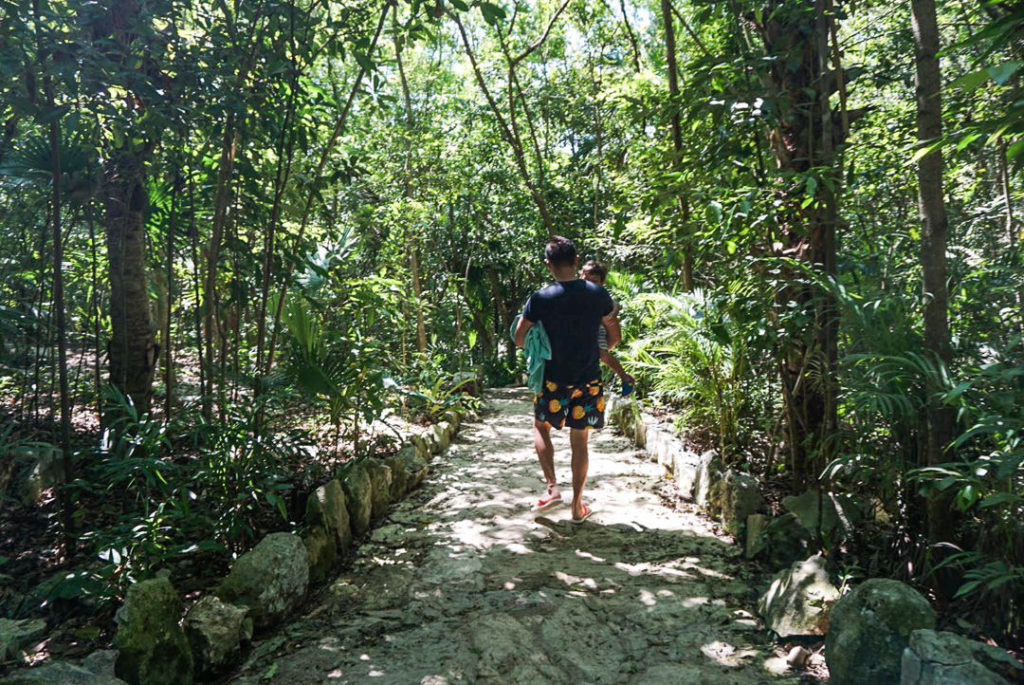 This cenote was packed with families when we visited on a weekday afternoon and is even more crowded on weekends. It's popular with both locals and tourists. If you arrive earlier there should be fewer crowds, but either way, it is a very large cenote that can accommodate many people.
Other Cenotes we considered visiting with a baby and toddler
I looked into the below three cenotes as well but ultimately we decided to skip them.
Cenote Dos Ojos
Cenote Dos Ojos (or Two Eyes) is probably the most well-known cenote in the area. It looks stunning, but I believe you have to snorkel or scuba dive through various caves in order to really appreciate it. I saw one photo of a baby in an inflatable boat and read about another baby being watched by a tour guide while the parents went in. This one, in my opinion, is not a baby or toddler-friendly cenote. It should be okay if your kids are a little older and can swim with a life vest independently.
Cenote Dos Osos
Cenote Dos Osos (or Two Bears) is another very family-friendly cenote, similar to Cenote Azul, but with more. In addition to the cenote pool, they have an adventure park where you can go on water slides, go kayaking and snorkeling. Although very different words and places, sometimes Dos Osos and Dos Ojos get mixed up so make sure you pay attention to the s and j.
Cenote Cristalino
Cenote Cristilano is right next to Cenote Azul and appears very similar. It's accessible with young kids, but I'm not sure if there are many shallow parts.
Important Notes
Bring your own towels.
Bring biodegradable sunscreen – some regular sunscreens are now banned at cenotes as they're upsetting the ecosystem. You can also always use rash guards and hats with SPF to minimize how much sunscreen you need.
Bring food, some of them have snacks for sale, but otherwise, they are usually a little off the beaten path.
Bring cash, you have to pay an entrance fee at most all cenotes.
Many of them offer life vests for rent, but not necessarily all of them, check ahead if you definitely need one.
Cenotes are not stroller-friendly, leave the stroller at your hotel.
Cenotes can be great for snorkeling, bring your own gear or check if the one you're visiting offers rentals.
I felt like we'd discovered hidden treasure after visiting the cenotes. They seem so secretive since they're tucked away and some are underground. If you travel to Cancun, Playa del Carmen, Riviera Maya, Tulum or elsewhere in the Yucatan Peninsula, make sure you visit some cenotes. Even with kids, even with a baby or toddler, you can find one that will work for you and it's totally worth it. They're so magical – enjoy!
Related Reading
Pin it for later
Don't forget to pin this for future reference, and share it with any friends!