After we moved to the Seattle area, we were excited to get outside and explore the famously beautiful Pacific Northwest (PNW). With a baby and toddler, and minimal hiking experience though, we needed to find easy hikes near Seattle.
Over several months we walked and hiked the below beautiful places. If you're visiting Seattle, these places are all close enough to downtown Seattle but still offer you an escape from the city and a look into the gorgeous PNW. Plus they're all easy, family-friendly hikes.
Easy family-friendly hikes near Seattle
About one hour east of downtown Seattle you'll enter the Cascade Mountains through Snoqualmie Pass. Gold Creek Pond Trail is one of the most beautiful easy hikes in the area. It's accessible year-round so you can visit in all seasons. It's a short 1 mile (1.6 km) loop trail that's flat and wide enough to accommodate strollers.
This is one where you don't have to work hard to get to the beautiful view, which can be helpful with young kids in tow! We spent an hour leisurely strolling the loop, though you can easily spend more time here. You can pack snacks or lunch (or even dinner in the summer) to eat at the picnic tables around the pond. This beauty is one of my favorite spots in the PNW so far!
Orlo (6 months old) going for a walk around the pond
Also in the Snoqualmie Pass area (about an hour outside of Seattle) and only about 15 minutes from Gold Creek Pond, you'll find Franklin Falls. This trail is 2 miles (3.2 km) out and back, and we spent about 1.5 hours here. It has some elevation gains, but the trail is well kept with proper stairs that make the trek easy. It is not stroller friendly, but our toddler easily walked the trail himself until he got too tired. Bring a baby carrier!
At the end of the trail out you come face to face with the beautiful rushing Franklin Falls waterfall. You're able to get up close and personal so watch the little ones closely! Our toddler loved the roar and spray from the falls. Halfway back we got stuck in a downpour, but it didn't dampen the mood. We did both this trail and the Gold Creek Pond Trail back to back since they're so close to one another and short enough to pair.
Elden (2 years old) walking the Franklin Falls trail
About 20 minutes outside of downtown Seattle in Kirkland, WA you'll find Juanita Beach Park and Bay Park. This one is not really a hike, but it has a decent family-friendly trail and provides some pretty Lake Washington views. I learned about this one through Hike it Baby (a great organization helping parents foster a love for the outdoors in their children). I did this one pregnant with a toddler, with a toddler and a baby, and in every season so it's easily doable for almost everyone. It's almost completely flat, and okay for strollers.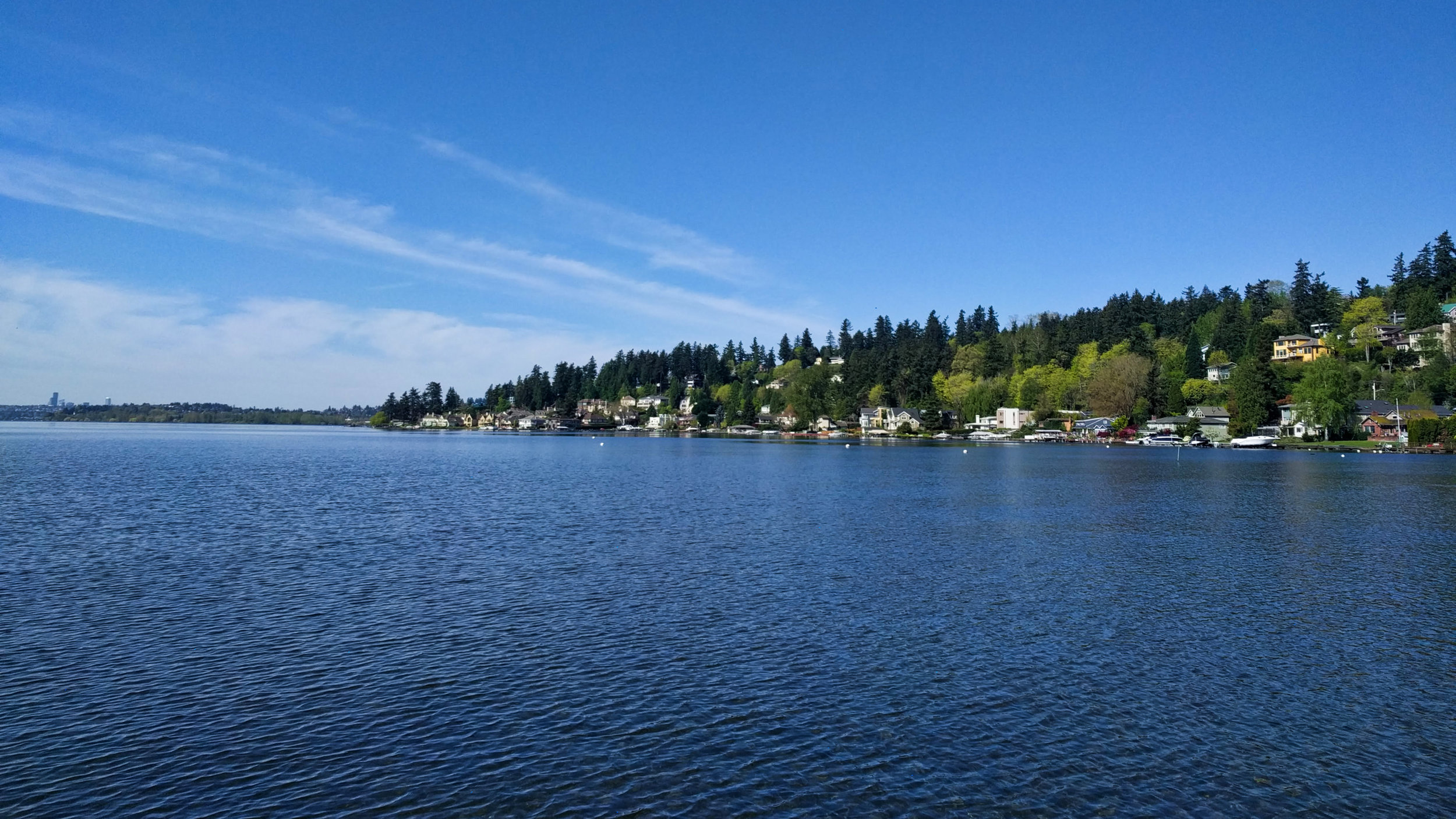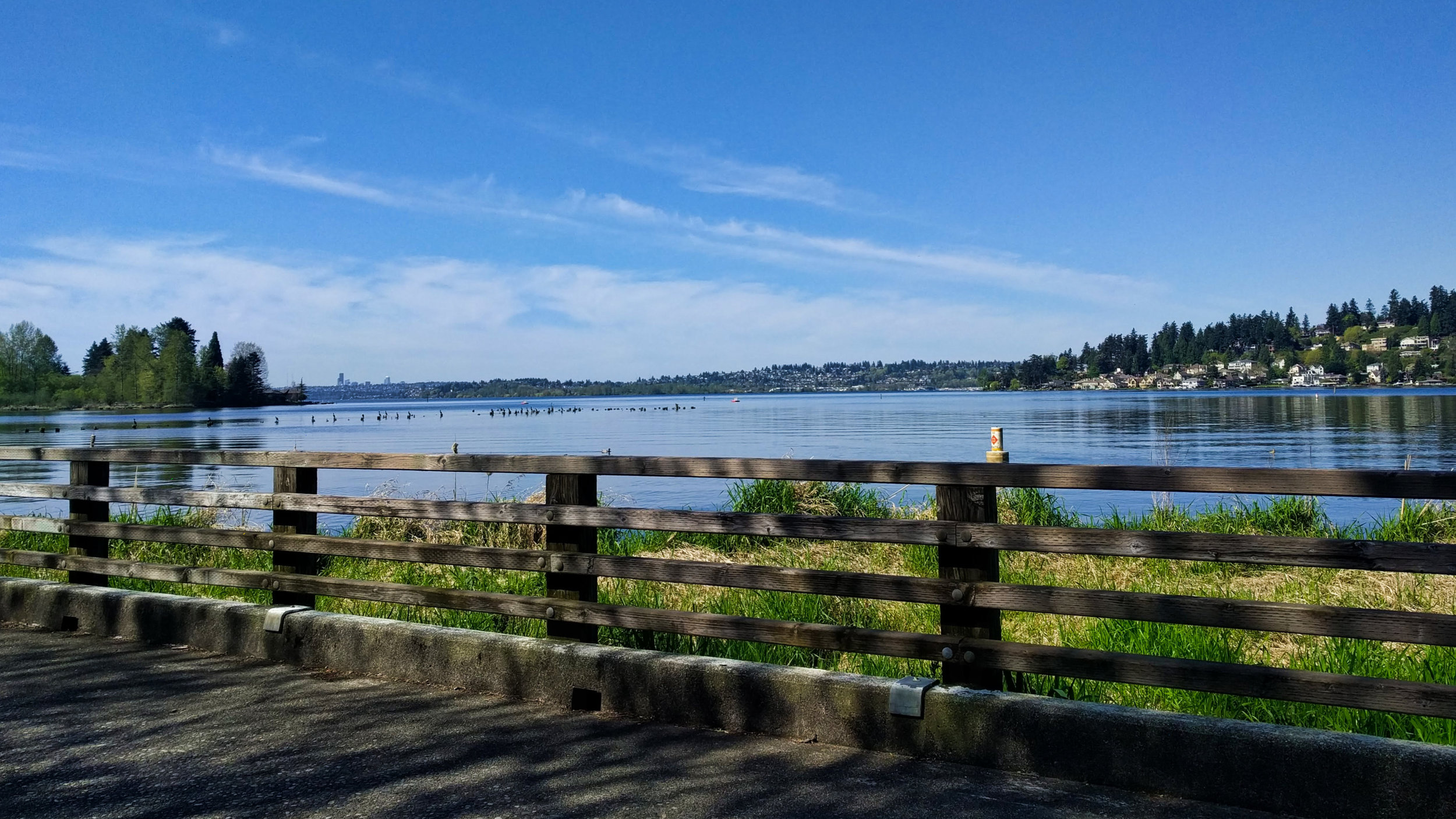 You can start at Jaunita Beach Park and loop around the boardwalk trail which uniquely goes out over the water directly. Then exit the park (walking, no need to move your car), turn right on Juanita Drive and right again on 98th Ave NE and a little way down the road you'll see the Bay Park entry on the right. First, it's a long flat boardwalk that borders the lake. Toddlers seem to love running on here. Through the park, at the other end, there will be more boardwalks over the water where you can often see turtles and ducks. This is a very family-friendly hike with beautiful water views and other fun things to do nearby in Juanita.
Elden (2 years old) walking the Juanita Bay Park boardwalk
About 25 minutes outside of downtown Seattle is a town called Sammamish, Washington. Here you'll find Evan's Creek Preserve. It doesn't have views as beautiful as the other places on this list, but it's beautiful in its own right. If you're in this area, Evan's Creek is a nice, easy nature escape.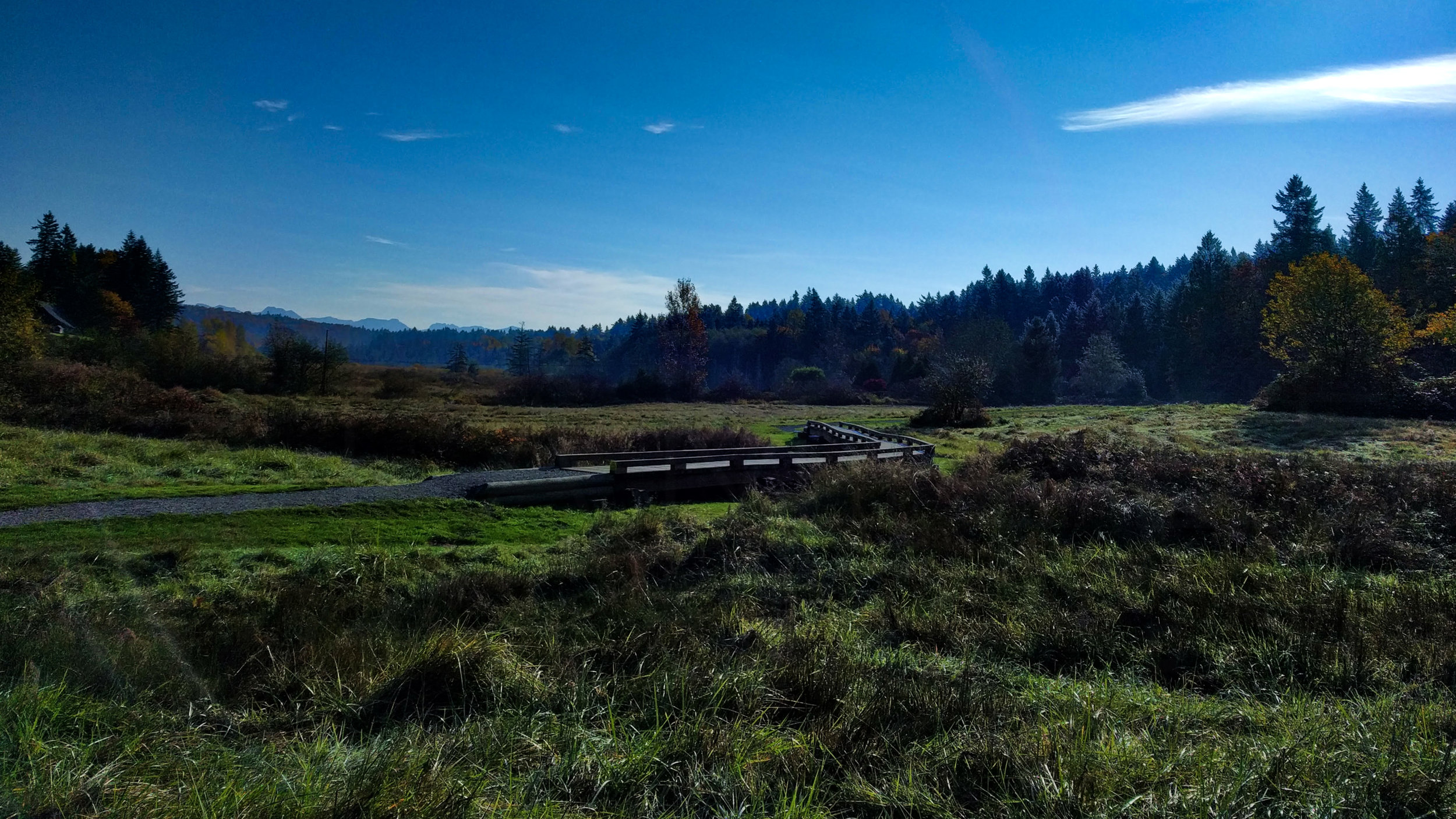 There are a few different trail options so you can vary your hike length up to 3 miles (4.8 km). I used a stroller for my toddler because I was 30+ weeks pregnant, but it's not really a stroller-friendly trail. There are some steep (albeit short) inclines and declines, and the path narrows quite a bit in certain spots. I'd recommend a baby carrier over a stroller.
If you head about 30 minutes east of downtown Seattle you'll be in Snoqualmie, Washington (not to be confused with Snoqualmie Pass in the mountains). Here you'll find Snoqualmie Falls, a powerful 268′ (82 m) waterfall. There's a free parking lot at the top of the falls and at the bottom, so you can drive and view the falls from both spots without doing the hike, but then you'll miss half of the nature escape!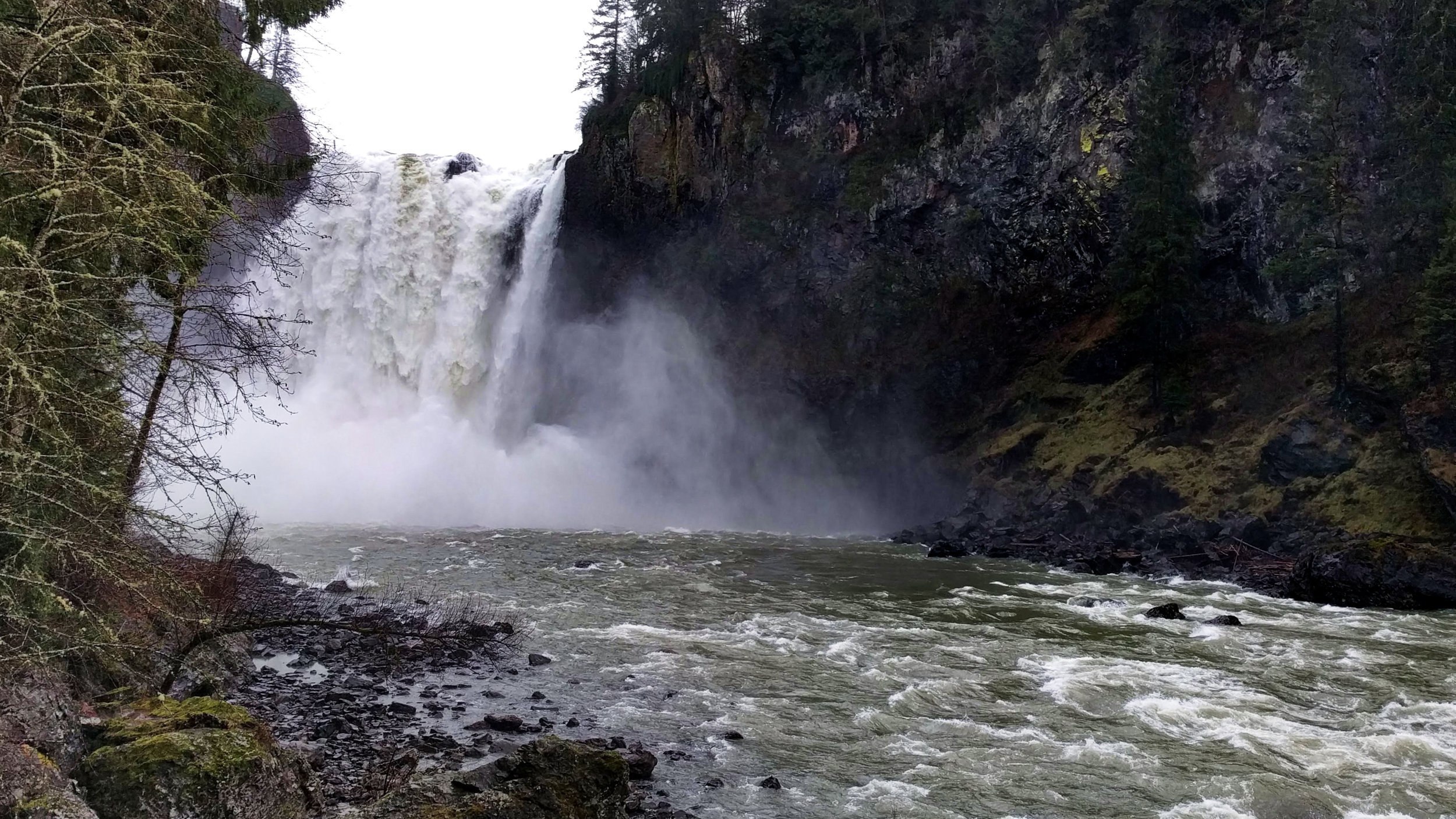 The trail is only about 1 mile (1.6 km), but it descends about 300′ (90 m). The elevation climb is a bit steep so it's not stroller friendly. A baby carrier is your friend for this hike. The waterfall is extremely powerful so expect to get wet as you get close to the falls.
Steve & Elden (23 months old) excited to be outside hiking again
Only about an hour from downtown Seattle, you can transport yourself into a magically secret garden, The Bloedel Reserve. Take the Bainbridge Island ferry from downtown Seattle and drive about 15 minutes north to the reserve. You have to pay an admission fee here, but it's worth it. There are some hills, but it's a wide, well-kept path passable with a jogging stroller or other similar stroller with big wheels. Our toddler probably road half the way and walked the other half, collecting leaves as he went.
This is one where you really see why the Pacific Northwest is known as such a gloriously green wonderland. The trail immerses you through 12 gorgeous gardens. From rich moss to sky-high trees and every beautiful flora in between.
Elden (21 months old) collecting leaves along the trail
If you want to spend a little more time on Bainbridge there's a cute walkable downtown area and a children's museum for the little ones to play.
—
If you're traveling to Seattle, make sure you get outside, preferably on a trail, to really be able to appreciate some of the Pacific Northwest beauty. These easy and family-friendly hikes near Seattle are a great start. Happy hiking!
---
RELATED READING
---