A sprawling metropolis of over 10 million people perched on cliffs above the Pacific Ocean, Lima is a rich fusion of past and present. A modern foodie haven, beautiful historic reflections, and family-friendly attitude make Lima a great place to explore. We had a fun day touring Lima with our baby and toddler.
I wasn't initially excited about Lima, but we had to pass through on our way to the Sacred Valley/Machu Picchu and we'll give most any place a chance. We stayed in Lima the first two nights after arriving in Peru, and an additional half-night prior to a major long-haul to Italy. Though after arriving late at night, and needing to depart early in the morning to Cusco, we only had one full day to explore the city. Lima, Peru is much larger than I imagined. We only explored two of the many districts in the city, and it took 45 minutes to get from one to the other. 
Arriving in Lima, Peru
Stepping outside an airport in a new place is always fascinating. I love the assault on your senses and sometimes in your face culture shock. You get a quick read on a place by simply observing the airport chaos. We were outside around 11pm (23:00), and didn't leave in a car until probably 12am.
As soon as we got out to the road multiple people approached us offering taxi rides. We were scammed when we were so young and naive in Shanghai this way and always try to decline or ignore people who approach us directly offering rides. They were dressed formally, had some sort of badge and kept saying "taxi oficial" but we're always wary after the Shanghai incident.
Steve requested an uber and we kept tracking the car, but it had trouble finding us. There were several gates and different lanes cars couldn't cross which made it confusing and difficult as our location pin wasn't accurate enough to each separate lane for the driver to determine how to get to us. He went around and around, and we tried another car or two but the same problem. We wandered around more, and eventually took an official taxi since it was getting too late.  
Lima Accommodations
Despite the late hour we were greeted and helped at the door of our hotel, Farona Grand Hotel. Check-in was quick and we were up to our room and asleep soon thereafter. They provided a crib. The hotel was basic but clean and in a great location.
Breakfast was included at our hotel so we ate there before heading out the next morning. After our trials getting transportation at the airport the previous night, we figured we would ask the doorman to call us a taxi. His first question, "oficial or unoficial?" We knew about the official versus unofficial taxis but didn't realize how normal the "unofficial" taxis were. Unofficial made it sound kind of sketchy, but if the hotel was semi-endorsing it by providing the option to us, it couldn't be so bad. We went with unofficial because of the cheaper cost, and it still seemed a safe enough option. We drove across the city from Miraflores district to the historic district. Morning commute traffic slowed us a bit and it took a little under an hour. 
Historic Center
The historic center is full of beautiful, ornate buildings. It's fun to wander the streets and admire the architecture. We went to the Cathedral Basilica of Lima, which they began constructing in 1535, and the Archbishop's Palace of Lima (not nearly as old, built in the 1920s), the residence of the Archbishop of Lima and the administrative headquarters of the Roman Catholic Archdiocese of Lima. We wandered Plaza Mayor (or Plaza de Armas of Lima) and its surrounding streets. We popped in the ChocoMuseo Lima for some yummy samples and found everything chocolate inside from 100% chocolate to chocolate nibs, tea and beyond.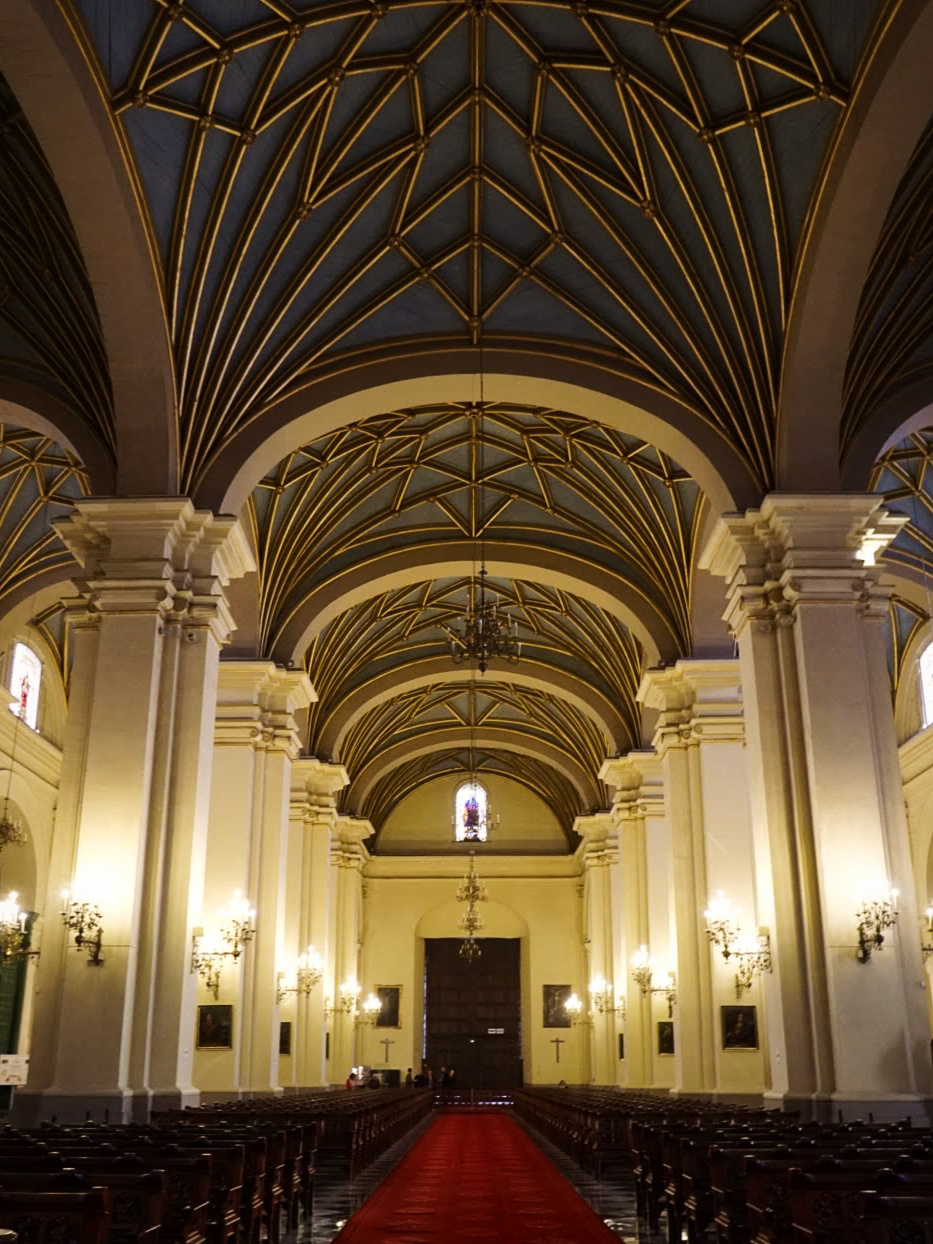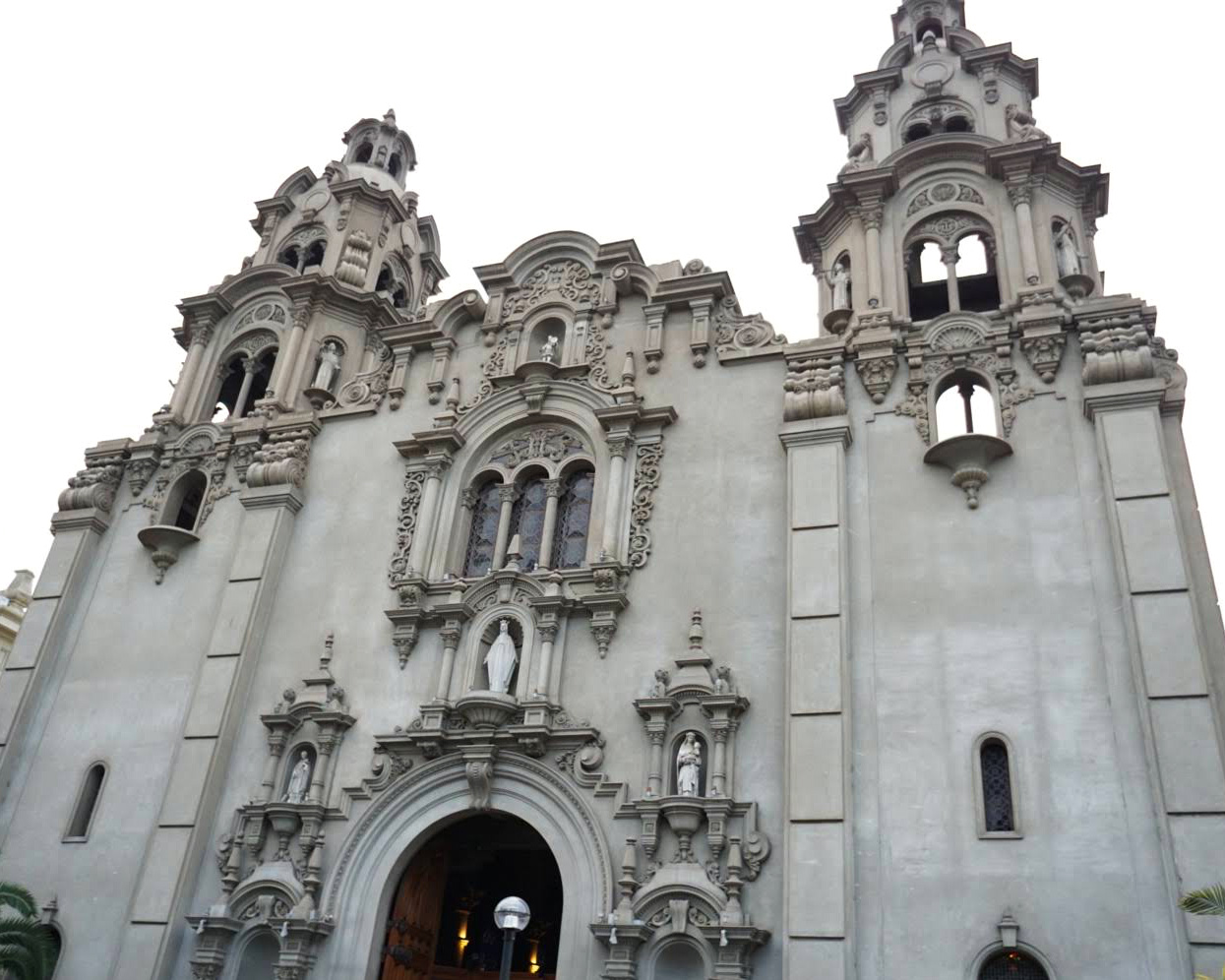 We hung out in the square in front of the Basílica y Convento de San Francisco de Lima (or Saint Francis Monastery), which is on the UNESCO World Heritage List. Elden joined other toddlers running around chasing the pigeons. Back in Plaza Mayor there was a gathering in front of the Government Palace of Peru gates. We were unsure if it was a changing of the guards ceremony or something bigger like a holiday event. Either way, the babies enjoyed the music for a bit.
We slowly made our way up Jirón de la Unión, a commercial pedestrian-only street, people watching and taking in the sights. From here we were a little unsure about flagging down any random taxi so we called an uber. This time was a smoother experience.
Miraflores
We headed toward Punto Azul restaurant back in Miraflores but unfortunately it was closed. This is supposed to be a great restaurant for ceviche, but we didn't get to try it. 
Instead, we walked around and eventually landed at Amaz restaurant, also in the Miraflores district. Lima is becoming more and more of a foodie paradise, some of the best restaurants in the world are here. Lima chefs employ a lot of diversity, fusion, and creativity in their food. Steve is a huge foodie and has claimed Peru as his new favorite place for food. Amaz is a much classier lunch establishment than what we would normally frequent, especially with a baby and toddler, but we wanted to try some of the infamous Lima creations.
Luckily, so very luckily, Elden fell asleep in the stroller just before we got to the restaurant and stayed asleep until we were ready to pay and leave. Orlo was awake the first half of the meal and then I took a stroll with him outside where he fell asleep. Steve and I were able to truly enjoy this delicious and beautiful lunch.
We continued walking around Miraflores en route to the water. We grabbed a crepe for Elden along the way. A restaurant worker surprised us popping out of the door grinning at Elden and Orlo and motioning to their cheeks and dimples. We gather he loved babies!
Lima sits on top of a cliff right on the Pacific Ocean. There's an outdoor shopping mall, Larcomar, built right into the cliff. An overlook deck provides great views, and a park surrounds it all. There's a playground on top too which Elden didn't miss and wanted to stay and play forever. Eventually, we tore him away and walked around taking in the views and checking out the shops. We used the mall's restrooms and Elden was so excited because there was a separate bathroom for children. It had multiple stalls, toilets, sinks and all shrunken down to kids size so they could be self-sufficient. It's interesting to see what baby, kid, and parent-centric things other countries have thought of.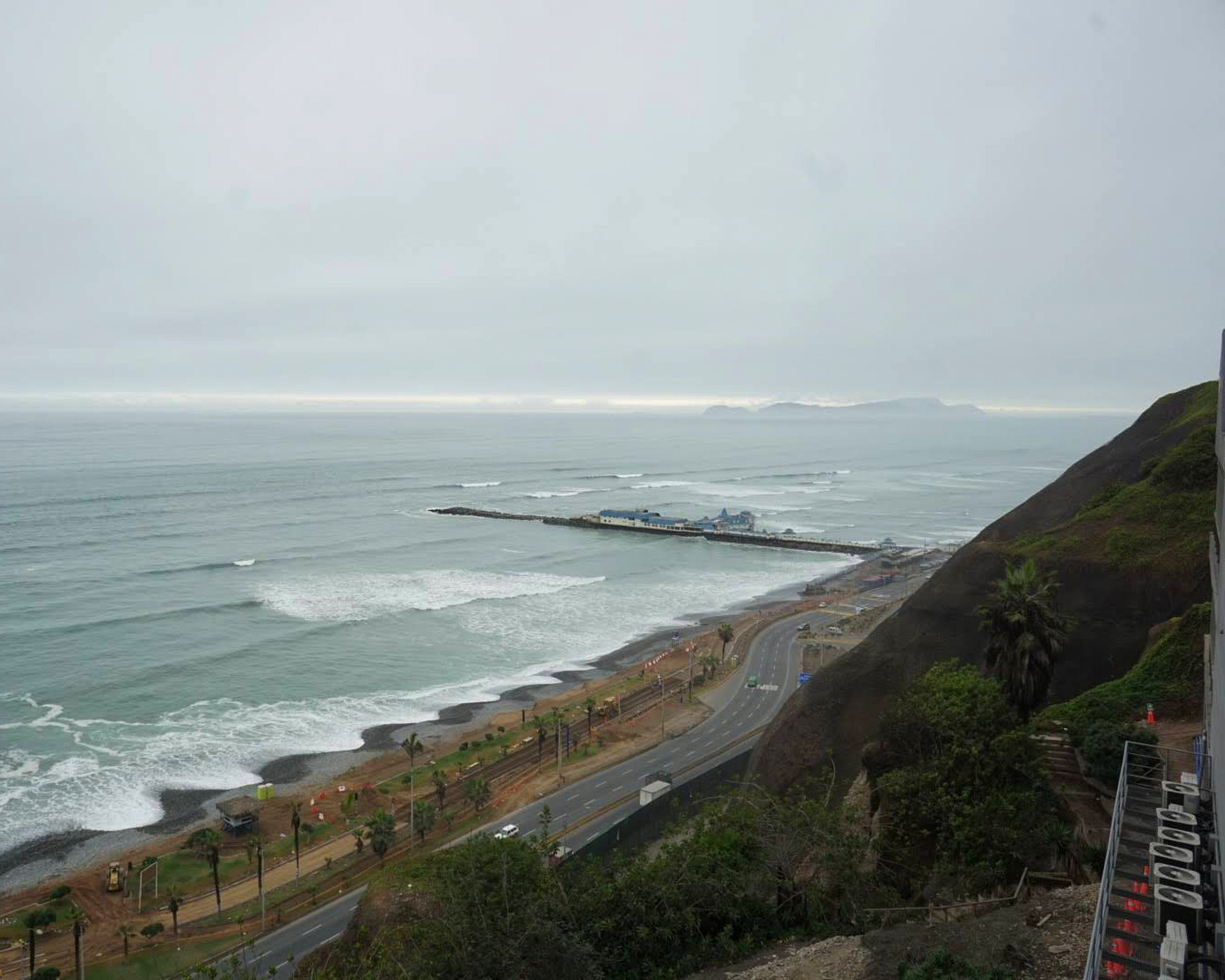 We continued back to Kennedy Park. We like to walk as much as possible in new cities since we get to see and absorb a lot more this way. I typically try to choose a hotel that's close to most of our points of interest so we're able to walk. Of course, you can only walk so far, and at some point it becomes inefficient, but we like to when we can. There was a bustle of activity in JFK park, vendors, artists and cats galore. There was also another, crowded, playground which Elden enjoyed. 
By now we were tired from the busy day, so we picked up some quick food and brought it back to our hotel to eat. We ate, packed up and slept. Lima surprised us and we are definitely glad we spent some time exploring this historic city.
After our time in Lima, we proceeded to the Sacred Valley and Machu Picchu.
---
Baby/Toddler Traveler Notes:
We had no problems using our stroller in Lima. There's some cobblestone, especially in the historic center but we still managed easily enough.
There are plenty of parks and playgrounds around the city for little ones. 
It seems like they have children and parents on their minds in this city, we had no trouble finding changing tables or high chairs and everyone was friendly to the babies. 
---
Related Reading