After moving to the Seattle area we were excited about being so close to Vancouver and had a weekend up there in mind for a while. Then came Orlo and he hated the car for the first 6 or so months of his life. Our trips in the car were clipped to 10-minute screaming sessions, sometimes we dared and quickly regretted a 30-minute ride. Thankfully we've grown and moved beyond that, most of the time.
In the middle of autumn at the height of the leaf-peeping season, we whisked up to Vancouver for a beautiful and fun family weekend. We did not mind the unusually warm and sunny weather. Steve had been a few times before, and together we've visited nearby Victoria, BC, but I had never been to Vancouver.
Fall Family Weekend in Vancouver, BC, Canada
On that Friday, we ate dinner at home, packed the car, prepped the babies for bed and set off. It was a smooth 2.5-hour drive including a very short border crossing. We prefer to drive at night with hopes of minimal traffic and sleepy babies. We checked in our hotel, Delta Hotels by Marriott Vancouver Downtown, and were given yummy warm cookies. The room was a mini-suite, which is always helpful with kids so we don't disturb them when we're up later than them. The hotel was in a great central location for exploring downtown, south, and north.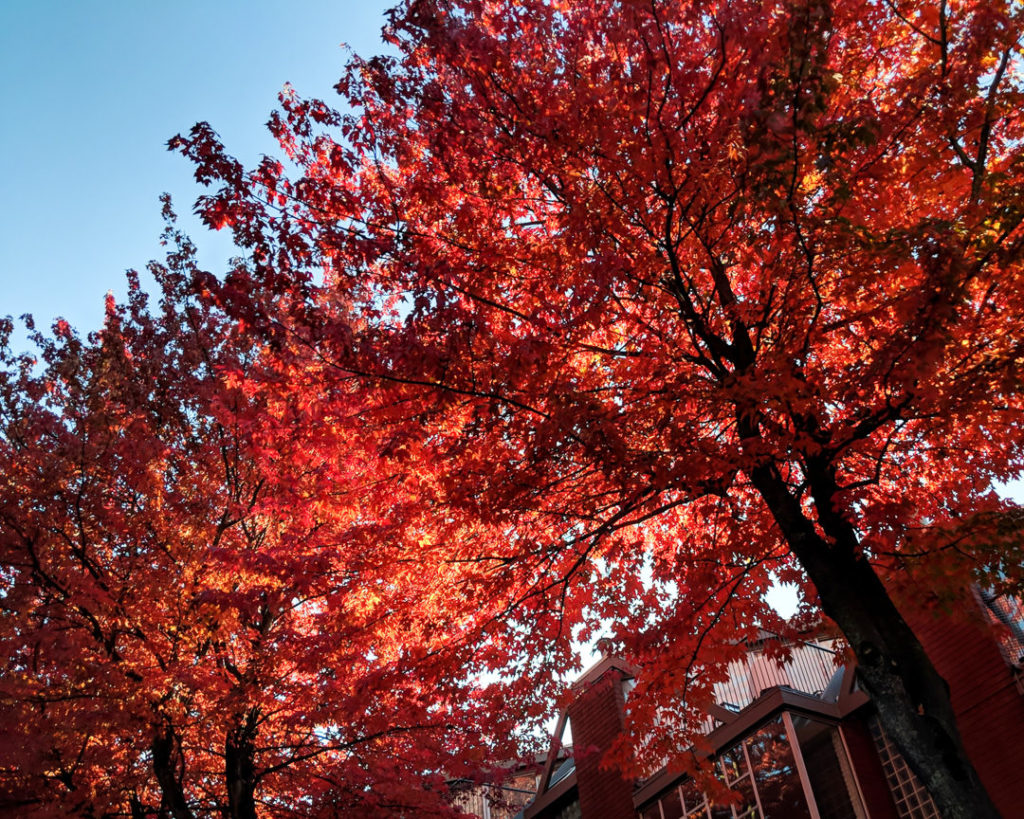 Day one in Vancouver
In the morning I picked up quick breakfast treats from Tim Horton's and brought it back to our room. We ate and let the boys move about before heading out for the day. First, we explored Stanley Park. We admired the waterfront city views, both downtown, and North Vancouver sides. We looked up at the totem poles, across to Lions Gate Bridge and enjoyed the vibrant fall leaves all over. It's a beautiful park, I imagine you could spend all day here, but we had further plans.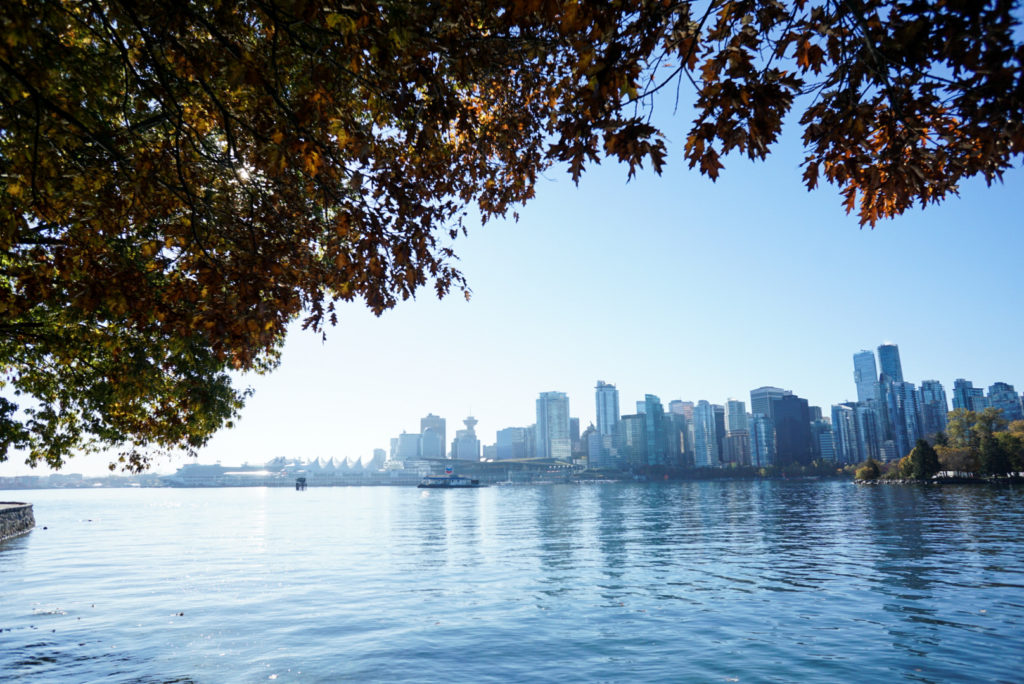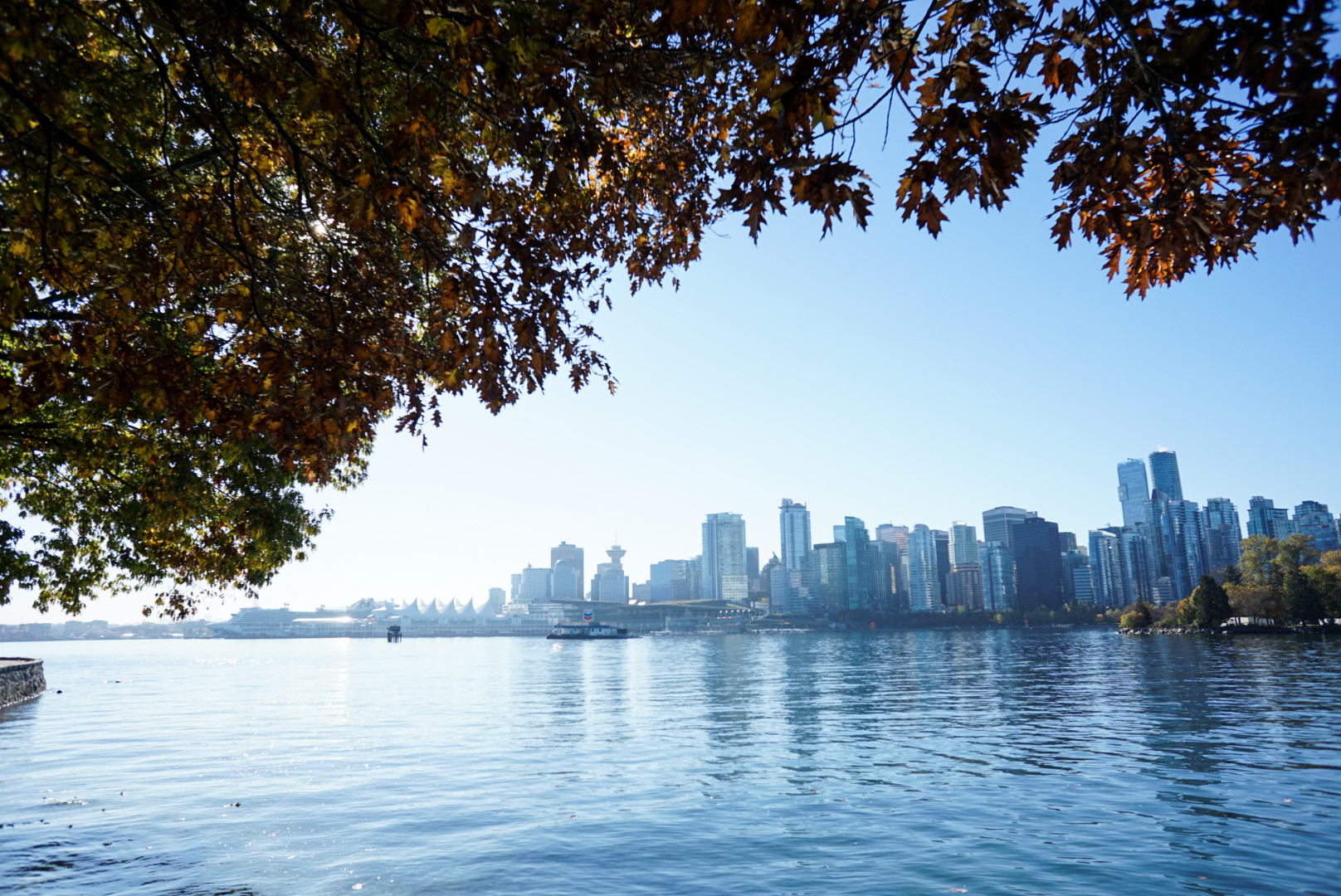 Next, we drove about 30 minutes south to Richmond. The "Golden Village" is an area in Richmond with several Asian shopping and restaurant plazas. We met some of Steve's family at Chef Tony's for dim sum. Parking was a challenge, and although we had a reservation we still had to wait for a little, but it was a tasty and creative meal. We visited a bit more in the beautiful University (UBC) area.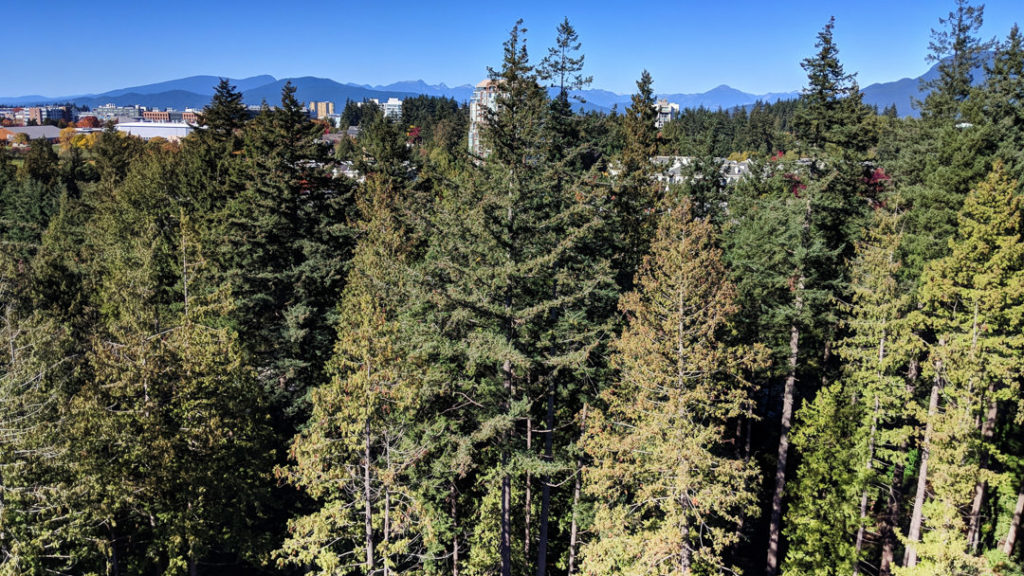 We continued to Jericho Beach, but Orlo fell asleep in the car so only Elden and I got out. We had a quick mommy and me date. Elden had fun climbing on and off the beach logs. This beach has stunning views looking to North Vancouver and the mountains.
We dropped the car off at the hotel so we could explore the downtown area on foot. We walked along Robson Street, a big commercial/shopping street. We don't typically shop while traveling, but sometimes we like to check out the popular shopping areas to see the different stores and people watch.
We ended our day in Gastown, a quaint historic district. Vancouver is mostly clean and very organized, so you easily realize you're in Gastown once you hit the crooked cobblestone streets lined with antique lamp light posts. It definitely has charm. The Gastown steam clock is fascinating, puffing smoke and whistling. It was built in the 70s but is a node to the Victorian era. I would have liked to wander around here more, but the babies were getting tired and cranky.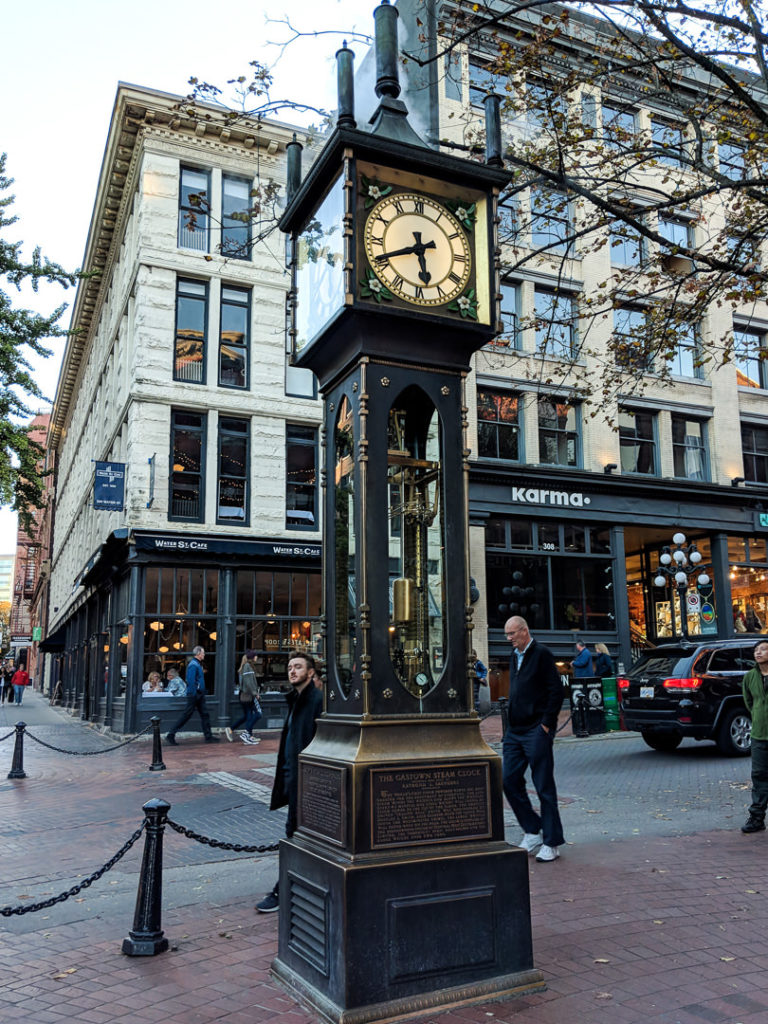 We found a Lebanese place to eat, Nuba. It was cozy and a nice respite from the chilling night, but it was a chaotic meal. The babies did not want to sit and were done before we even started. We took turns distracting them, walking them around and sped through the meal. Unless you have a kitchen in your accommodations, or order take out, you mostly have to go out to eat when traveling. Going out to eat with little ones isn't always the easiest. We try to stay ahead of when they'll be hungry and tired and pick places that seem family-friendly. Most of the time we manage alright, and sometimes we're lucky, but we also can't escape the occasional meltdown meal.
Day two in Vancouver
We headed to Capilano Suspension Bridge Park early in the morning and arrived shortly after opening. We wanted to get ahead of the crowds so we'd have the freedom to explore at our own pace. I love heights and have always been fascinated by rope suspension bridges. The main long bridge sways quite a bit, but at the same time, it feels very reinforced and secure. There are smaller bridges, boardwalks and a cliff walk too. It's a pretty big park, you can easily spend a couple of hours or more taking it all in. We had a great time swinging among the trees like monkeys. It's a bit expensive, but we thought it was worth it as a one-time special experience. You can't use a stroller, so it's best to bring a baby carrier for your baby or toddler. We each wore a baby on our backs throughout the park.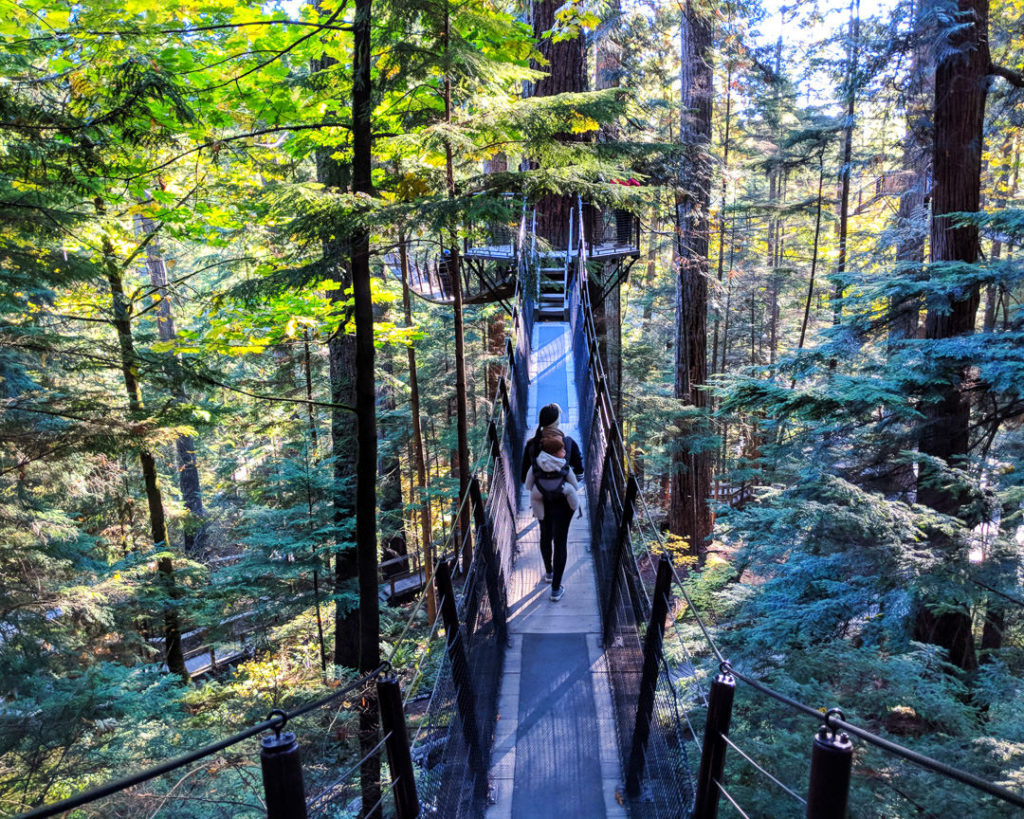 Next we drove up the road a few minutes to Cleveland Park, at the top of Capliano River Regional Park and the south end of Capilano Lake. The park is home to the Cleveland Dam. On on clear day you have beautiful views of the North Shore Mountains. We were attempting to visit the Capilano River Hatchery to see the salmon, but didn't make it there. You can hike down from Cleveland Park, and we tried for a bit, but it got too steep for the stroller and we didn't have the carriers with us. Still it was a worthwhile, beautiful, stop.
We ended our time in Vancouver on Granville Island. We came for the Public Market, and the market did not disappoint. Granville is a tiny peninsula in Vancouver, and the market along with some other shops and restaurants make up the whole island. The main market is a large warehouse-like building with stalls and stalls of vendors, selling everything from raw foods to fully cooked ready-to-eat meals, artisanal goods, souvenirs and more and more. It reminded us of Pike's Place, but bigger and we liked it better! We wandered the stalls, made a few purchases and checked out the boats outside.
We ate at The Vancouver Fish Company. Elden slept through lunch so we had one of those rarer relaxing meals. There's a separate building/market specifically geared toward kids, aptly named Kids Market. Elden was in awe and would've loved to stay there all day. Downstairs houses various vendors specifically selling kids things – clothing, toys, books, etc. Upstairs there's a fun arcade-type place with a play area, games, ride-on attractions and more. They host birthday parties and have a snack bar serving kids' favorites.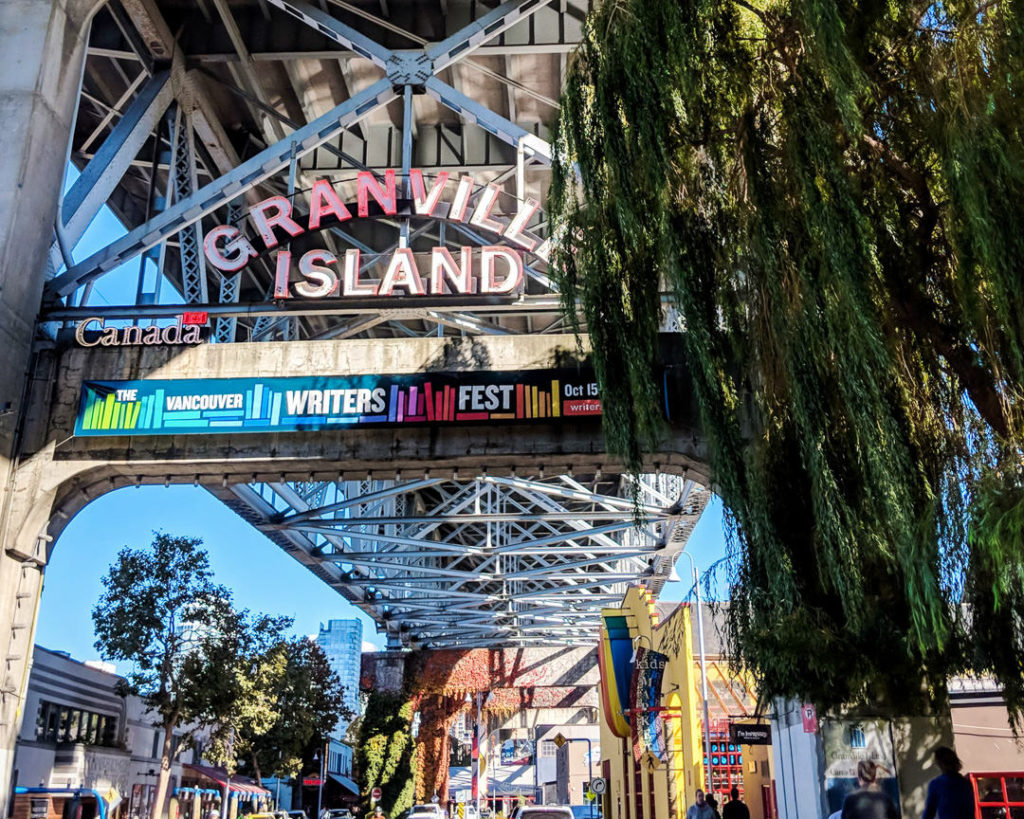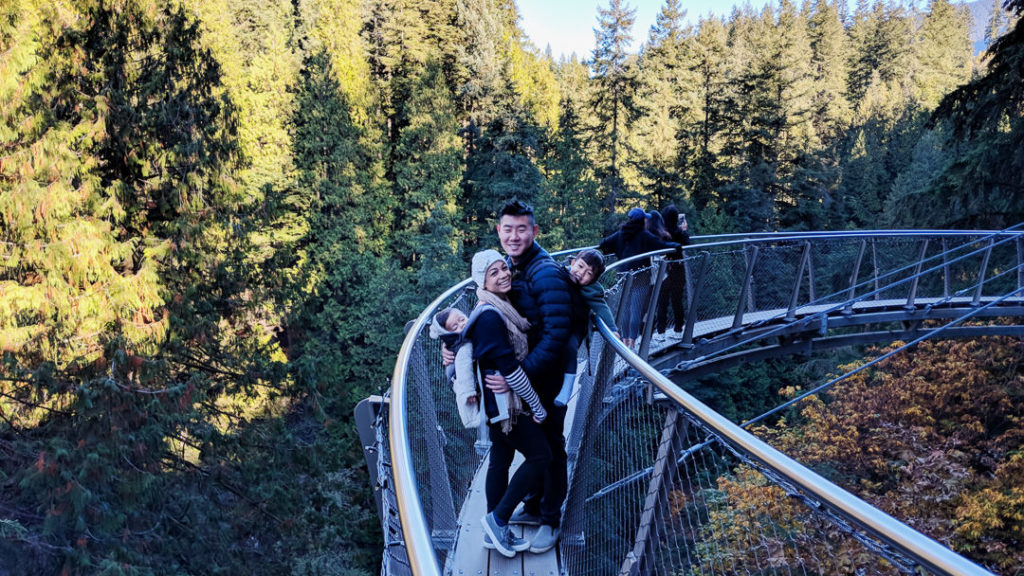 ---
Baby/Toddler Traveler Notes for Vancouver:
Vancouver is a very family-friend city, you'll be among many other families with children.
The city is stroller-friendly, but make sure you bring a baby carrier if you want to get outside in the woods.
If you travel to Canada from the US (as US citizens) via car or boat, you can simply bring your baby's original birth certificate. If you fly, however, the baby needs a passport.
Don't miss Granville Island Kids' Market!
---
Related Reading
---