Call me crazy, but I've always been excited by the idea of having a really long flight delay. One that's long enough to get out of the airport and see some highlights of another place. Of course, this is extremely rare. Reality looks more like being delayed 10 hours, but overnight when it doesn't make sense to go explore. Or it looks like being delayed on your way to a destination where it will impact subsequent travel plans.
There is another way to make it happen in a fun and worthwhile way though. You can work strategic stopovers into your flight plan in the first place. During our world tour, where, in theory, we had plenty of extra time, I added two strategic stopovers in our plans.
What exactly is a strategic stopover?
By strategic stopover, I mean a flight that has a long enough layover in a city so you're able to leave the airport and explore for a bit. You're only paying for one flight, but you get the bonus of seeing another place without having to book a separate ticket (or accommodations).
Things to consider when planning a strategic stopover
Ensuring you will have enough time to go out and do whatever you want to do is probably the most important piece of planning a strategic stopover.
If the layover stop is between different countries, make sure you account for the time it takes to go through immigration and customs. I like to research average immigration times for whichever airport we're stopping at since they vary widely and that can really impact how much time you have leftover.
Research passport and visa requirements. Some countries have separate options for travelers just passing through.
Some airports are far away from downtown or the main attractions, make sure you calculate enough time for travel to/from the airport.
Don't forget about traffic patterns, consider if you'll be departing or returning to the airport during heavy traffic hours.
There are plenty of long overnight layovers. Unless you're in a city with lots of 24-hour attractions, this is probably not the ideal layover for a strategic stopover.
If you're traveling through multiple time zones, consider the local time when you will land and what time it will be in your point of origin and whether you'll have enough energy to do anything.
If you check your luggage, make sure you have what you'll need in your carry-on or daypack for the time you'll be out in the city.
Consider whether you'll be changing climates at the stopover destination and whether you'll need any different clothing.
If you have heavy carry-on packs, or excess things that will slow you down, research luggage storage. Some airports have luggage storage lockers/services and some don't for security reasons, but you can find other luggage storage options outside if necessary.
Remember your luggage should continue on to your final destination, and you should already have your boarding passes for the second leg, so you shouldn't have to stop at a ticket counter when you return to the airport. You will still have to go through security (and immigration if applicable) again.
Have a plan if your first flight is delayed thereby shortening your layover. Consider at what point you'll no longer have enough time to leave the airport.
Check the status of your second flight before you head back to the airport. If it has a long delay, you can hang out in the city a bit longer.
If you've ever gone on a cruise, it feels similar to a day stop at a port.
How to find and work in a strategic stopover
Bigger cities and popular flight transfer cities will have the most stopover options, but you can try to find a long layover in any city.
If you know what airline you're flying, check which airports are their hubs. This is where a lot of their transfers happen and where you're more likely to find a perfect layover.
Most of the time we all want the cheapest flight, shortest travel time, and the lowest amount of stops possible. That's what the search engines work to balance and show you. They don't always show you every flight option in your first search.
Try to find a filter that allows you to search for longer layovers. You may need to do an advanced search, or find the filters/sorting further over/down on the page. Below are a few examples of how to look for longer layovers from Google flights, Momondo, and Delta's websites.
Filtering for a long layover on Google flights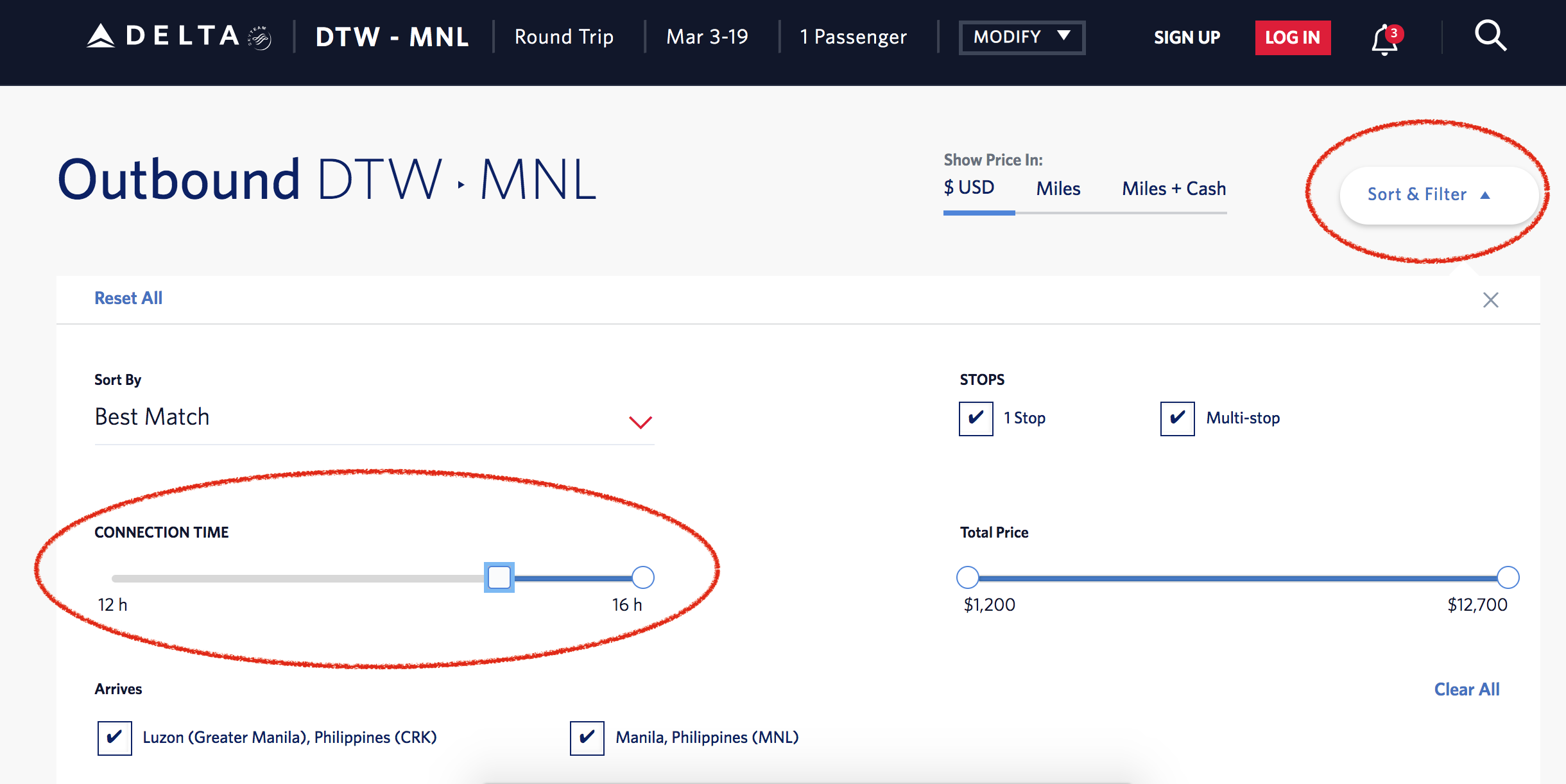 Sometimes stopovers can be tough to find and book online, but that doesn't always mean they don't exist. You can call an airline reservations line and ask them to search for you.
Usually, you're looking for something that arrives at the stopover spot in the morning and departs in the evening.
There are some select airlines that offer multi-day stopovers. You'll have to find accommodations and consider your luggage (I'm not certain how this works). This could be a good option if you have the opportunity and want more time in the stopover destination.
Strategic stopover specials
Some cities and airlines encourage and promote strategic stopovers. It helps their tourism industry, and/or their airline business, and it helps you, it's a win-win. If your travels are taking you anywhere near or through these places, check out these cool stopover offers. Some offer extended multi-day stopovers without any additional fees, a hotel stay or a free tour.
Where did we do a strategic stopover?
We did a strategic stopover in Athens, Greece (from Milan, Italy en route to Cairo, Egypt). Another in Singapore (from Cairo, Egypt en route to Fiji). A few years pre-kids, we did one in Tallinn, Estonia (from Helsinki, Finland via ferry, en route to Riga, Latvia). More details on these later.
Did we have to rush? Yes. Where we super tired? Yes. Was it worth it? Of course!
Baby/Toddler Traveler Notes
Planning a strategic stopover can seem like a big undertaking with little ones. Usually, you just want to get to your destination as quickly and painlessly as possible. I definitely get this. However, if you're traveling long-distance (or must have a layover, or just really want to see another place on the way) it can be a great way to break up the travel day and let the kids get some energy out. Elden had fun getting off the plane and being able to run around more freely for a bit. This helped on the second flight so he could fall asleep.
Make sure you have everything you need for your first flight, the stopover and second flight in your carry-on for the baby (e.g., plenty of diapers/wipes, extra clothes, food, sunblock).
Don't forget to gate check (or carry-on if possible) your stroller if you'll need it for the stopover.
Consider whether your baby can take naps on the go. You won't have accommodations and you have a limited time to explore.
Everything takes longer with little ones. Don't forget to budget a little extra breathing room to make sure you have enough time to get back before your next flight.
Related Reading
Pin it for later
Don't forget to pin this for future reference, and share it with any friends!