After over 100 flights with our two babies, we've figured out our favorite go-to toys with guaranteed distraction success and the best ways to keep them entertained on any flight length. Read on for our best tips and favorite toys for entertaining babies and toddlers on a plane.
Having the right items to amuse your baby or toddler on a plane ride can make or break your flight. Sometimes the plane, people and flight itself are enough to entertain a baby.
Some flights we didn't touch the toys and I questioned why I spent the time strategically packing the perfect toy carry-on bag. Still, I feel better bringing a few select toys I know will hold my baby's attention for some period depending on the length of flight and baby's age. I'd rather have it to help just in case.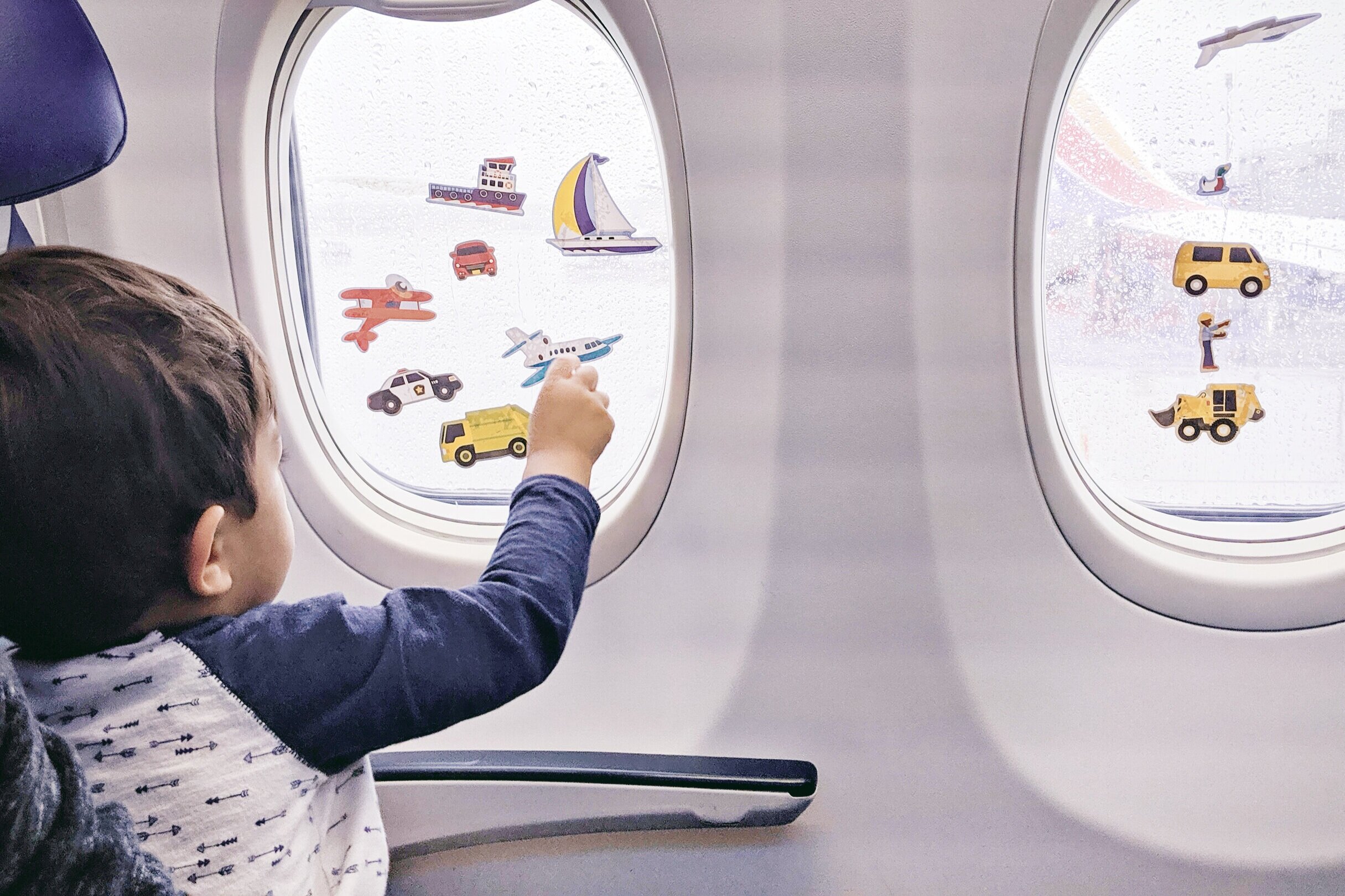 Below you'll find some of our favorite plane toys and best tips for entertaining babies and toddlers on a flight. Why is it split out by these ages? Check out more tips on flying with your baby including insight on how their age impacts their activity level and what to expect on a flight.
This article contains affiliate links. If you chose to purchase something, it will not cost you anything extra by using our link. We receive a very small commission which helps us maintain this site. For further details, you can read our disclaimer policy.
Our favorite toys and best tips for entertaining babies and toddlers on a plane by age
Entertaining a 0-4 month-old baby on a plane
Breast/bottle – does it get any better?
Mom/dad, grandparent, sibling or another caregiver – such young babies are most amused and comforted by people over things
Your voice – they're so used to hearing your voice every day but it gets easily muffled on a plane. Make sure to speak a little louder, or closer to their ear. Singing can work wonders.
Blanket – Aden + Anais blankets are great for everything – super soft, lightweight, breathable – to cover the seat, block out light, as a nursing cover, cover for a cold draft, on the floor for some tummy time or crawling in a hotel room
Entertaining a 4-10 month-old baby on a plane
Stacking/nesting cups – versatile, light – older babies like to put smaller things in/out of the cups (e.g., Cheerios)
Small musical toys with buttons and lights – both of our babies loved these toys, the lights and buttons amused them, and you could hear a little bit of music above the plane noise but not enough to disturb other passengers
Teething toys (some of our favorites: Mombella elephant, Zoli sticks, Baby banana, Baby teething tubes, Tulamama raccoon) – put them in a bag to keep clean, and use a pacifier clip to keep it from falling on the floor
Cups – I often ask the flight attendants for empty cups, babies can be amused by the simplest items. Think outside the box of a typical toy and use what's around you.
Snacks – when baby starts to eat solids, puffs or other age-appropriate snacks can amuse and distract baby for awhile – pincer grasp practice time
Books – at this age, the extra thick chunky lift-a-flap books work well since they're so durable and baby can help turn the pages and lift the flaps (We like the Nature Friends set and the Baby Animals set, but there are several other options too.)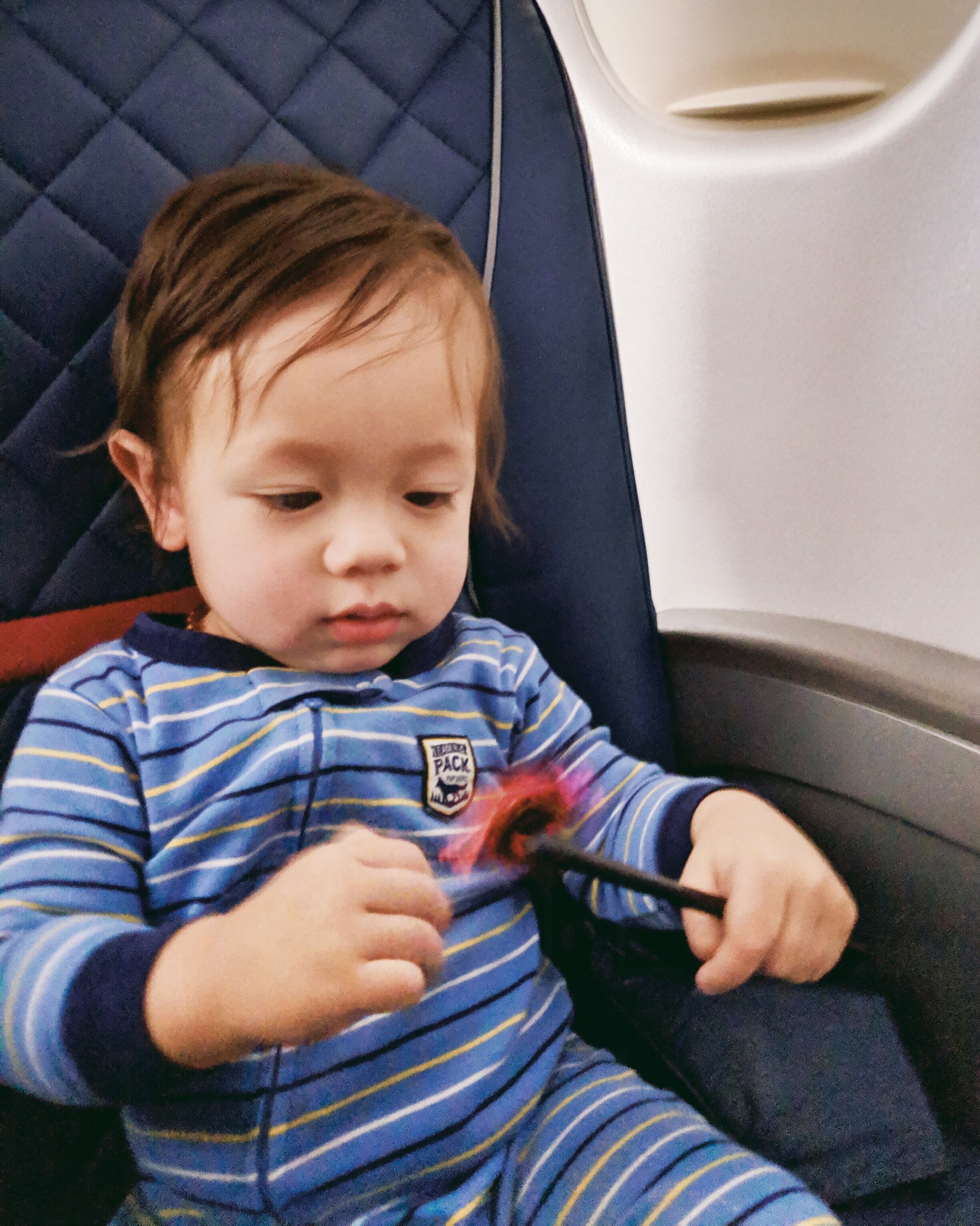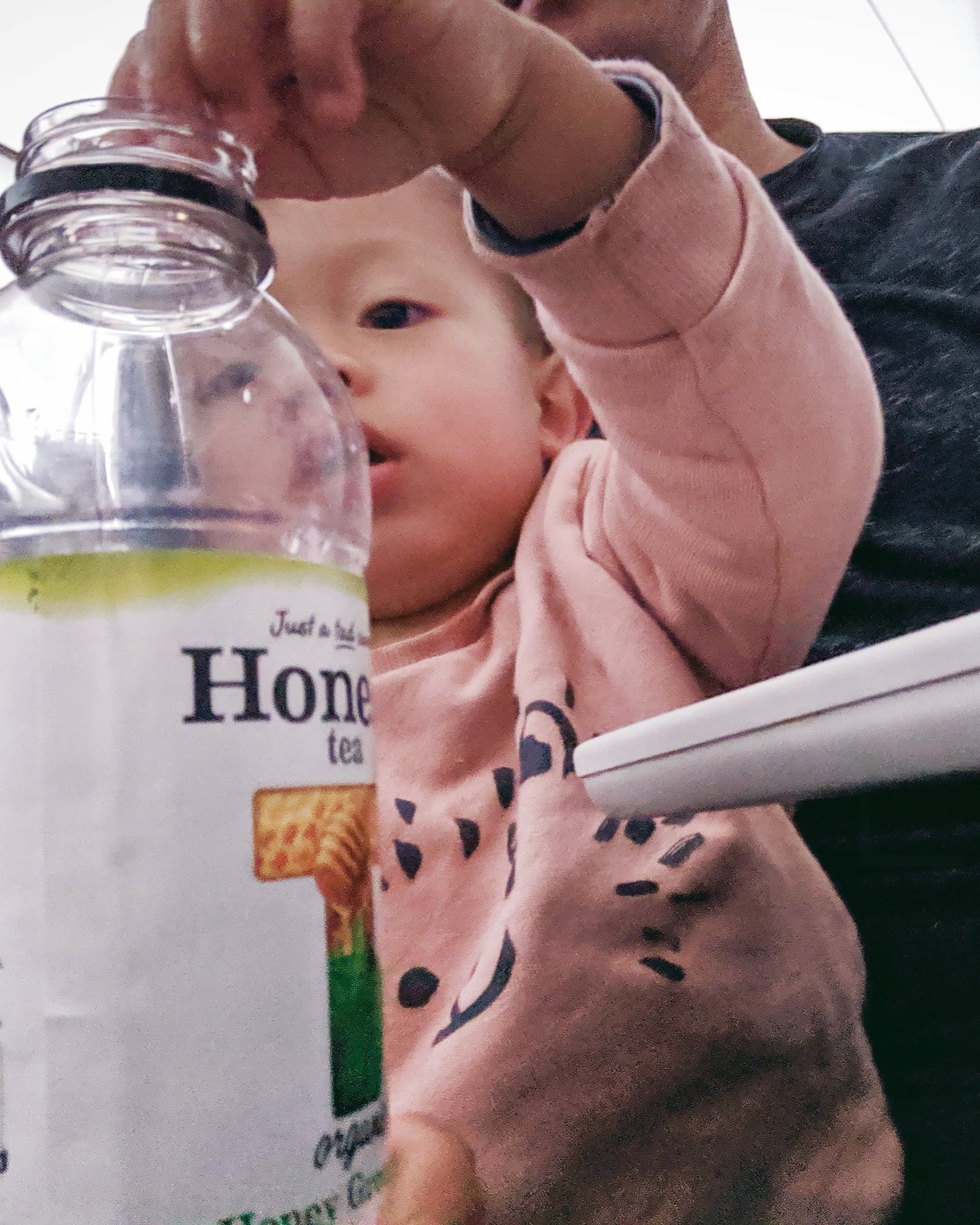 Entertaining a 10-20 month-old toddler on a plane
The toys from the above 4-10 month-old set generally still work well with this age group too, 10-20 month-old toddlers may use them or combine them in different ways though.
Fat Brain Toys Dimpl – this is one of my all-time favorite plane toys. It's small, lightweight keeps baby/toddler amused and bonus – amuses Mom too. It's almost like popping giant bubble wrap over and over again!
Montessori Cylinder Block Set – we only bring one of the blocks with us and put it in a bag to keep all the peg pieces together
Fat Brain Toys Whirly Squigz – our latest new favorite plan toy. They suction to the window, open or closed tray table and many other surfaces and all your child has to do is give it a whirl. They've kept ours (and other kids of various ages) entertained for awhile.
Tray table, armrest, air vent, seatbelt, etc. – babies at this age are learning how everything works around them and can be fascinated by how these move up/down and open/close
Get up – babies/toddlers at this age really need to move. If the seatbelt sign is off, get up and let them walk the aisle.
Books – the First 100 books are great at holding their attention for a while at this age as they're rapidly expanding their vocabulary (even if not verbally saying the words yet), First 100 Words, First 100 Animals, First 100 Trucks and more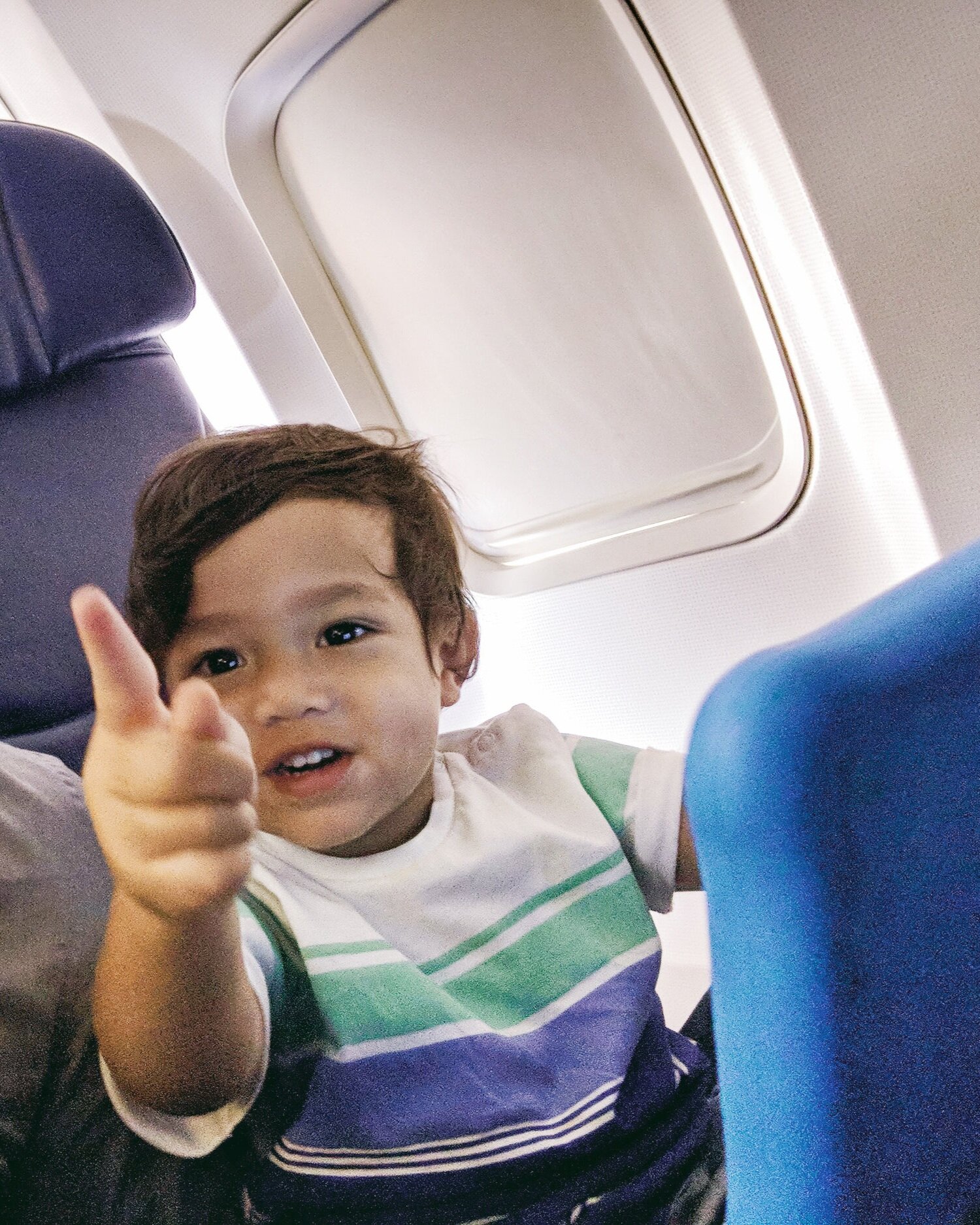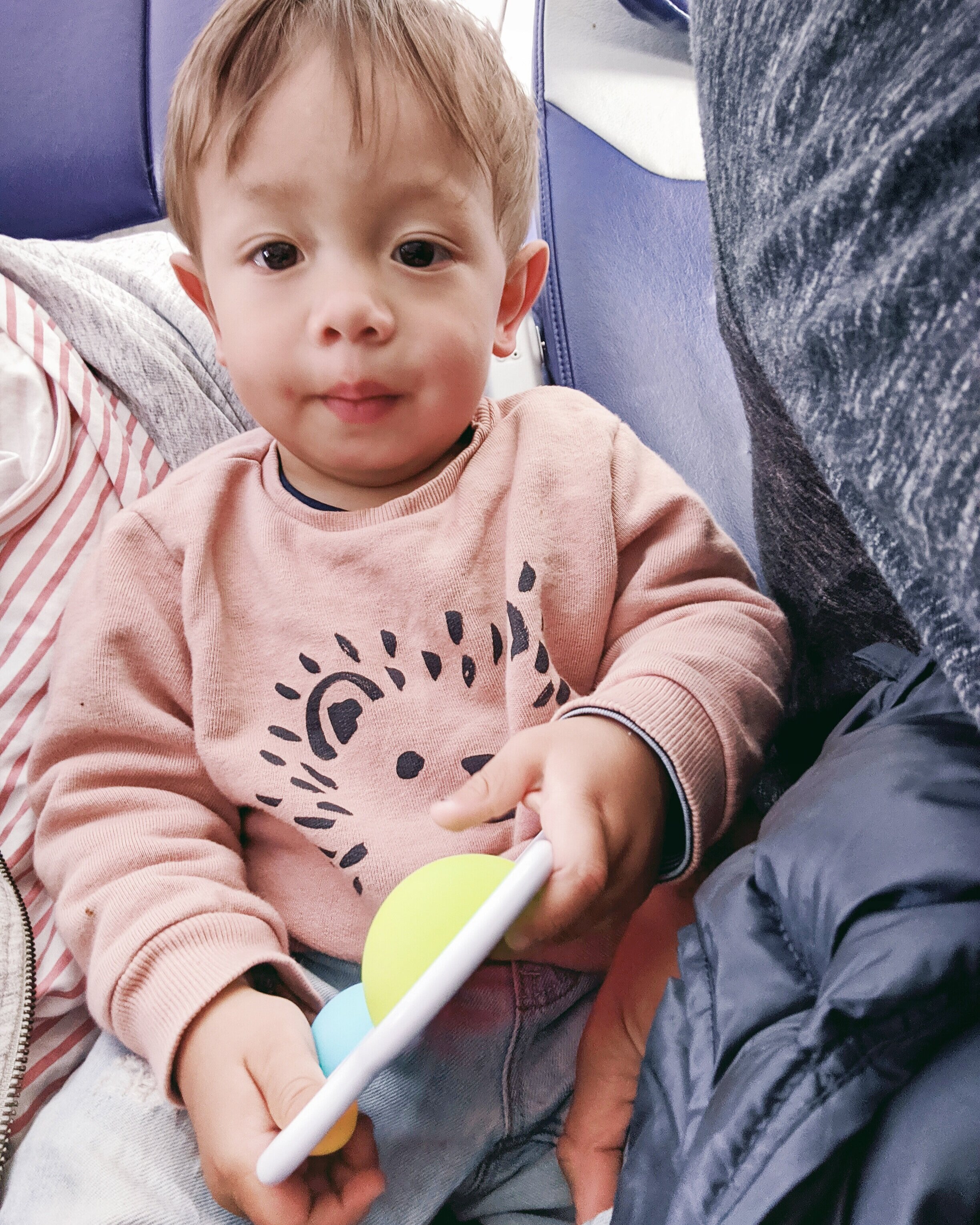 Entertaining a 20+ month-old toddler on a plane
The toys from the above 10-20 month-old set often work well with this age group too.
Kid O Click and Pop links – Elden once played with these for an hour straight, enough said
Buckle toy – another top favorite, both of our boys are buckle obsessed and this toy has held their attention for long periods
Color Wonder On-the-Go small drawing packs – you can find these for all different characters – mess-free drawing
Water Wow! On the Go books – another mess-free coloring solution
Melissa & Doug Vehicle Reusable Sticker Pad – I think the pad itself is too big to travel with, but I put a bunch of the stickers in a bag and Elden used them on the windows
Fire HD 10 Kids Edition Tablet – When Elden was about two he became interested in some shows so we got a tablet and this made flying infinitely easier. We don't let him have the tablet except on flights (for now, don't quote me on this!), so it's a special novel exception. Some airlines are starting to remove seatback entertainment systems, and some of the systems may not offer what you want to allow your toddler to watch anyway. Bring your own tablet loaded with appropriate programming. Make sure to download what you need ahead of time, even if the plane has wifi, it will be too slow.
Travel Toyz pack – for all those little unique items that keep toddlers engaged but aren't easy to buy or find individually (created by a fellow fun travel family!)
Wooden cheese lacing toy – better for older toddlers who can properly manipulate the string
Snacks – a wide array of snacks (maybe even special treats) can help keep them distracted
Books – by this age they may like certain animals or characters, bring or buy a new book with one of their favorite things in it
Talk to your baby before the flight and include age-appropriate details about what to expect. Babies understand so much more than we usually give them credit for and letting them know something different is going to happen can help. As they get older, you can get them excited about the airport, watching planes, etc. (read a book about it) which can go a long way in making everyone's flying experience better.
Keep in mind your baby's age, developmental stage, activity level and personality when planning what to bring on your flight. Think about their attention span and how frequently you'll need to switch up toys/activities. Every baby is different and develops at a different rate so your experience may be different than others.
Tips for keeping track of toys on the plane
We have donated a toy or two to various airlines around the world. There are endless nooks and crannies to lose things on an airplane. We've gotten better over time though. Here's what we've learned for keeping track of toys on the plane:
Avoid bringing anyone's absolute favorite toy unless you don't mind replacing it
Avoid bringing anything super tiny
Put things with smaller pieces in little bags, put them back in that bag before moving onto the next thing
Try to only take out a single toy at a time
Bring a small backpack to hold all the toys. Usually, I stuff this in a bigger carry-on (or have your child wear it), but it's nice to know all the toys are contained there rather than digging for them as they float around a bigger bag.
Related Reading
Pin it for later
Don't forget to pin this for future reference, and share it with any friends!