Any destination can be family-friendly. Below you'll find family-friendly itinerary suggestions for a trip to Lima, Peru.
Before you dive into the guide, you may want to first read Understanding a Quick Itinerary Guide. This will provide you with details on our trip planning philosophy, why it's a quick guide, and what resources we use to plan. It also details what we mean by family-friendly, and further explains each of the sections included in a Quick Itinerary Guide.
Our trip details
Length of stay: 1 day, 2 nights
Accommodation: Faraona Grand Hotel – great location
Type of trip: family travel with kids (6 months old & 2.5 years old), part of larger round-the-world 2-month trip
Month visited: July
How we got in/out: fly in, fly out
How we got around: taxis, Uber and walking
Additional places visited on the same trip: Ollantaytambo, Machu Picchu, Cusco
Family-Friendly Itinerary Ideas for Lima, Peru
Explore the Historic Center (Centro Historico de Lima) – a UNESCO World Heritage Site with numerous ornate historical buildings

Plaza Mayor (or Plaza de Armas) – where the city of Lima began
Basilica Cathedral of Lima – construction from 1535-1649 led to a mix of different styles inside and outside the cathedral
Archbishop's Palace of Lima – ornate Spanish Colonial building that serves as the residence of the Archbishop of Lima, and the administrative headquarters of the Roman Catholic Archdiocese of Lima
ChocoMuseo Lima – from milk chocolate to 100% chocolate, to tea, tours and beyond
Saint Francis Monastery (Basílica y Convento de San Francisco de Lima) – Spanish baroque style church (with kids – chase flocks of pigeons in front)
Government Palace of Peru – residence of Peru's President
Jirón de la Unión – a pedestrian-only commercial shopping street
Wander around Miraflores – an affluent district of Lima, the most popular tourist district with a wide variety of restaurants, hotels, and shops

Alfred Salazar Park – park surrounding Larcomar with ocean lookout points, watch the parasailers (with kids – check out the playground)
Larcomar – outdoor shopping and dining center built into the cliffs along the Pacific Ocean (with kids – separate kid-sized bathroom)
Playa Makaha – a rocky surfing beach
Kennedy Park – centrally located in bustling Miraflores, home to hundreds of cats (with kids – playground inside the park)
Food Ideas for Lima, Peru
Foods/drinks to try: ceviche, lomo saltado (stir-fry beef), aji de gallina (creamy chili and chicken dish), anticuchos de corazón (grilled hearts), arroz con pato (rice with duck), Pisco Sour (Peru's national drink with alcohol)
Amaz Restaurante– a modern upscale Peruvian restaurant with creative Amazonian dishes
Punto Azul– known for great ceviche
Top Tips for Lima, Peru
Lima is much bigger than I realized and it can take a long time, especially with traffic, to get from one area to another. Build in enough time for transferring.
There are official taxis, unofficial taxis and Uber in Lima. We took all three options. We had trouble getting an Uber at the airport, but otherwise, we requested one successfully elsewhere in the city. Unofficial taxis are cheaper but might not be as trustworthy. We felt comfortable in an unofficial taxi where our hotel flagged down and talked to the driver, but wouldn't flag one down ourselves. Discuss cost of your trip before you get in.
Check out the restaurant scene. Lima has gained recognition as the foodie capital of South America, we didn't have time to try much but there are so many great looking restaurants.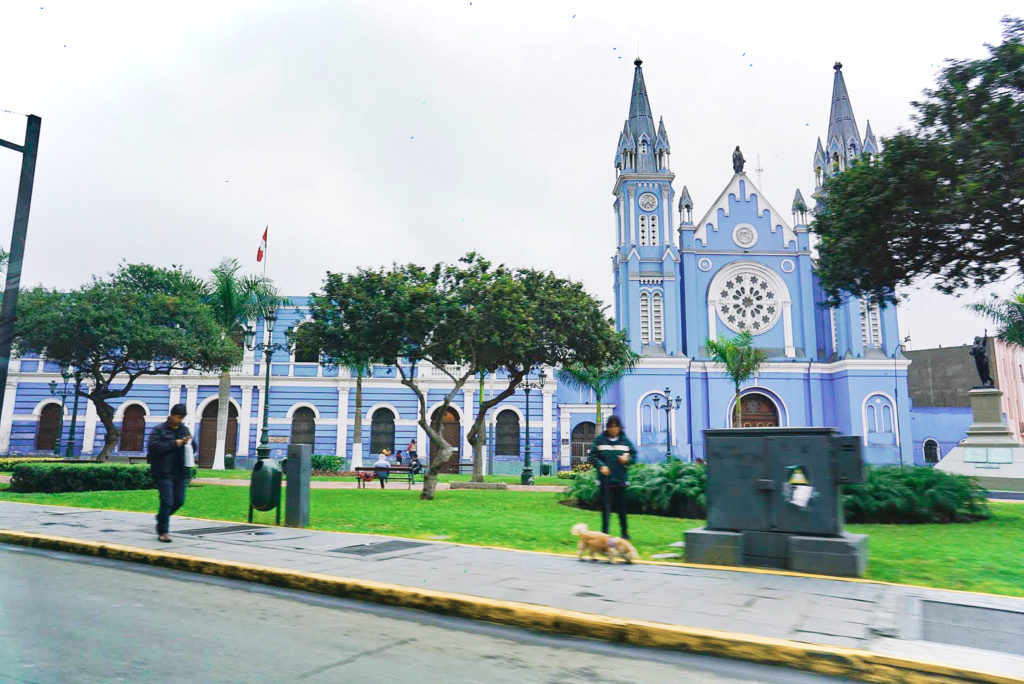 Related Reading
Pin it for later
Don't forget to pin this for future reference, and share it with any friends!