Muscat is the capital city of Oman, east of the UAE bordering the Arabian Sea. Its mountainous, desert and seaside landscapes will leave you stunned. Below you'll find family-friendly itinerary suggestions for a trip to Muscat, Oman.
Before you dive into the guide, you may want to first read Understanding a Quick Itinerary Guide. This will provide you with details on our trip planning philosophy, why it's a quick guide, and what resources we use to plan. It also details what we mean by family-friendly, and further explains each of the sections included in a Quick Itinerary Guide.
Our trip details
Length of stay: 2 days, 2 nights (not enough!)
Accommodation: Desert Nights Camp & The Chedi Muscat
Type of trip: family trip with baby/toddler (15 months old)
Month visited: May
How we got in/out: fly in, fly out
How we got around: rental car from Sixt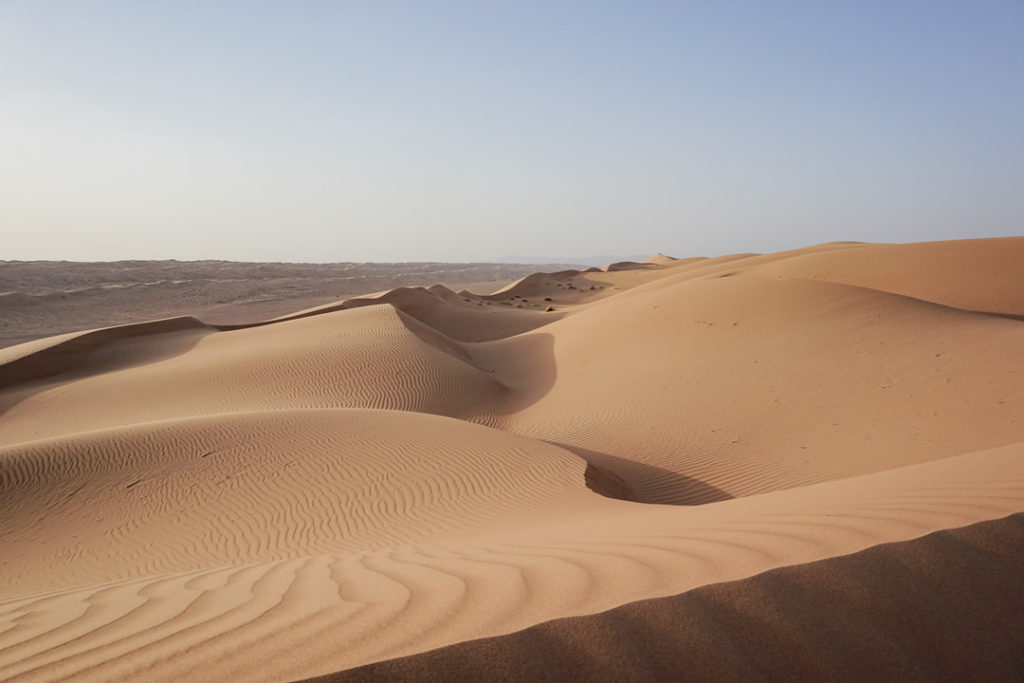 Family-Friendly Itinerary Ideas for Muscat, Oman
Sultan Qaboos Grand Mosque– iconic mosque, limited visiting hours, conservative dress code
Old Mutrah Souk – long-standing traditional market/bazaar catering to both locals and tourists, gets extra busy in the evening
Mutrah Bay/Corniche – go all the way through the souk and you'll get to the water
Royal Opera House – lit beautifully at night
Mohammed Al Ameen Mosque – marble mosque perched on a hill
Al Bustan Palace Hotel – stay at or visit the facilities and grounds of this stunning Ritz-Carlton property, a former palace
Stay overnight in the Wahiba Sands (Sharqiya Sands) desert

Play in desert dunes and watch the sunset
Go on a camel ride
Dune bashing, sand boarding or 4×4 excursion
Visit a Bedouin camp – tribes of nomadic desert people

Check out Nizwa – an ancient city, about 1hr 30mins drive from Muscat

Explore Nizwa fort
Shop at Nizwa souq

Swim in a wadi – a small valley or river of water in a desert mountain setting, similar to an oasis, but often only full of water during wet seasons, otherwise dry

Wadi Bani Khalid, Wadi Tiwi and Wadi Ash Shab are all great options, but there are several others – research whichever features and location will fit best for your trip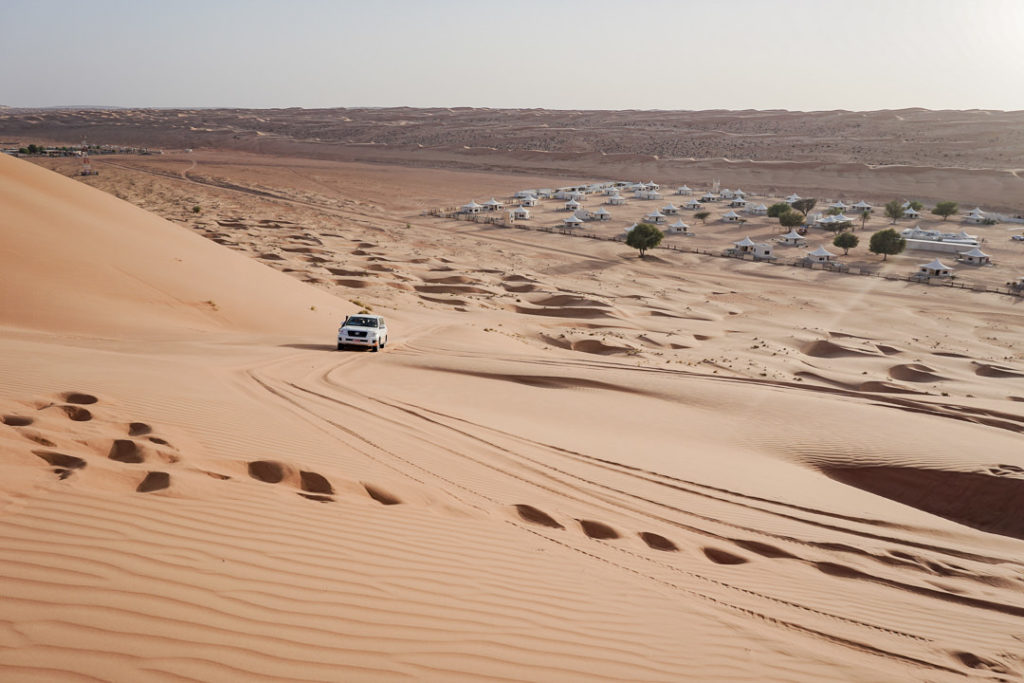 Food Ideas for Muscat, Oman
Ubhar Bistro – posh Omani/Middle Eastern restaurant
Turkish House Restaurant – casual Turkish/Middle Eastern restaurant popular with locals
Kargeen – traditional Omani cuisine with a great outdoor area
Top Tips for Muscat, Oman
Most everyone needs a visa to enter Oman, some countries (USA passport holders included) can obtain a visa upon arrival.
Oman is known as the "Switzerland of the Middle East" because of its natural beauty, safety and neutral stance in politics.
It is not very easy or convenient to get around Muscat. It's not set up for walking and the different sights are spread out all over. Taxis are expensive but are the most convenient option if you do not have a car. We rented a car to drive to the desert and used it around the city too.
You do not need to wear traditional Omani clothing, but you should dress conservatively to respect the local culture.
Consider the time of year and weather before you book a trip to Oman, summer is not the best time to visit due to the intense heat.
I really enjoyed Oman and wish we spent much longer here. I hope to return someday and see more of this gorgeous country. Have you been to Oman? What other things should we add to our list?
Related Reading
Pin it for later
Don't forget to pin this for future reference, and share it with any friends!