Abu Dhabi is the capital of the United Arab Emirates (UAE) in the Middle East along the Persian Gulf, not far from Dubai. Modern skyscrapers, a stunning grand mosque and more reflect off the surrounding aqua water. Below you'll find family-friendly itinerary suggestions for a trip to Abu Dhabi, UAE.
Before you dive into the guide, you may want to first read Understanding a Quick Itinerary Guide. This will provide you with details on our trip planning philosophy, why it's a quick guide, and what resources we use to plan. It also details what we mean by family-friendly, and further explains each of the sections included in a Quick Itinerary Guide.
Our trip details
Length of stay: 6 hours
Accommodation: N/A
Type of trip: day trip, family trip with baby/toddler (15 months old)
Month visited: May
How we got in/out: drive in/out (private tour via car)
How we got around: car (via private tour)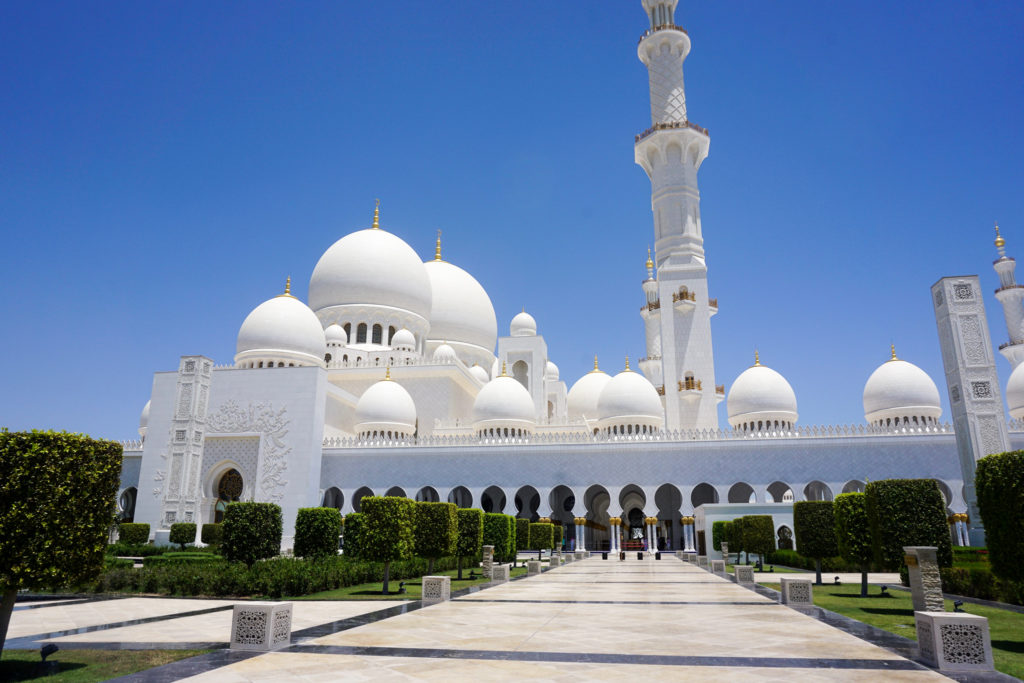 Family-Friendly Itinerary Ideas for Abu Dhabi, UAE
Sheikh Zayed Mosque – crown-jewel of Abu Dhabi, stunningly beautiful inside and out, check hours, conservative dress code (they'll provide abaya/clocks if necessary)
Presidential Palace (Qasr Al Watan) – now you can visit part of the palace and it looks amazing, we were only able to drive by the complex
Abu Dhabi Corniche – walk along the beautiful waterfront
Corniche Beach – clean and calm beach, great for families
Emirates Palace – opulent hotel dripping in gold and marble, coffee served with 24k gold flakes, used to house an ATM that dispensed gold bars
Etihad Towers – a group of 5 modern mixed-use towers, spot them across from the Emirates Palaces entrance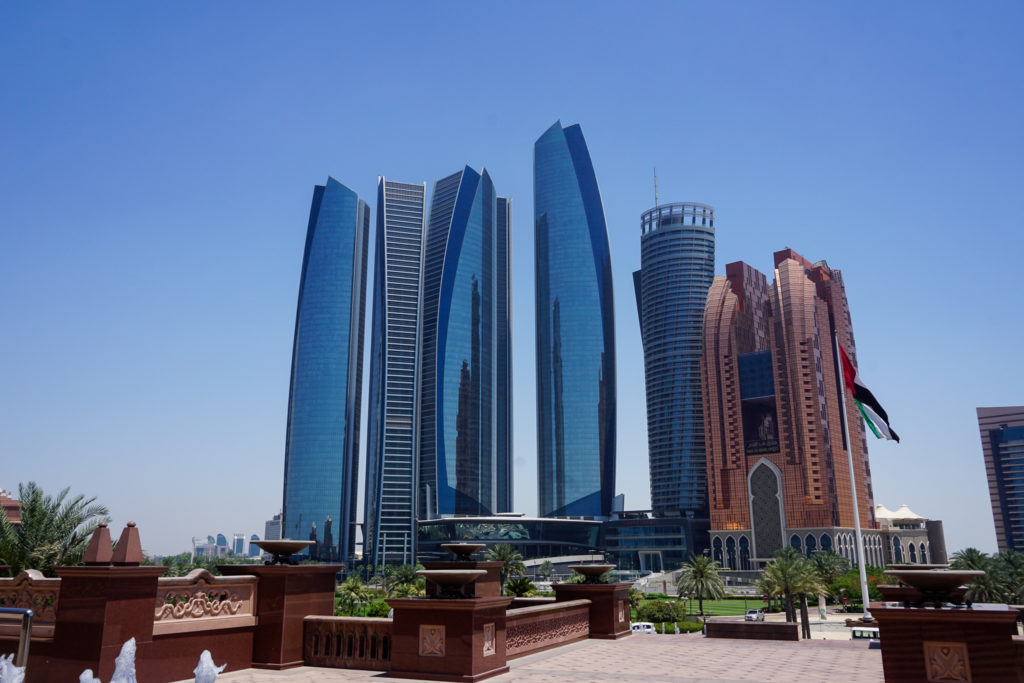 Louvre Abu Dhabi – a joint project with France, the museum focuses on bridging the gap between Eastern and Western art
UAE Heritage Village (نادي تراث الإمارات – القرية التراثية) – replica oasis village showcasing traditional architecture, culture, and crafts
Mina Zayed Dates Market – shops and stands selling a variety of dates and other foods
Yas Marina Circuit – Formula 1 race track, view the track or check out their experiences and events for more excitement
Ferrari World – Ferrari themed amusement park for the whole family
Yas Waterworld – Emirati-themed water park
Emirates Park Zoo – a zoo with various animal encounter experiences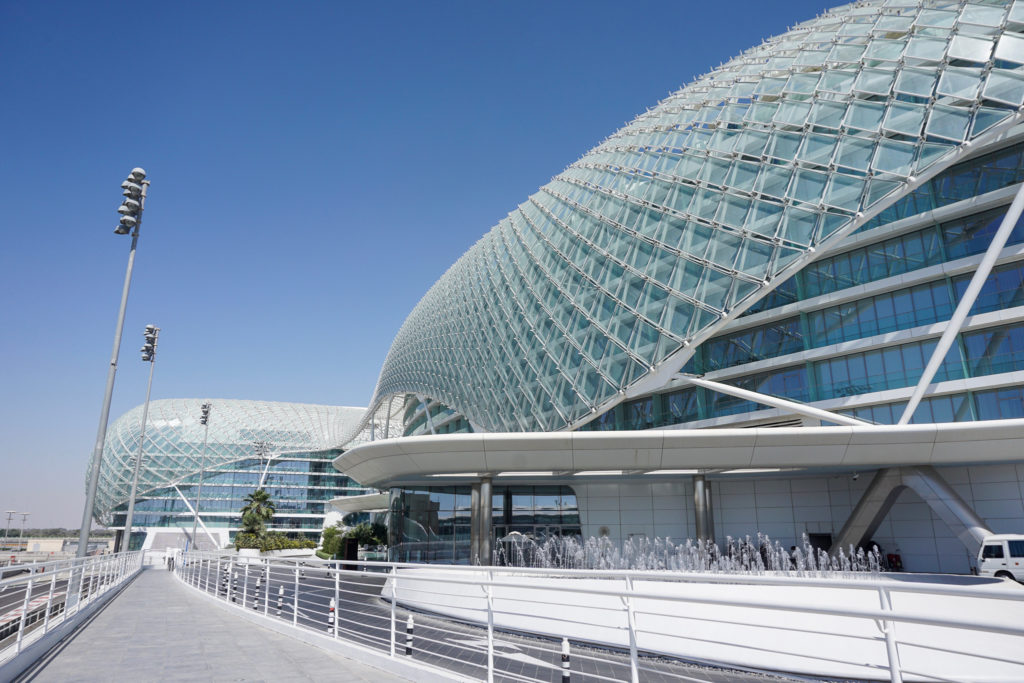 Food Ideas for Abu Dhabi, UAE
Al Fanar Restaurant – casual authentic Emirati cuisine
Meylas – female-owned, food truck serving and honoring authentic Emirati cuisine and culture
Observation Deck at 300 – enjoy tea and light dining while you check out Abu Dhabi from above in the Etihad Towers observation deck
Al Maqam in Arabian Nights Village – about 1.5-hour drive outside central Abu Dhabi, but worth it if you're looking for an authentic Arabian dining experience in a desert setting, including live music, belly dancers, henna, picturesque desert dunes and more
You easily find a variety of Middle Eastern and other international options, but Emirati cuisine isn't as abundantly available as you might expect.
Most every place offers delivery, keep this in mind if you would prefer to eat in your hotel but not at their restaurant.
Alcohol is only allowed to be served inside hotel restaurants and bars.
Top Tips for Abu Dhabi, UAE
Consider the timing of your Abu Dhabi visit, whether the weather will be bearable and if it will be Ramadan.
Abu Dhabi was built for cars, not pedestrians, taxis are the easiest way to get around.
Abu Dhabi is slightly more conservative than Dubai, but nothing extreme. Try to dress moderately.
Most everywhere is family-friendly and kid-friendly in Abu Dhabi, even fancier establishments.
They are constantly working on new attractions and developments in Abu Dhabi, check out anything new that might open before your trip.
Related Reading
Pin it for later
Don't forget to pin this for future reference, and share it with any friends!