Is there anything more synonymous with Paris than the Eiffel Tower? You would have to go to exceptional lengths to visit Paris and avoid the Eiffel Tower. Going to the top isn't for everyone, but you can still experience this iconic landmark from different places around the city without visiting it directly. Here are some of the best spots in the city not to miss for amazing views of the Eiffel Tower.
10 places for the best views of the Eiffel Tower
1. Champ de Mars
Address: 2 Allée Adrienne Lecouvreur, 75007 Paris, France
Perhaps the most classic view, the Eiffel Tower sits at the base of Champ de Mars. Many people like to grab a baguette and other treats and enjoy a picnic on the grass in front of the iconic landmark. During colder months, the grass is fenced off.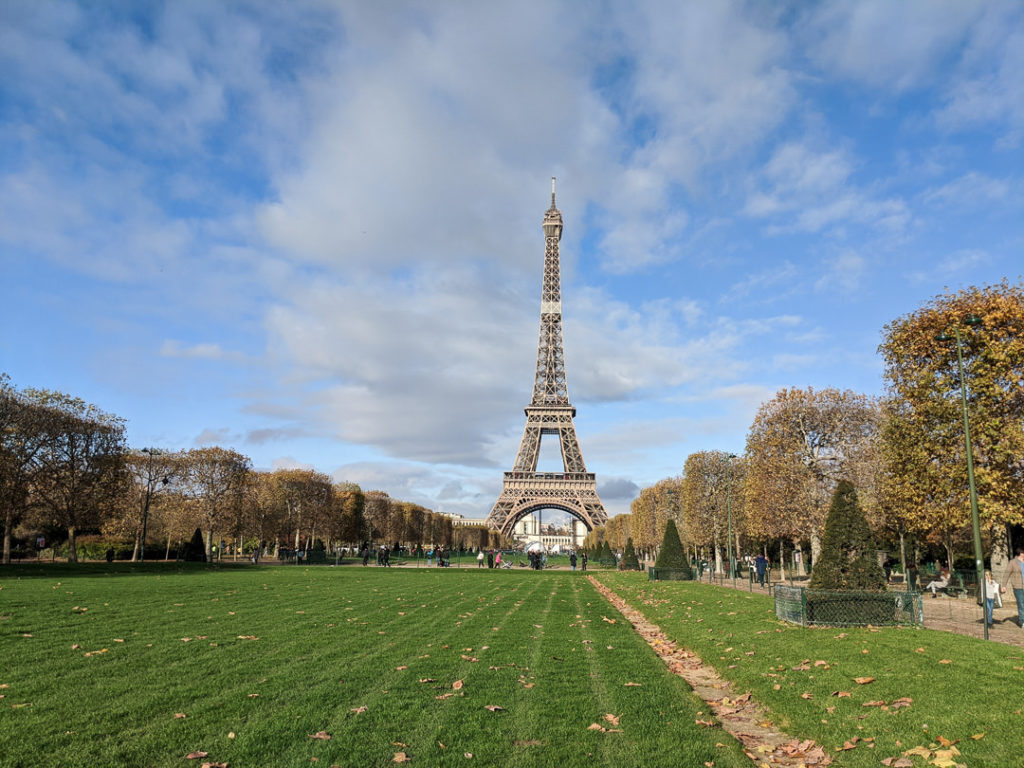 2. Tour Eiffel
Address: Champ de Mars, 5 Avenue Anatole France, 75007 Paris, France
Get up close and personal with the Eiffel Tower by visiting it directly. Walk right up to the tower, underneath it and even go up to the observation deck if you want. You have to pass through a security check, but do not need tickets to walk around and under the tower. You need tickets to go up.
3. Rue de l'Université
Address: Rue de l'Université from Avenue de la Bourdonnais to the park
Known as an Instagram spot, and if you don't mind that, it's worth the mention. The buildings and trees make a picture-perfect frame for the Eiffel Tower, particularly in spring and autumn.
4. Trocadéro
Address: Place du Trocadéro et du 11 Novembre, 75016 Paris, France
Crowds can be intense here since this is one of the most popular places to view the Eiffel Tower, but it's still worth it. Head there as early as possible if you're hoping for fewer people. Otherwise, the esplanade paired with the lighting changes at sunset provides a dramatic backdrop for an Eiffel Tower viewing.
5. Avenue de New York
Address: Avenue de New York between Passerelle Debilly and Pont de Bir-Hakeim
On either side of Pont d'Iéna, along Avenue de New York you're offered a stunning view of the Eiffel Tower, Seine River, and bridge. This is directly below Trocadéro so you can visit both spots together.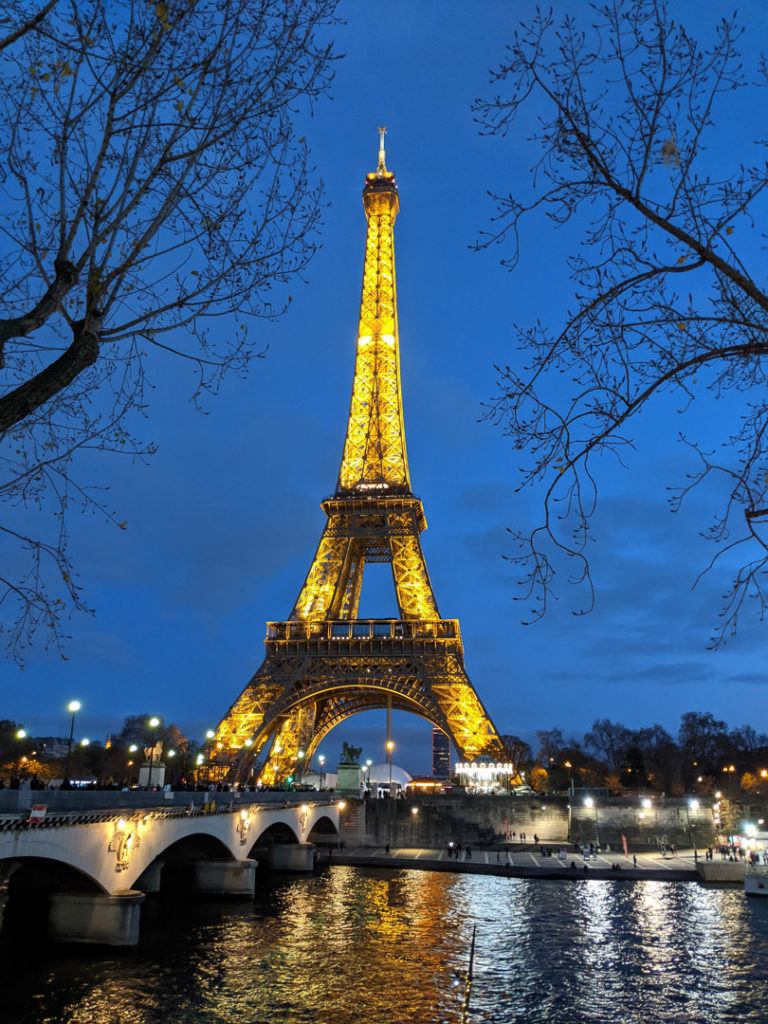 6. Along the Seine
Address: Seine River, Paris, France
Several spots along the Seine River offer great views of the Eiffel Tower. Whether you take in the views from the river directly on a river cruise or along the path via bike, scooter or walking, the views will not disappoint. At some ports (e.g., Port Debilly) along the river, you're able to go down a set of stairs from the main road and be level with the river. Here, where boats load and unload, may offer a different perspective and less obstructed view.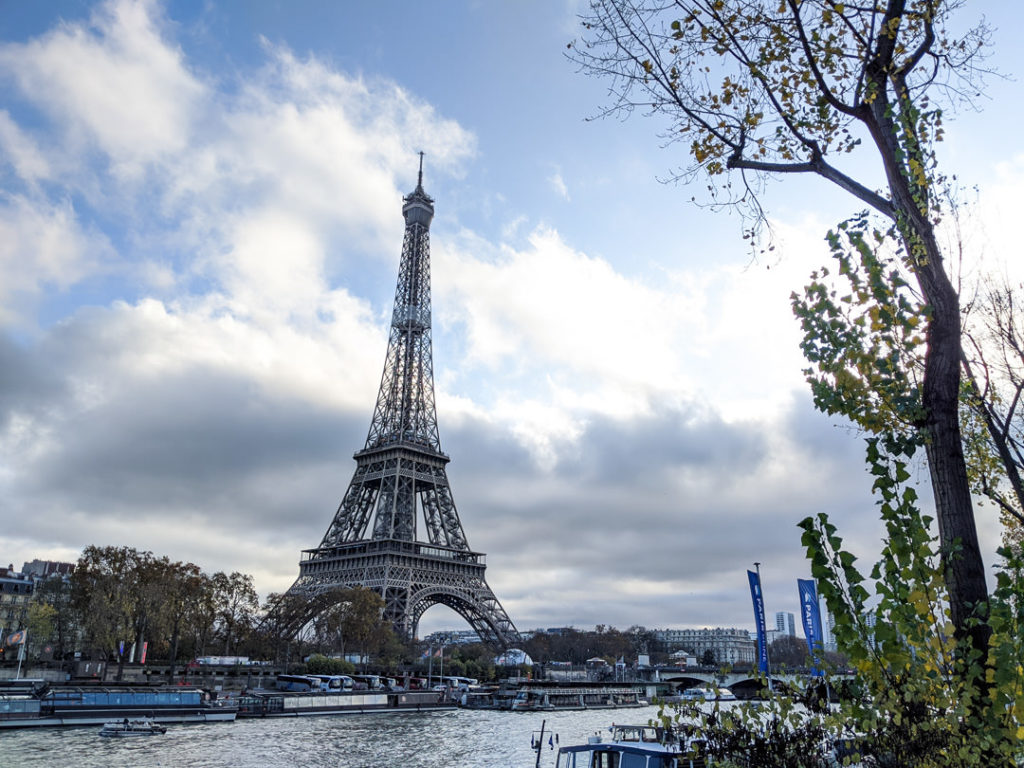 7. Pont Alexandre III
Address: Pont Alexandre III connecting the 7th & 8th arrondissement
As the most ornate and extravagant bridge in Paris, Pont Alexandre III is worth a visit without even considering the views. Yet you are also rewarded with Seine River scenes and another great view of the Eiffel Tower, a little further away than the aforementioned spots.
8. Galeries Lafayette Rooftop
Address: 25 Rue de la Chaussée d'Antin, 75009 Paris, France
This is one you have to know about and plan for, you won't stumble up here accidentally. Galeries Lafayette is a large French Department store with an impressive stained glass ceiling. If you can squeeze through the crowds and not get distracted by the beautiful sights inside (though do make time for this too), continue all the way up to the top level out onto their rooftop. It's an expansive rooftop boasting 360-degree views of the city – Palais Garnier right nearby, down to the Eiffel Tower and up to Sacré-Coeur.
9. Sacré-Coeur
Address: 35 Rue du Chevalier de la Barre, 75018 Paris, France
Up in Montmartre, on the hill, in the 18th arrondissement sits Sacré-Coeur, another top Paris attraction. Here you have sweeping views of the city, including the Eiffel Tower. Cloud coverage can disrupt the view, but it's worth a trip up to Montmartre regardless.
10. Hôtel La Comtesse Tour Eiffel
Address: 29 Avenue de Tourville, 75007 Paris, France
This is not a public place available to everyone, but if you're looking for a hotel with Eiffel Tower views this is an option. We enjoyed Hôtel La Comtesse Tour Eiffel as a classicly Parisian boutique hotel that afforded us Eiffel Tower views from our room, and every time we stepped outside.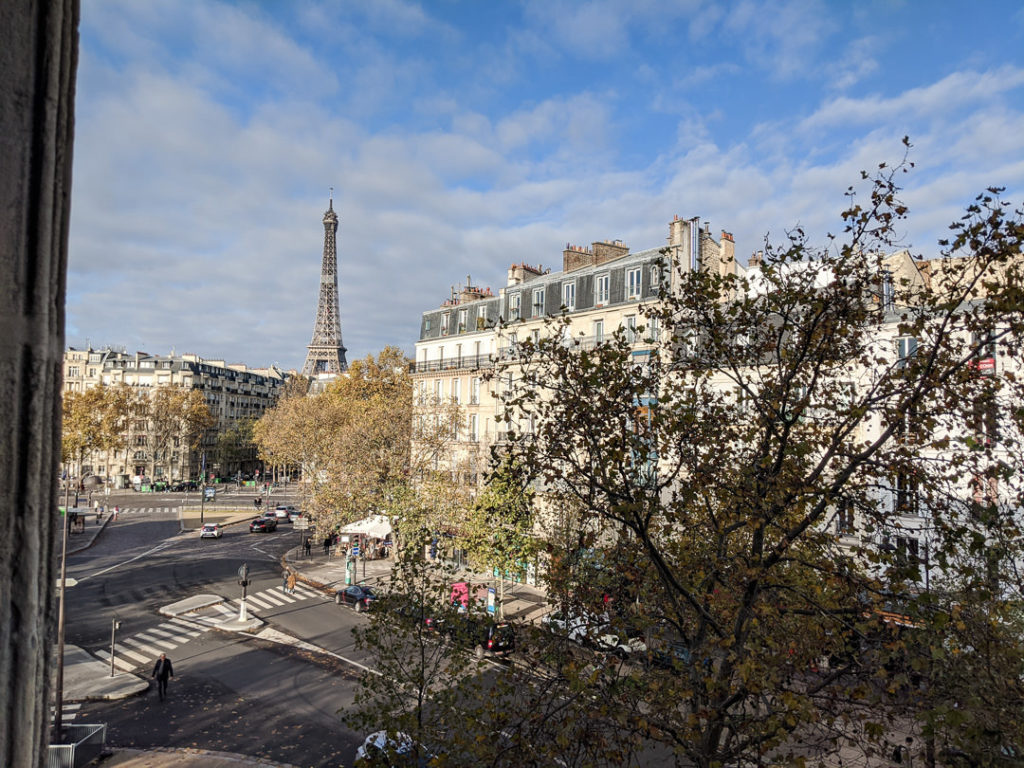 Time of Day
Not a spot, but an important point nevertheless. Make sure you seek out some of these places during the day and night. Admiring the Eiffel Tower in all different lights is a treat.
Map of places for the best views of the Eiffel Tower
Related Reading
Pin it for later
Don't forget to pin this for future reference, and share it with any friends!