Is there anything more synonymous with San Francisco than the Golden Gate Bridge? From TV shows, movies, postcards and more, this iconic landmark is often the first thing people think of when they picture San Francisco. Here are some of the best spots in the city not to miss for amazing views of the Golden Gate Bridge.
13 places for the best views of the Golden Gate Bridge
1. Golden Gate Bridge
Address: Golden Gate Bridge, US-101, San Francisco, CA
Get up close and personal with the Golden Gate Bridge and visit it directly. Walk (approximately 1.5-2hrs round-trip) or bike across the east side of the bridge. There are parking lots on both ends of the bridge, but no bike rentals directly so you need to plan ahead for that. For additional tips and details about walking or biking across the Golden Gate Bridge, read Bucket List Journey's guide here.
2. Crissy Field
Address: 1199 E Beach, San Francisco, CA 94129
Formerly a U.S. Army Airfield, Crissy Field was restored as an open grassy park and beach that has unobstructed views of the Golden Gate Bridge. Bring some food, a blanket and have a picnic as you enjoy this classic view. There are free parking lots on both ends of Crissy Field.
3. Fort Point
Address: Long Ave & Marine Dr, San Francisco, CA 94129
Head below the Golden Gate Bridge to this Civil War fort. Almost every viewpoint is level with or above the bridge, but here you can admire the bridge's support structures for a unique perspective. There is a small parking lot directly at Fort Point.
4. Baker Beach
Address: Baker Beach, San Francisco, CA
Baker Beach is a large popular public beach down the cliffs of Presidio. It has beautiful views across to the Marin Headlands and of the Golden Gate Bridge. This beach is popular for walking, fishing and relaxing, but not swimming because of the rip currents. It is a clothing-optional beach, but usually, people going nude stay further down closer to the bridge. There is usually plenty of free parking space at Baker Beach, but it can fill up on clear and sunny weekends.
5. Marshall's Beach
Address: Marshall's Beach, San Francisco, CA 94129
It takes a little more effort to get to Marshall's Beach, but the picture-perfect natural setting is a unique treat. It's a 2.2 mile loop hike, but there are different access points, so you don't need to hike the whole thing unless you want to. You can park at Baker Beach (south of Marshall), take the Sand Ladder up to the California Coastal Trail, connect to the Batteries to Bluffs Trail and this will take you to Marshall's Beach. Or you can park at Langdon Court, near the Golden Gate Overlook, and then access the Batteries to Bluffs trail nearby. NOTE: This beach is rocky and may have very little sand depending on the tide, and it has no facilities and clothing is optional.
6. Langdon Court/Golden Gate Overlook
Address: Langdon Ct, San Francisco, CA 94129
Up at Fort Scott, near the Battery Godfrey and Battery Boutelle you'll find another great Golden Great Bridge viewpoint. Here you're above Marshall's Beach and can hike down to there from Langdon Court. Be sure to climb up and wander around the whole fort area for the best views. There is a Langdon Court parking lot.
7. Lands End
Address: Lands End Main Parking Lot, Merrie Way, San Francisco, CA 94121
Lands End is a park on the northwest side of the San Francisco peninsula. Known to be one of the most beautiful hikes in San Francisco, it's popular with locals, but less so with tourists. This one will take you more time, but if you're looking for a little more physical activity paired with bridge views, this is a great option. You'll also find the Sutro Baths and Lands End Labyrinth in this park. The full loop trail is 3.4 miles (5.5km). There are a few different options for parking, decide whether you want to do the whole park/trail, or only a portion of it in order to pick the best parking spot for your plan.
8. Marin Headlands/Hawk Hill
Address: Marin Headlands Vista Point, Conzelman Road, Mill Valley, CA 94941
For a higher viewing point, head across the bridge to Marin County, up to the Marin Headlands Vista Point. Here you're treated with a wider view of the whole landscape – downtown San Francisco, the hills, beaches and, of course, the bridge.
9. Conzelman Road
Address: Conzelman Road, Mill Valley, CA
On the way back down Conzelman Road from Marin Headlands, you'll find a few more observation areas. They each provide a slightly different view at different elevations. It's easier to stop at these on the way down rather than up the hill. There are small parking lots at the various overlooks.
10. Battery Spencer
Address: Battery Spencer, Conzelman Rd, Sausalito, CA 94965
This 19th-century battery, across the bridge in Marin County, offers some of the most stunning views of the Golden Gate Bridge with downtown San Francisco in the background. It's about a 0.25 mile (0.4 km) easy hike from parking to Battery Spencer, 0.5 miles (0.8km) round-trip. The trail is off of Conzelman Road along with the aforementioned spots. There is a small parking lot at the beginning of the trail to Battery Spencer.
11. Battery Yates/Cavallo Point
Address: Fort Baker, Satterlee Rd, Sausalito, CA 94965
Battery Yates is part of Fort Baker, a former U.S. Army post. It's in Sausalito which provides you with bayside views of the bridge. Don't skip taking a stroll or having lunch in Sausalito too! There's a small parking lot by the yacht club, at the end of Satterlee Road which will take you closest to the water.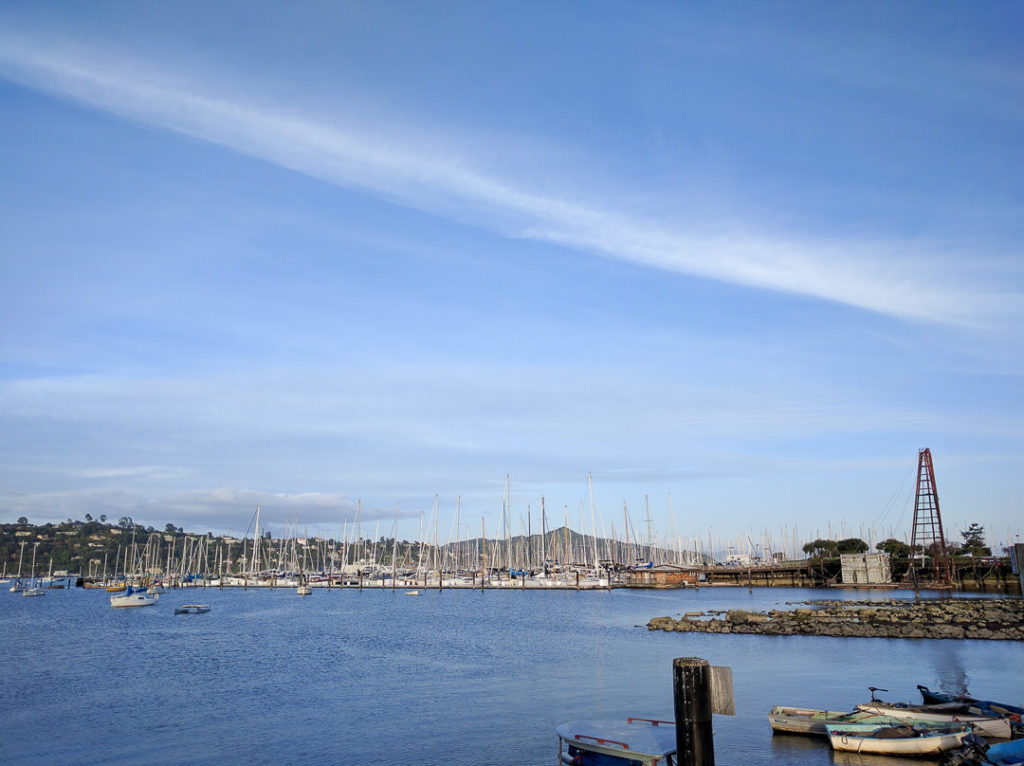 12. On the water
Address: Fisherman's Wharf/Pier 39, San Francisco, CA
Seeing the bridge from the water can provide a different perspective from any other viewpoint. Take a Bay cruise (Blue & Gold Fleet and Red & White Fleet), see the bridge, maybe Alcatraz Island and more depending on which cruise you choose. Another option for bridge views is to take the ferry from Sausalito back to San Francisco.
13. Hippie Tree
Address: 100 Gilmartin Dr, Tiburon, CA 94920
For sweeping panoramic views of the Bay, including the bridge, San Francisco skyline, and beautiful hills, head over to Tiburon. Hidden away in a residential neighborhood, at the top of a rolling hill, you'll find a park. There's a clearly marked trail. From the start, you need to hike about 0.25 mile (0.4 km) to reach the hippie tree and there you'll be treated to a picturesque tree swing and stunning views. Parking is limited and on the street. It's a windy residential road, so you may need to go further up or down to find an appropriate spot.
Weather and visibility
San Francisco is infamous for its fog, which can add to or disrupt your Golde Gate Bridge view depending on the day and your preference. Summertime (approximately late June through August) is when San Francisco sees the most fog, and September through November is when it sees less. Be prepared for windy conditions at most of the viewpoints.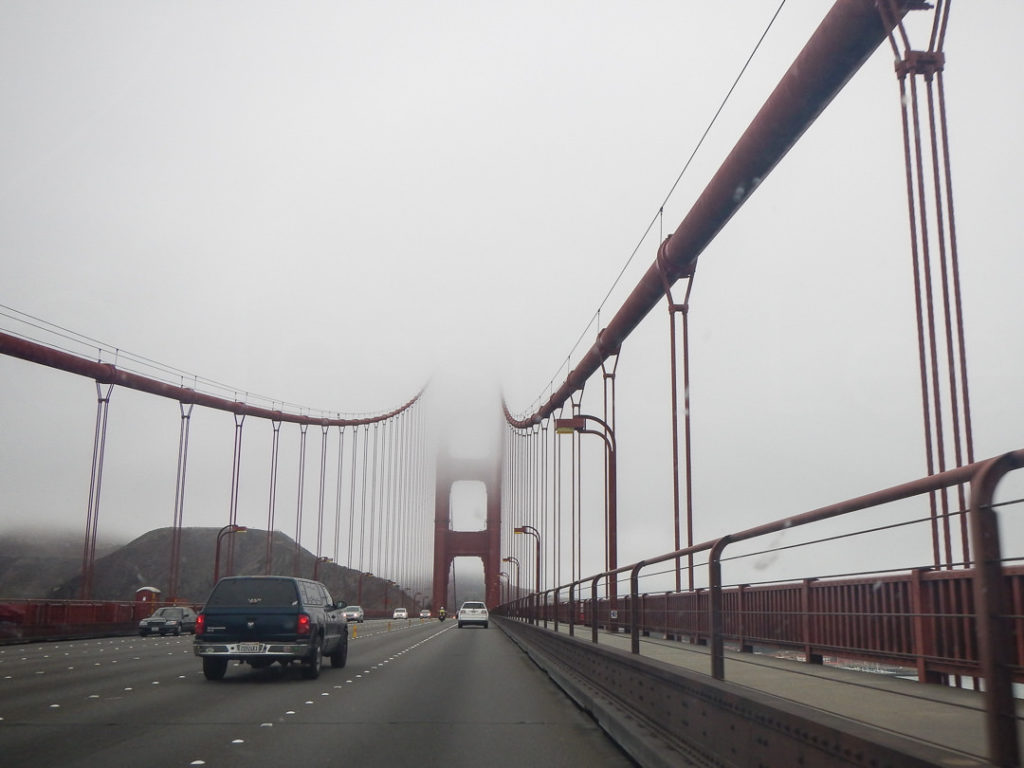 Related Reading
Pin it for later
Don't forget to pin this for future reference, and share it with any friends!