This post is sponsored by WAYB, but all opinions are my own.
I'm going to assume that traveling with car seats does not fill you with joy. I could be wrong though. Maybe you enjoy strapping 27 pounds to your back or lugging 22 pounds through security, to your gate, and down the jet bridge. This is of course in addition to any children, and other luggage.
For us, traveling with car seats has always been a less than desirable aspect of traveling with young kids. Not enough to deter us from traveling, but enough to make us question it. Enough to encourage us to seek out alternative ways to make it a little bit easier.
On one trip we mistakenly brought our daily car seats, learned, and then purchased cheaper lighter seats. At our destination, we've rented car seats and purchased extra ones to keep with our families for when we visit. We've relied on public transportation instead, hired private transportation with car seats, and even did as the locals do and forgone car seats in certain destinations (wouldn't recommend). None of these options have been ideal. They have all still been a struggle in some way or another be that cost, scheduling, or excess bulk.
We've smoothed out our travel game over the years (aside from the uncontrollable). Traveling with car seats, however, still feels really sticky and bumpy.
Unfortunately, we can't Marie Kondo the car seats. They are a necessary burden.
All is not lost though! Recently I learned about a new solution that I'm SO incredibly excited about. A newer small business that is redefining travel with car seats – WAYB. They're redefining on-the-go gear to help make traveling with kids a little bit easier for parents. They're a minority-owned, family business, which makes me love them even more!
This article contains affiliate links. If you chose to purchase something, it will not cost you anything extra by using our link. We receive a very small commission that supports our blog. For further details, you can read our disclaimer policy.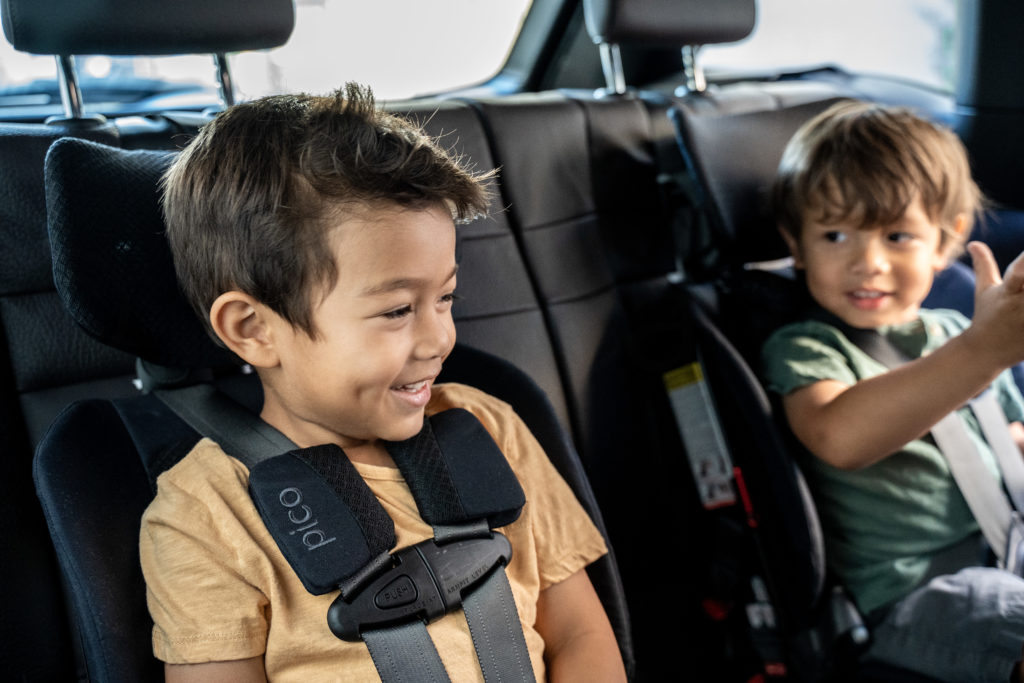 Game-changer: WAYB Pico
WAYB invented the Pico™ Travel Car Seat. A seat that truly lives up to its name of being a proper travel car seat. It's only 8 lbs (3.6 kg), making it about a ⅓ of the weight of a typical convertible car seat. In addition, it is designed with a compact fold and only 11.6" L x 14.5" W x 18.9" H when folded. (To compare, the Graco 4Ever seat is 23 lbs and 20 x 21.5 x 24 inches.)
The Pico fits kids who are 22-50 lbs and between 30-45 inches tall. Pico needs to be installed forward-facing. Therefore it is recommended for children who are at least 2 years old.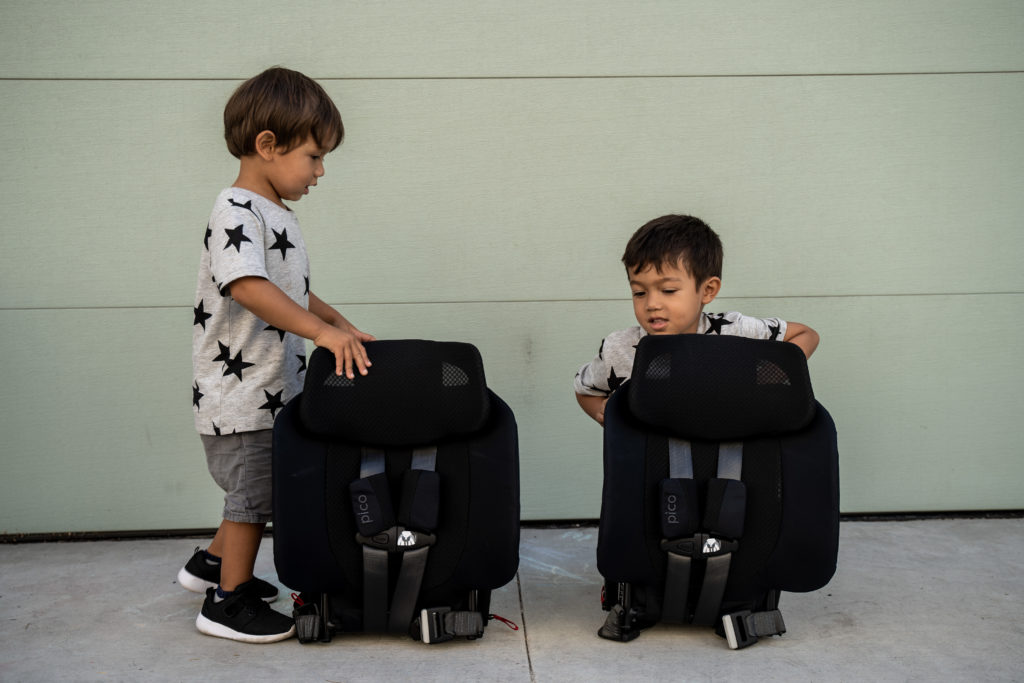 Where to use the WAYB Pico
WAYB created the Pico travel car seat for parents on-the-go in mind. Because of its low weight and compact size, it's perfect for travel. Nevertheless, travel is not the only use of Pico.
If you live in a city and use rideshares or taxis regularly, Pico is a great option for still being able to get around with your young kids this way. We travel to NYC frequently, and lugging the car seats is an extra challenge here.
Parents with small cars and those who need to fit 3 car seats across a row will be happy to have Pico as another option. Steve has a BMW i3 which has rear suicide doors, only 2 seats in the back, and overall is a tiny car. Using two Pico seats, the boys have so much more space. Before their two seats were taking up the entire back and it was near impossible to buckle them in.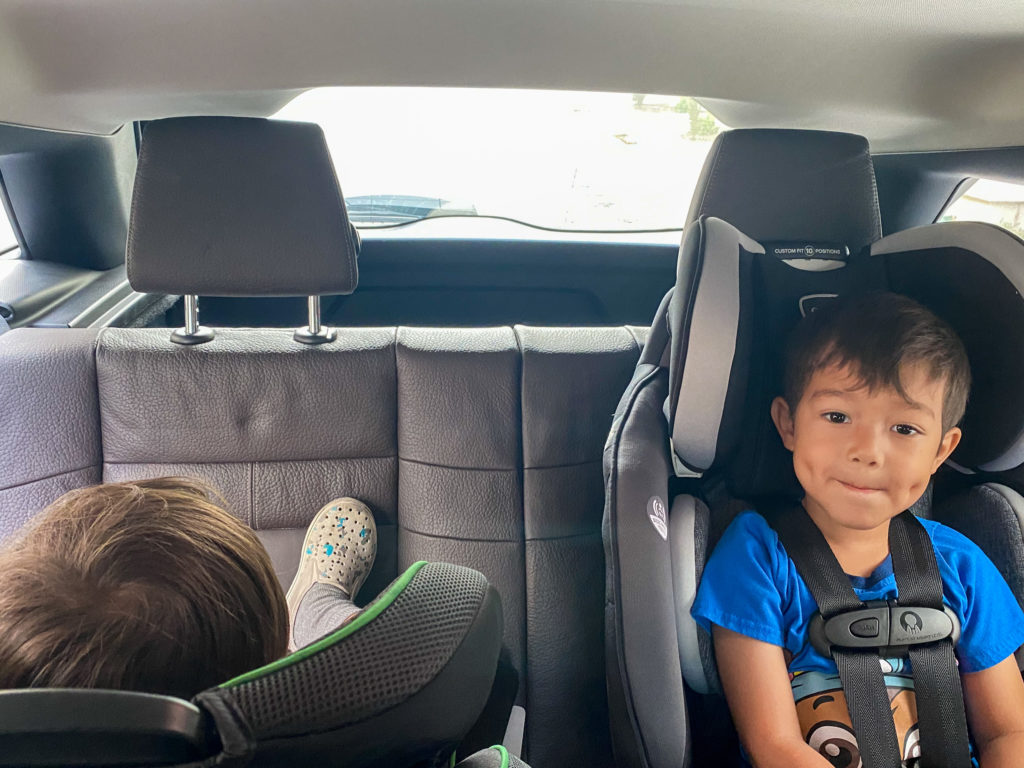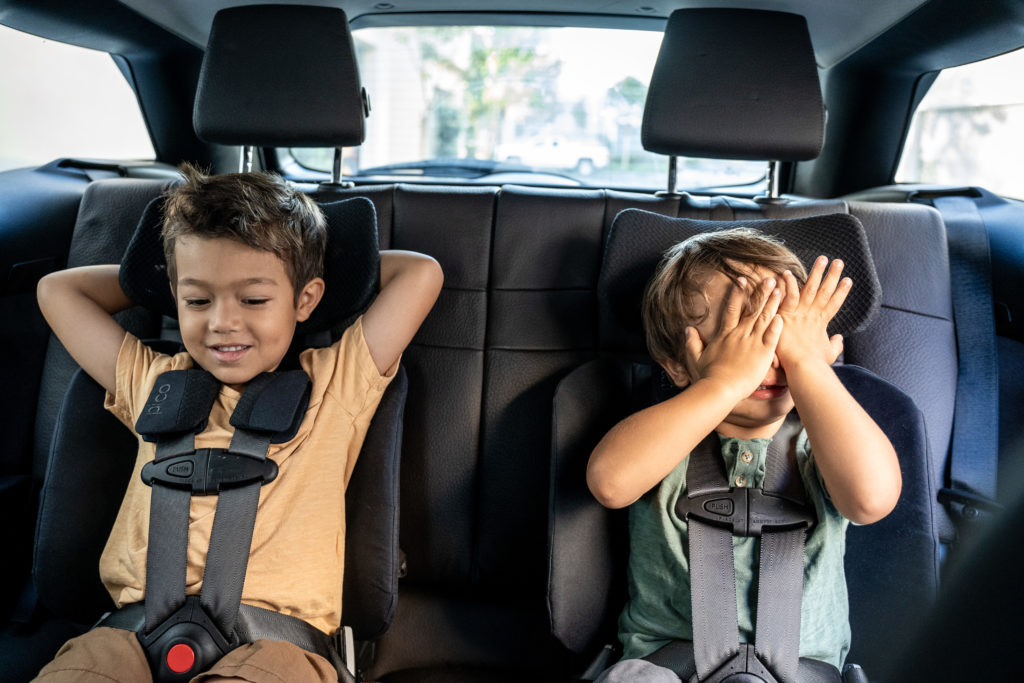 Another great use for Pico is if you need to switch a car seat between vehicles frequently. Whether for grandparents, a nanny, carpooling, or something else, the Pico is an easy option for this.
Pico passes all U.S. standards regulated by the National Highway Traffic Safety Administration (NHTSA) and by the Federal Aviation Administration (FAA). This means it is approved for use in all cars in the US and on airplanes.
Installing WAYB Pico
The Pico car seat is so well designed, it's genius. I had no trouble figuring out the install without instructions, but this is a bad habit. I would recommend you check out their manual and short helpful installation videos, including one specifically for airplane seats. Pico can be installed with LATCH or using a standard seat belt.
WAYB designed it so everything clicks or hides when not in use. With a quick pull of the blue tab, the bottom seat unfolds and you clip it into place. Then the rest should be familiar like other car seats – adjusting the headrest, attaching the tether, and installing with LATCH or a seat belt.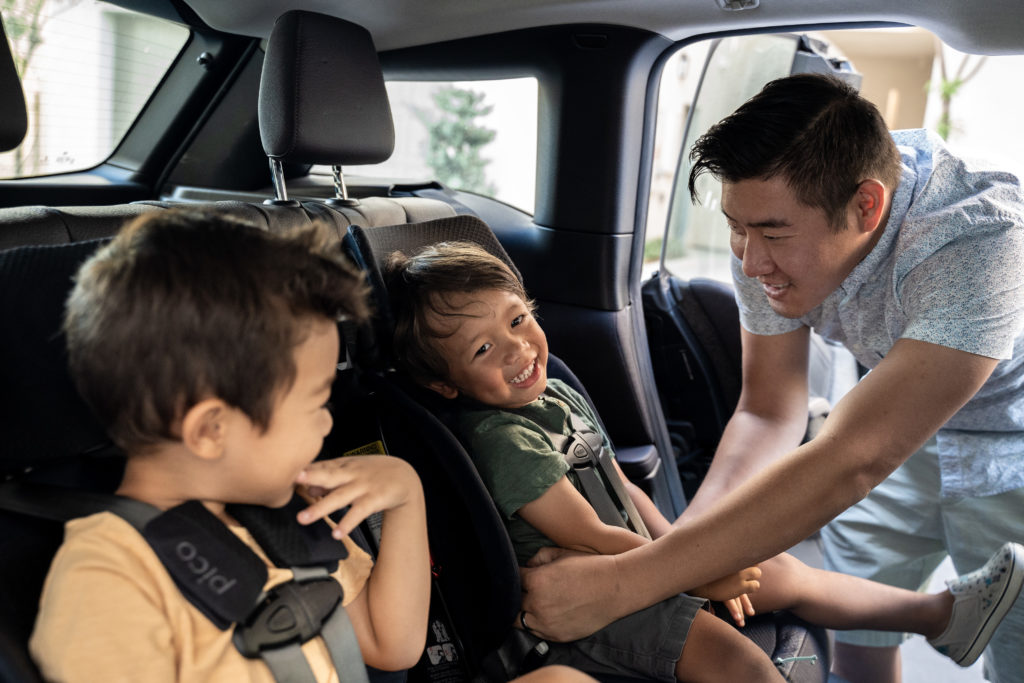 WAYB Pico comfort
The Pico uses a wool/polyester blend AstroKnit™ that is breathable and ergonomic and keeps kids cool in their seats. You tighten and loosen the harness straps on each side of the seat versus one single strap in the middle. The crotch buckle only has one position, so the depth might be a little tight for some older kids depending on their size.
Elden noticed he was riding much lower in the car than his usual seat because of the seat's low profile. This didn't bother him at all, he thought it was comfy and cool. My kids get excited about new car seats…me too!
Bonus – Pico is more environmentally friendly than many other car seats since it uses very little plastic and no PU foam.
Traveling with WAYB Pico car seats
The Pico Travel Car Seat is made for travel. It's a game-changer redefining traveling with car seats. It's making the idea of traveling with car seats not such a headache. This shines through in every thoughtful aspect of how WAYB designed the seat.
It's much lighter than most car seats.
It's more compact than any other car seat I've heard of.
There is a latch, pocket, strap, elastic, or storage area for every moveable piece (clip, strap, etc.). This way they don't swing and get dirty or damaged while not in use.
Approved for use in the US in all cars and airplanes (NHTSA and FAA compliant).
It can fit in most overhead bins on a plane.
WAYB sells the Pico Travel Bag and the newer Deluxe Pico Travel Bag specially designed to fit the Pico car seat. Both bags have shoulder straps to carry it like a backpack, and a sleeve that you can slip through your upright rolling suitcase, which are helpful features when traveling with little ones. The deluxe version has a few more features and is a little sturdier and more stylish than the standard bag.
You can purchase the Pico™ Travel Car Seat from WAYB directly, via Amazon, or from Nordstrom.
We have not gotten a chance to test out the Pico on a plane yet. But I'm excited to do so, and when we do, I'll update this post.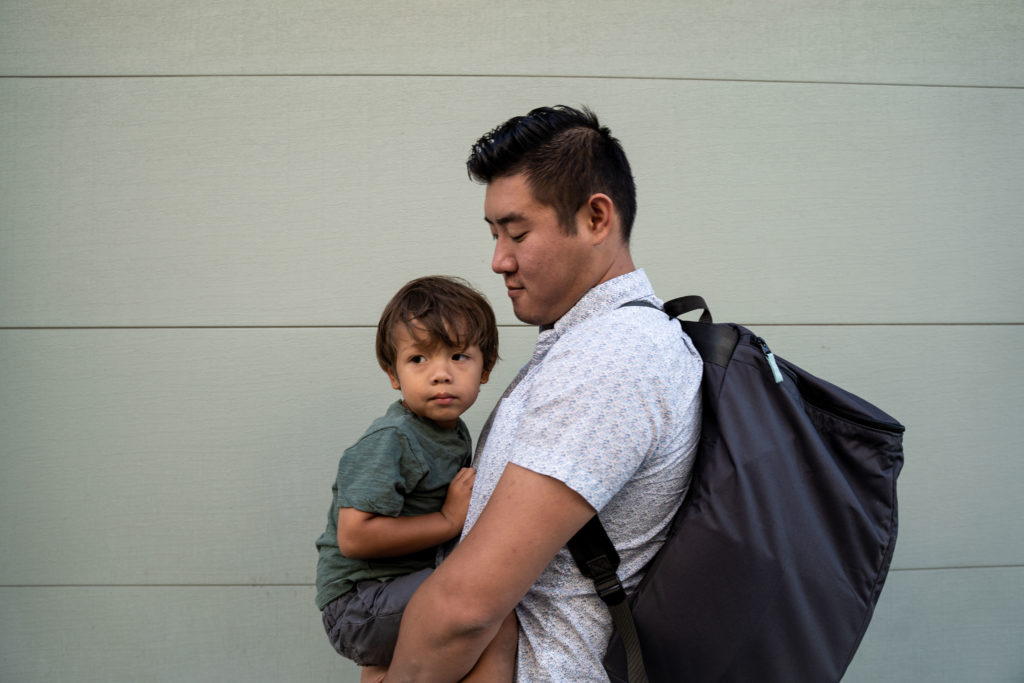 WAYB's Pico™ Travel Car Seat is life-changing for travel-loving parents. How do you manage traveling with car seats for your young kids? In what ways is it difficult?
Related Reading
Pin it for later
Don't forget to pin this for future reference, and share it with any friends!