We use a variety of travel (and non-travel) websites to research, book and plan a family trip. Check out the list below to make sure you're up to date and using these helpful sites. Not all are travel-specific, but they are all useful for travel planning.
Google's flight search feature is simple and easy to use but has some neat options. My favorite is that you can search from your home airport to a whole continent versus specifying a city. You can narrow the parameters by stops, price, etc. For example say I know I'm going to leave NYC, and I want to go to Asia but haven't decided which country. Your search results will show all different flight options to Asia. You can decide where to go from here based on how much you want to spend, nonstop, or whichever details you care about.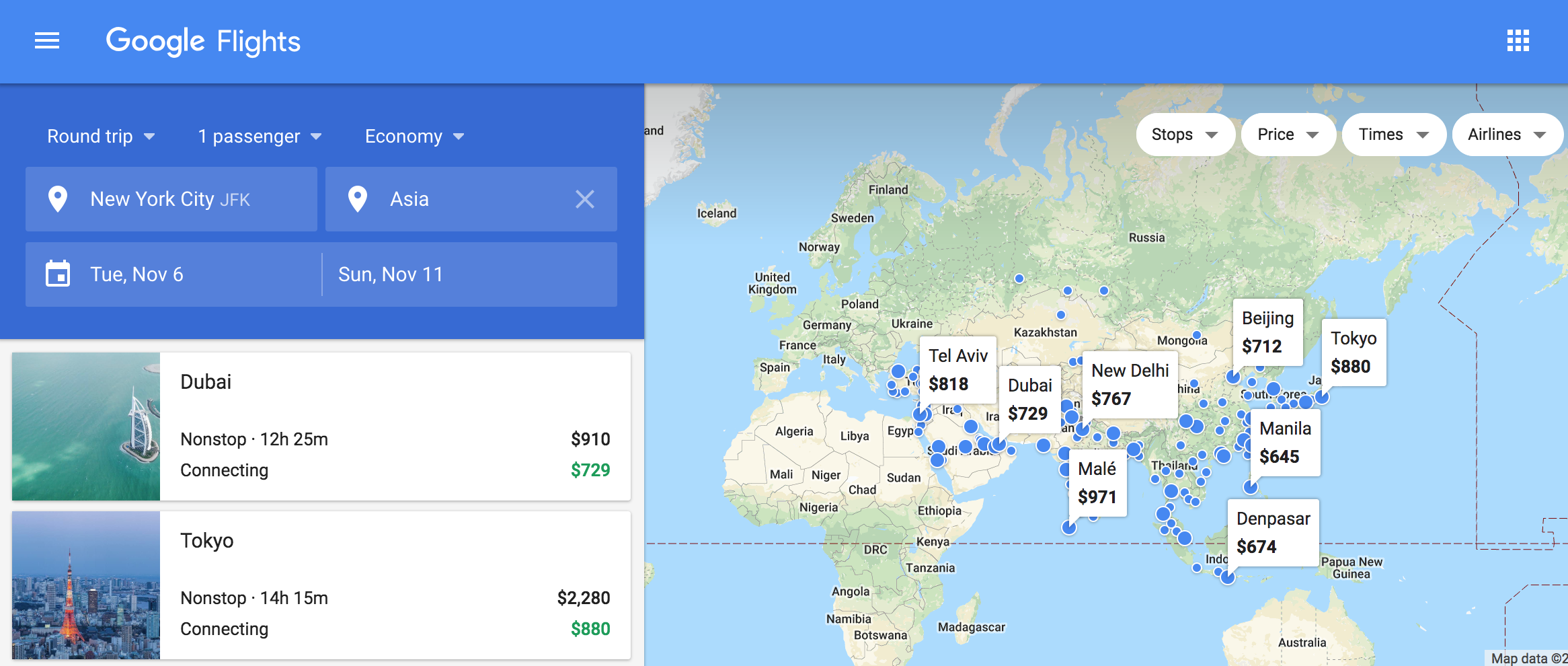 Momondo is a great flight search aggregator. This one seems to repeatedly turn up the cheapest flights. Check out Forget Someday's post for a wider in-depth overview of various sites to find the cheapest airfare.
This one is dangerous, it makes me want to book a trip every day! Secret Flying publishes flight deals, sales, and error fares daily. They're for specific routes and specific dates, but there are so many you're bound to find something appealing. It's not a site to search and book flights, but if you have flexible/open travel plans this is one to keep tabs on.
TripAdvisor is likely already on your radar, but certainly a top favorite for us. It's hard to beat the wealth of information shared on TripAdvisor. As always, don't automatically take reviews and rankings at their face value. Read smartly!
Inspired by and modeled after Wikipedia, Wikitravel is a simple and helpful travel resource. It's open to the public so everyone can collaborate, add and edit pages, like Wikipedia. They provide suggestions for what you need to know, how to get there and around, what to see, do and eat, and where to sleep for cities all over the world.
Google is always helpful when seeking out specific travel advice. I typically turn to Google when trying to find tips and ideas for traveling with a baby and toddler at our destination. Sometimes the general top advice and attractions aren't appropriate for a baby.
Perhaps an untraditional approach to search, but I've been using Instagram more and more to gather travel tips and inspiration. There are so many travelers sharing a wealth of travel knowledge via Instagram (and often linking to their blogs for even more) so don't miss out.
Rome2Rio is an incredibly helpful multimodal transport search engine. This helps you plan and book the best transportation options on your trip. You type in where you will depart and where you're going and it will suggest your best transportation options (plane + a train, or only a train, or a train + a boat). Sometimes it can be tough to find local transportation information online, and even tougher to compare all the options so this aggregates everything and helps you compare easily.
We're big Hotels.com fans. We are part of their rewards program and get a free night after every 10 days in a hotel booked through Hotels.com. They have a good variety of options, in cities all over the world. Their prices are competitive, I always cross-check, but very rarely book elsewhere.
Vacation rentals are a great option for families since you typically will get more space than in a hotel. You can find places with kitchens and laundry facilities. We like to use vacation home rentals if we're staying in someplace for a week or want to spread out. Another great reason to check out vacation rentals is being able to immerse yourself more in your destination, live like a local, and they can be cheaper than hotels (especially for families needing multiple rooms). Check all of these sites for the most options.
What did we miss? What other great travel websites do you use to plan a family trip?
Related Reading
Pin it for later
Don't forget to pin this for future reference, and share it with any friends!