We brought our baby with us for the first time on a ski trip when he was 13 months old. We traditionally followed the ski and snowboard by day and hang out in the cabin by night schedule. It was fun and a great time to catch up with everyone. This trip was different though, this trip we had a baby on board. Steve and I decided to dedicate only a couple days on the slopes (thank you, friends, for babysitting!) which pushed us to find other family-friendly ski-town activities to do with our baby. We were in Breckenridge, Colorado for this trip, but I bet you can find similar non-ski activities in other ski towns too.
Things to do with a baby on a ski trip
The Breckenridge gondola (or "Breck Connect") is just off of Main Street in downtown Breckenridge. You can get off at the bases of Peak 7 or Peak 8. More runs end at Peak 8 base and in general, there's more going on here. It can be fun to simply watch all the action: pros doing tricks, novices learning pizza, and everything in-between. When you're done take the gondola back down. It's FREE both ways and has some nice views of the mountains and town.
Going on a sleigh ride through the snow sounded so quintessentially winter to me. Something about it made me feel all cozy inside (despite it needing to be very cold in order for this to happen!). We drove in our rental SUV (go for the 4WD or AWD if visiting a ski town in winter) about 30 minutes from our rental house to the sleigh ride spot. It's a little way out of downtown Breckenridge, but it was an easy drive and afforded us some stunning landscape views.
We had a great experience with Nordic Sleigh Rides (now Golden Horseshoe Tours) for their Scenic sleigh ride which was a 30-minute ride through the woods. They have other options, but I didn't want to do anything too long or late with the baby out in the cold. The horses leisurely pulled us on a bright red sleigh through the woods. They were able to pick up a decent amount of speed at certain points making our faces tingle against the brisk wind, our baby liked this part. Halfway through the ride, we stopped to rest the horses and take some photos of the gorgeous scenery. This tour company shares space with other activity/tour companies so we also saw snowmobilers and dog sledding. Elden loved checking out the dogs. They were pretty loud but beautiful and amazing to watch!
Breckenridge has a cute walkable downtown with plenty of great shops and restaurants to check out. The downtown area is flat and has decent-sized sidewalks so a stroller is doable. Make sure to check out Peak-A-Boy Toys, a local independent toy store. They have a train table and a few other toys set up to play with, and a wide selection of toys to purchase. A beautiful burnt orange fox frequently visited our rental house, and our baby thought it was a dog and loved to watch it. We bought a cute orange stuffed fox in this store to remember our extra visitor on this trip.
Snowshoeing is harder than it looks, our thighs started burning quickly! In between Breckenridge Ski Resort's main base, and the downtown BreckConnect Gondola, you'll find the Breckenridge Nordic Center. Here we rented equipment and got trail passes, and did a self-guided tour. We weren't sure how long we'd want to stay out with the baby and how he'd like it so self-guided seemed like the best option. They have these fun little "Pulk" sleds for the babies, we brought our Ergo carrier but used the sled instead. Check out the photos below to see how it works. Elden was indifferent at a standstill, but loved it when daddy went fast! I loved this activity as I kept flashing back to childhood snow days, frolicking in the snow. The views didn't hurt either.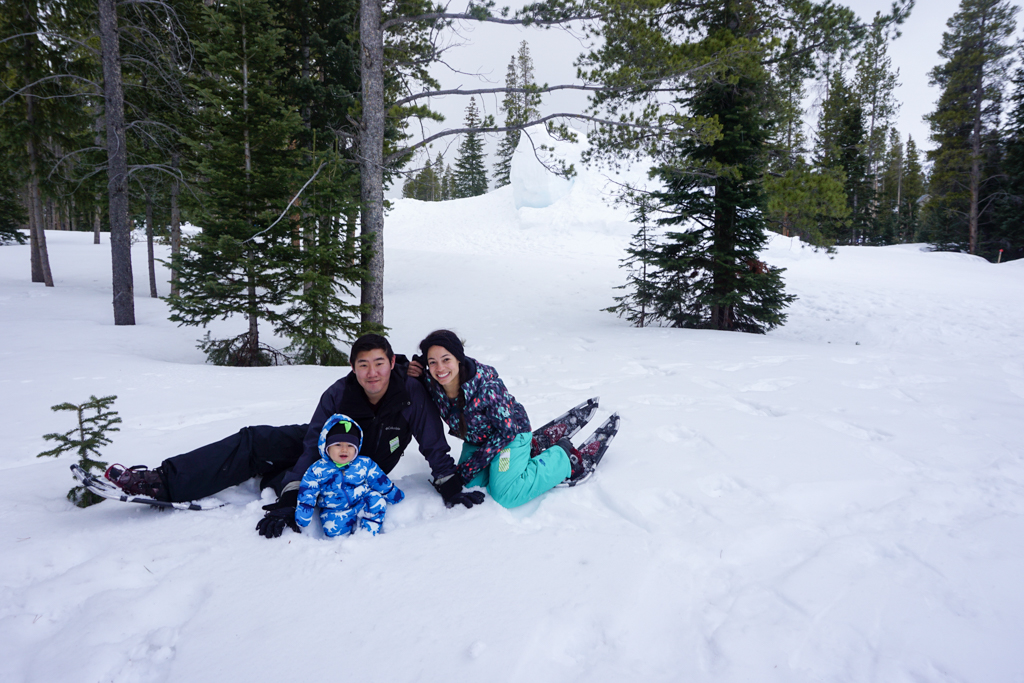 5. Play in the snow
Sometimes we overthink things with babies and forget how easily they can be amused. With snow all around, this is an easy one, just play in the snow! We had a rental house with a yard, so we played there, but you could easily find a small spot anywhere. This was Elden's first time seeing a lot of snow, enough to actually touch, taste and play with. He didn't like being constricted by his marshmallow snowsuit, but he was amused by the snow!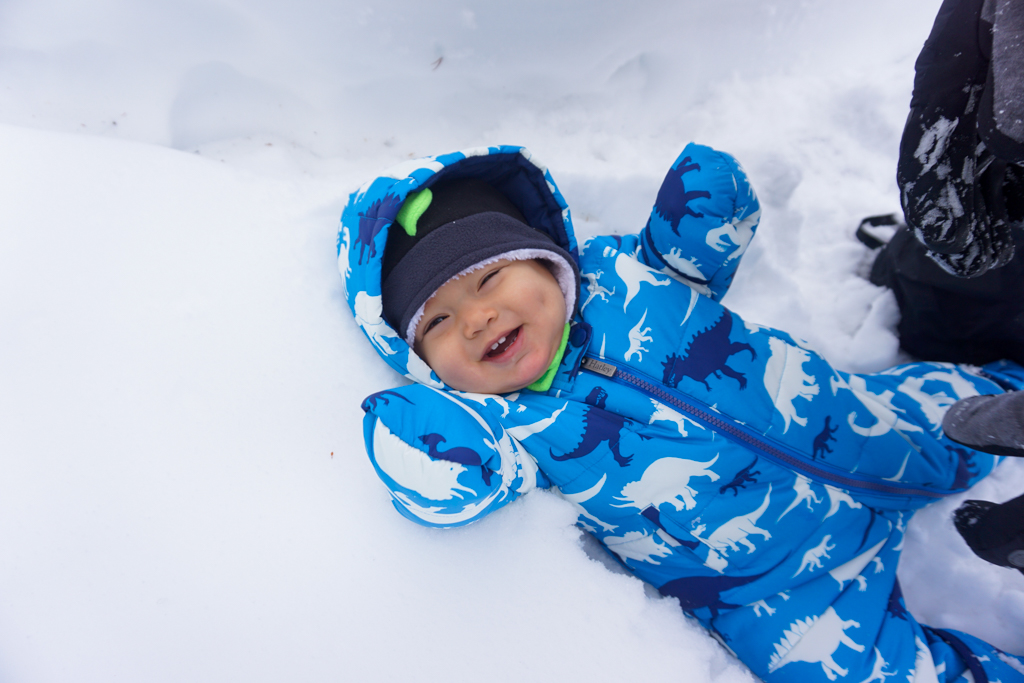 RELATED READING
---