Paris is the capital of France, which is the most visited country in the world. Unsurprisingly Paris is on almost everyone's travel bucket list. The iconic, historically rich, romantically swoon-worthy, and delectably tasty destination offers something for everyone. Below you'll find family-friendly (and a few adult-only) itinerary suggestions for a trip to Paris, France.
Before you dive into the guide, you may want to first read Understanding a Quick Itinerary Guide. This will provide you with details on our trip planning philosophy, why it's a quick guide, and what resources we use to plan. It also details what we mean by family-friendly, and further explains each of the sections included in a Quick Itinerary Guide.
Our trip details
Length of stay: 3 days, 2 nights
Accommodation: Hôtel La Comtesse – views of the Eiffel Tower
Type of trip: couples trip, without kids*
Month visited: November
How we got in/out: fly in, fly out
How we got around: walking, metro, scooters, and Uber
Additional places visited on the same trip: Copenhagen
*We took a rare kid-free trip to belatedly celebrate our birthdays and anniversary. However, I would categorize most everything we did as family-friendly. Thereby this itinerary can be used for families traveling to Paris. Anything inappropriate for kids is noted separately. Read more here about how we decide what to do and what things are family-friendly in general when traveling.
Family-Friendly Itinerary Ideas for Paris, France
1st arrondissement
Tuileries Garden – formerly the garden of the Tuileries Palace which became a public park after the French Revolution, located between the Louvre and the Place de la Concorde
Louvre Museum – the world's largest museum that is home to the Mona Lisa. If you want to see specific art, make a plan because otherwise, you could spend days wandering through everything. Expect crowds any time of year, buy your tickets in advance to cut your wait time.
Colonnes de Buren (Les Deux Plateaux) – a controversial art installation in the inner courtyard (former parking lot) of the Palais Royal with black and white striped columns of various heights
Pont des Arts – a pedestrian bridge known as the Love Locks Bridge, most of the locks were removed in 2015 due to excessive weight causing engineering problems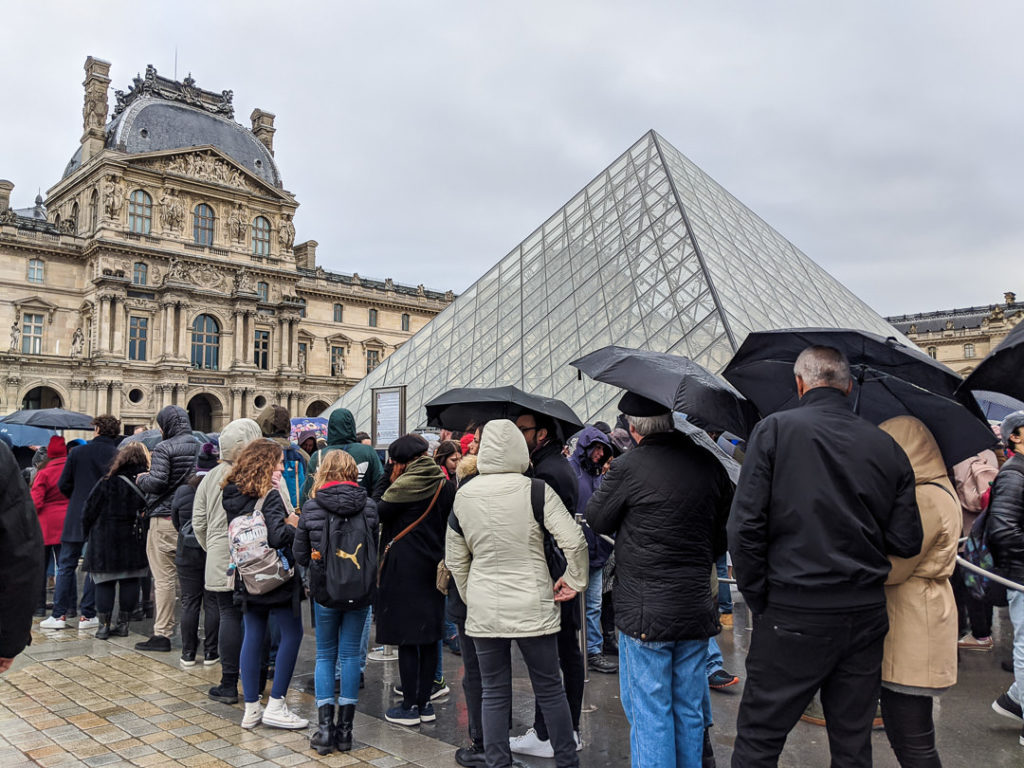 3rd arrondissement
Wander Marais district – historically the aristocratic district full of beautiful Medieval and Renaissance-era architecture, modernly it's quite fashionable with boutique shops, galleries and gay bars, spread across part of the 3rd and 4th arr.

Place des Vosges – Paris's first planned square built by Henri IV, split between the 3rd and 4th arr.
4th arrondissement
Hôtel de Sens – not a hotel, but rather a medieval mansion, former residence of the archbishops of Sens, in Marais district
Hôtel de Ville – not a hotel, but rather a striking Neo-Renaissance city hall building, only limited group tours were allowed, but this may change in the future
Saint-Jacques Tower – a gothic-style tower decorated with saints and gargoyles, the only remaining portion of the former Church of Saint-Jacques-de-la-Boucherie which was destroyed during the French Revolution
Cathédrale Notre-Dame de Paris – the famous medieval Catholic cathedral built in a French Gothic architectural style, unfortunately, the 2019 fire damaged the cathedral significantly and you are no longer able to visit, you can still view most of the front face from the corner of Rue de la Cite and Quai de Montebello, near the Pont de Coeurs
Sainte-Chappelle – dramatic stained-glass Gothic style royal chapel part of the residences of the Kings of France until the 14th century, consecrated in 1248
5th arrondissement
Wander the Latin Quarter – for its academic and artistic roots, plenty of bookshops and bistros, across part of the 5th and 6th arr.
Panthéon – a grand monument, inspired by the Roman Pantheon, used as a maseoulm (and previously some church usage), in the Latin Quarter
Grande Mosquée de Paris – the oldest mosque in mainland France with beautiful tile work, limited visiting hours, in the Latin Quarter
6th arrondissement
Gardens of Luxembourg – formal manicured 17th-century park around the Luxembourg Palace (a former royal residence, now where the senate meets)
Wander around Saint-Germain-des-Prés – often considered the best neighborhood for families to stay in, has a little bit of everything and is centrally located and easy to get everywhere else
7th arrondissement
Tour Eiffel – one of the world's most well known and visited monuments in the world, the Eiffel Tower was completed in 1889, buy tickets in advance to minimize your wait time
Musée d'Orsay – a rich museum showcasing mostly French art by Matisse, Monet, Degas, Van Gogh, Rodin and more
8th arrondissement
Pont Alexandre III – the most ornate bridge in Paris, named after a Russian czar, connects to the 7th arr.
Arc de Triomphe – an iconic Paris monument in honor of those fallen during the French Revolutionary and Napoleonic Wars, it sits in the middle of 12 busy avenues, be extra careful trying to cross to the monument during the day
9th arrondissement
Palais Garnier – gorgeous inside and out, originally built for opera, now mostly ballet performances, don't miss the grand staircase, auditorium, and grand foyer, you can buy tickets in advance
Galeries Lafayette Haussmann – an upscale Parisian department store with stunning decorations, don't miss the expansive rooftop with views of the whole city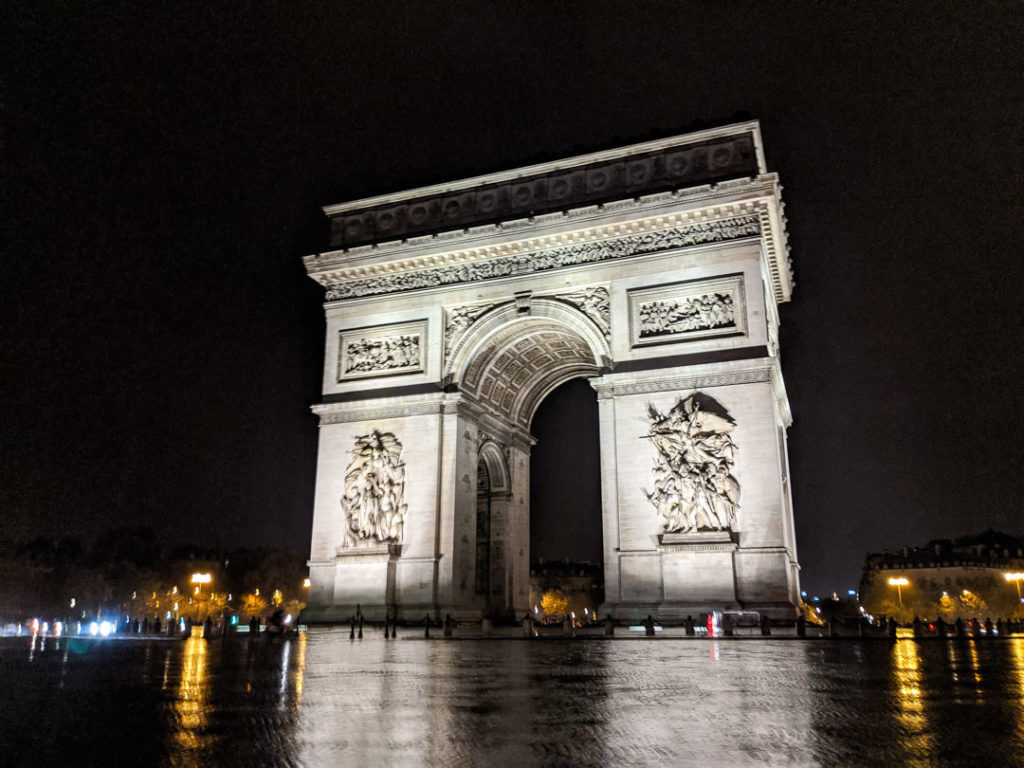 14th arrondissement
Catacombs of Paris – in response to the city's overcrowded cemetery problem, they started putting remains in a network of underground tunnels, the catacombs hold over 6 million people's remains
16th arrondissement
Trocadéro – a massive complex of buildings, gardens, fountains and more, various pieces built for different world fairs, a popular spot to marvel at the Eiffel Tower
18th arrondissement
Explore Montmartre – a neighborhood with a small-town French village feel that maintains its authentic charm in the middle of Paris, typically very crowded with tourists
Sacré-Cœur – a Roman Catholic basilica on top of the hill in Montmartre, the second-highest point in Paris, free to go in the church, you need a ticket to up the dome
Le Mur des Je t'aime (Wall of Love) – wall mural of 'I love you' written in countless different languages
Other areas
Palace of Versailles – the primary royal residence from 1682-1789, a UNESCO World Heritage site most famous for the Hall of Mirrors and the impressive manicured Gardens of Versailles, about an hour via train from Paris
Disneyland Paris – Europe's Disney which has two parks – Disneyland Park and Walt Disney Studios Park, about an hour via train from Paris
Adult (not so family-friendly) Itinerary Ideas for Paris, France
Moulin Rouge – the famous cabaret originally opened in 1889 for the Cancan dance
Wander Boulevard de Clichy – Paris's red-light district, check out Moulin Rouge sign and windmill
Crazy Horse Show – a smaller cabaret with only female dancers, racier than Moulin Rouge
Food Ideas for Paris, France
Foods/drinks to try: baguette, croissant, macaron, éclair, profiteroles (cream puff), crème brûlée, French cheeses (e.g., comté, camembert), falafel, croque monsieur/madame (hot ham and cheese sandwich), steak tartare, steak frites, roast chicken, french onion soup, escargot, oysters, duck confit, coq au vin (chicken braised in wine)
Ladurée – luxury French bakery known for their macarons, more traditional, multiple locations (including CDG)
Pierre Hermé – luxury French bakery known for their macarons, more creative and modern, multiple locations
L'As du Fallafel – fast middle eastern takeout window known for their falafels, great for lunch, expect a line, 3rd arr.
L'Éclair de génie – modern, creative eclairs, 3rd arr. (another location in Galeries Lafayette)
L'Aller Retour Marais – cozy and casual French restaurant serving bone marrow, 3rd arr.
Boulangerie Paris & Co Ecoles – rated as the third best baguette in Paris in 2019, in the Latin Quarter, 5th arr.
Odette Paris – posh cafe known for its pastry puffs, in the Latin Quarter, 5th arr.
Bistrot de la Bonne Cécile – cozy authentic French restaurant with a resident French Bulldog mascot, in the Latin Quarter, 5th arr.
La Jacobine – French restaurant known for their onion soup, down the alley, in the Latin Quarter, 5th arr.
Crêperie Genia – affordable, no-frills, classic crepe shop, in the Latin Quarter, 5th arr.
Joséphine Chez Dumonet – classic French restaurant known for its duck, 6th arr.
Restaurant La Maison de l'Aubrac – a French steak restaurant, 8th arr.
Chez André – cozy traditional French bistro restaurant, 8th arr.
L'Avenir – Moroccan restaurant known for its couscous and tagines, 9th arr.
Boulangerie 2M – bakery, rated as number one baguette in Paris in 2019, 14th arr.
Maison Lardeux – rated as the ninth best baguette in Paris in 2019, tasty pastries too, in Montmartre, 18th arr.
Le Tire-Bouchon – no-frills classic creperie with window service, indoor (notes from visitors cover the walls) and outdoor dining, in Montmartre, 18th arr.
Le Coq Rico – a casual but chic restaurant known for its classic roast chicken, in Montmartre, 18th arr.
Top Tips for Paris, France
Paris is divided into 20 arrondissements (or city districts), not exclusively neighborhoods. For further information about this, to understand how the city is set up to plan your itinerary efficiently, read here.
If you plan to get around using the metro frequently, it may be a better deal to purchase the Paris Visite travel pass. It allows you unlimited rides for however many days you purchase. You can purchase a pass directly at a station, or online in advance.
It's easy and convenient to get around via metro, but there are also many bike shares and scooter shares (by LimeBike, Uber, JUMP and more). These are great if you don't need to go that far or want to take in the sights along your way.
Buy your attraction tickets in advance! You will need to plan ahead, usually, you have to reserve tickets by the hour or half-hour, but it's worth it. You will wait significantly less time in line if you pre-purchase your tickets.
An authentic traditional baguette will have pointy ends, which shows that it was hand formed versus made by a machine.
Traditional French dining is much slower and meant to be a leisure experience. Dinner is typically served from 7:30pm-10:30pm, and you must request the bill when you're ready to go.
There is so much to see, do and eat in Paris. It can be overwhelming as a first-timer. Try to decide ahead of time what is most important for you to see and build the rest of your plans around those things. Don't get caught up in trying to see everything, or visit certain places only because they're popular. Seek out whatever you personally will value visiting.
Related Reading
Pin it for later
Don't forget to pin this for future reference, and share it with any friends!