I wanted to find out what travel destinations were the most baby-friendly for our first baby's first international trip. So I asked Google, "what are the most baby-friendly countries?" Looking back, I laugh at myself a bit for this.
After that first trip, we brought him to Cuba. Next, we brought our second baby to Mexico at 4 months old, Peru at 6 months old, and Egypt at 7 months old. These spots aren't exactly considered the most baby-friendly travel places. However, I completely understand why I sought out 'baby-friendly' destinations at first and why other parents may too.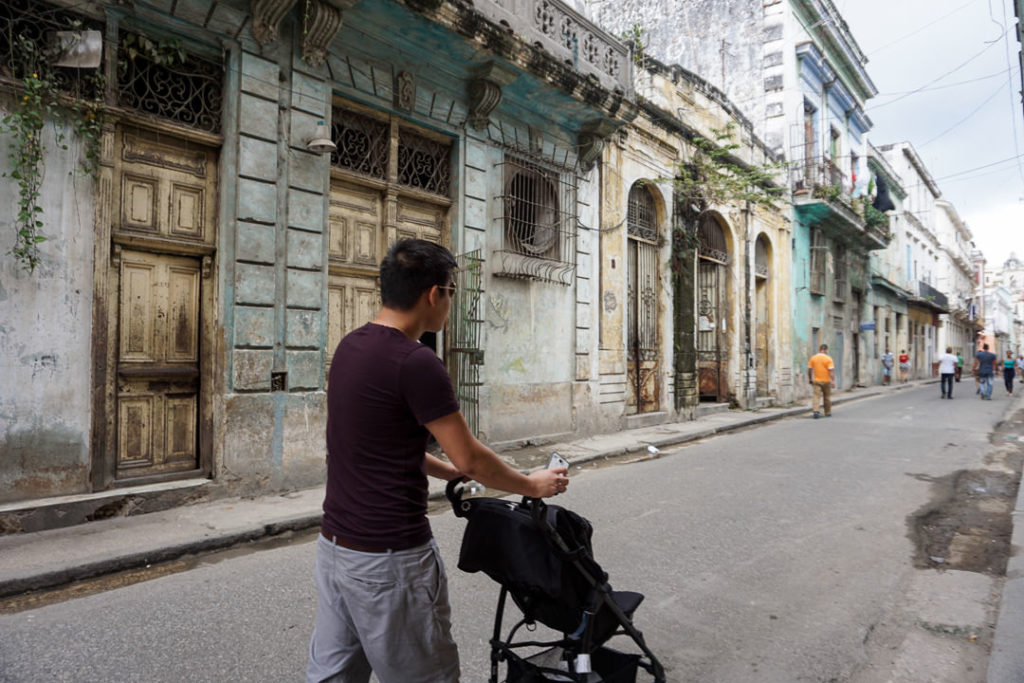 Rationally speaking, people raise babies all over the world. Anywhere can be considered baby-friendy. We all get used to what we know, however. And having to do without certain amenities and conveniences, and navigating different languages and cultures while parenting a baby can be challenging.
Traveling with little ones can be tough. You may not want to inconvenience yourself even further on a trip. Or any extra challenges may be worth it to you for more unique travel experiences. Everyone has different travel goals, styles, and preferences and that's perfectly okay.
How to help you decide if a travel destination is baby-friendly
If you're trying to decide where to travel with your baby and whether a destination is baby-friendly enough or not for your family, read on. Consider the following questions and how much these things matter to you for your trip.
Baby-friendly transportation considerations
How will we get around? Do I need to bring a car seat? Consider distance and transportation options between your accommodations and sights/attractions. Think about whether you will need a car seat to get to and from the airport, on the plane and at your destination. Public transportation and car seat rentals are a way around bringing your own seat.
Will the terrain allow me to push a stroller? Or will I be reliant on a baby carrier? Think about where you will want to walk (along sidewalks? squares?) and which attractions you want to visit. Are these paved, cobblestone, sand, full of stairs?
Baby-friendly cultural considerations
How is the local attitude and culture toward families? Some cultures embrace families more warmly and go out of their way to accommodate them. Families come in all colors, shapes, and sizes. Consider whether the culture is tolerant of any differences applicable to your family.
Can I breastfeed everywhere comfortably? Breastfeeding practices vary around the world. Consider how and where you can feed your baby and if that will impact your trip.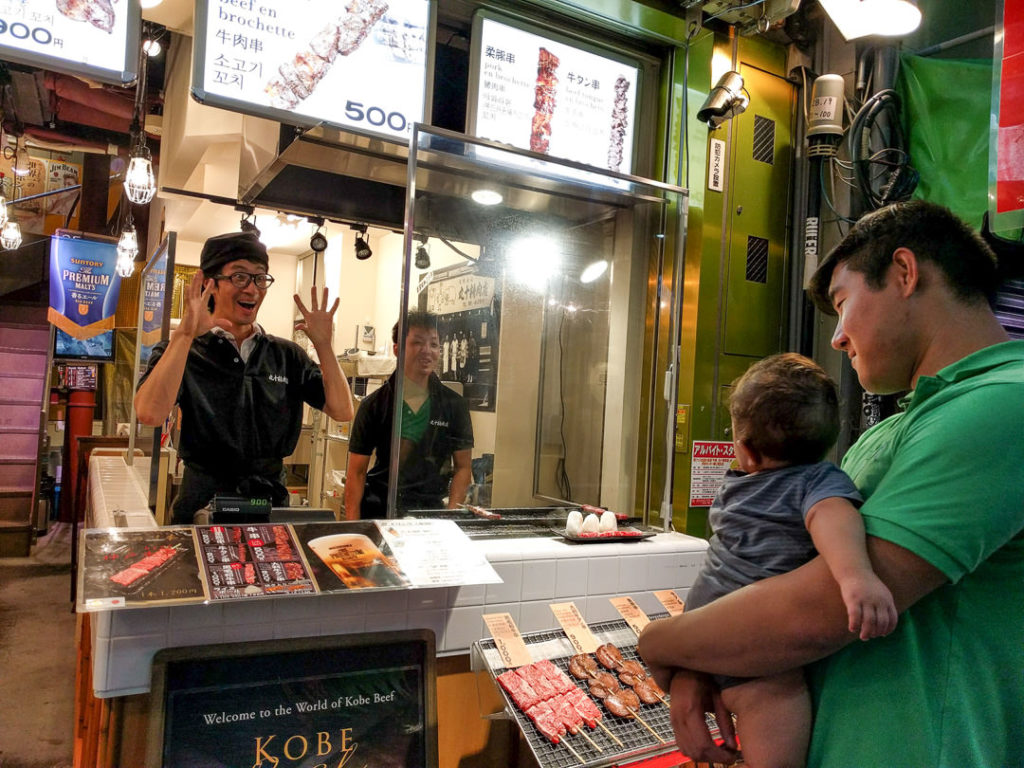 Baby-friendly food and dining considerations
Will my baby eat the local food or do I need to bring our own baby food? Every country has babies, and they all eat something, however, it may not be what you feed your baby. This means you'll be able to find very similar baby products in some destinations, but not everywhere. Some restaurants will puree fresh food for your baby.
Will sanitation and cleanliness be a problem? Everyone has different standards when it comes to cleanliness and some public places are cleaner than others. If this concerns you, think about whether the destination will work for your family.
Baby-friendly attraction considerations
Are the sights, attractions, and points of interest baby-friendly? You don't have to limit yourself to places traditionally considered baby-friendly. It's often easier to bring a baby (rather than a toddler) to most places. Though you should still consider if it will be realistic, easy, and safe to bring a baby to certain attractions and sights.
Are there changing tables, high chairs, and other baby things available? There may not be all the same baby facilities, amenities, and gear available that you are used to at home. And in other cases, there may be extras. Decide whether you consider these things essential.
Baby-friendly safety considerations
Will I feel safe bringing my baby there? A sense of safety is very personal and relative. Everyone has a different comfort level and you have to decide where you will feel okay.
Are there sufficient medical facilities available nearby if necessary? Think about healthcare in the destination. Will you be close or far from satisfactory medical facilities if there were an emergency?
Will my baby be able to safely walk (if applicable) or will I have to restrict their movements and keep them close and contained? Consider where you will be walking around and if it will be crowded with people and cars, or if it will have wide sidewalks and open spaces.
After traveling to so many different countries and bringing our babies along at various ages, we've realized you can bring your baby anywhere. Any destination can be family-friendly. However, this doesn't mean you will enjoy a trip anywhere with your baby.
Read more: Surprisingly baby-friendly travel destinations
Everyone's interests, preferences, and ideas about travel are so different. Being able to push their baby in a stroller will be a higher priority for some parents, or for others perhaps being somewhere with wide spaces and fewer crowds is more important to other parents.
You need to think about how certain things will be the same or different for you in taking care of your baby at different destinations. Think about how much these things will impact your trip. Decide what things you are okay sacrificing or doing differently and which things you are not.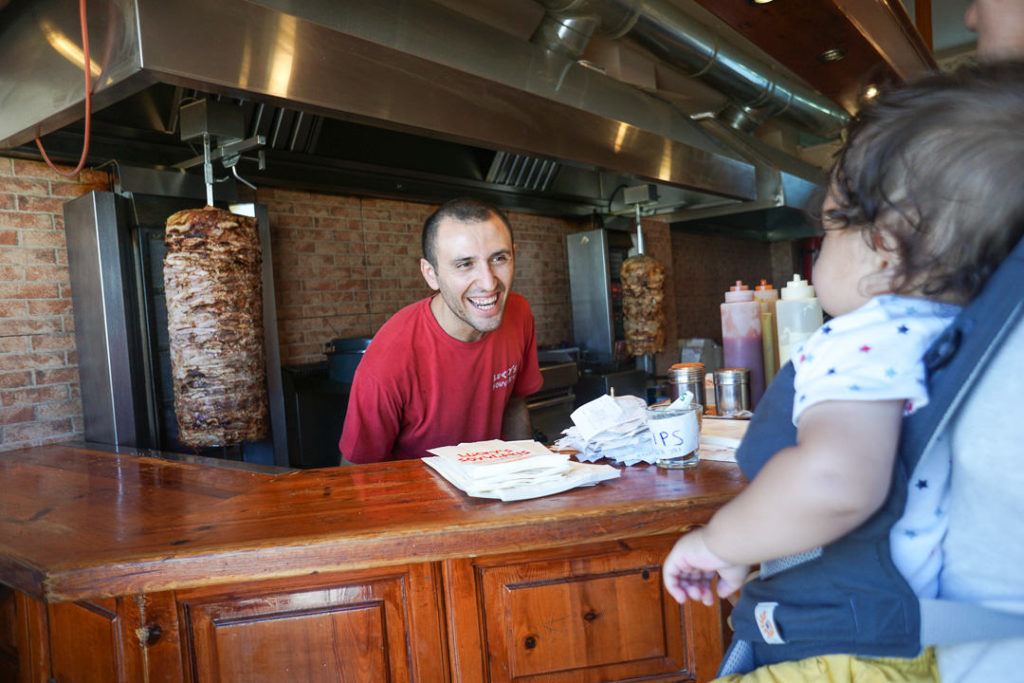 What concerns do you have when thinking about bringing your baby to a certain destination? Comment below so we can share our thoughts based on our experiences bringing babies to all different destinations.
People in Peru, Greece, Italy, Japan, and the UAE were very excited about our babies. This support of families makes a big difference in what places I consider baby-friendly. Furthermore, this doesn't mean places like this will have the latest amenities and infrastructure built for babies. Nevertheless, attitude and friendliness go such a long way in making you feel welcome to better enjoy your trip.
Related Reading
Pin it for later
Don't forget to pin this for future reference, and share it with any friends!