We took a whirlwind side trip to Oman from Dubai with our baby. I wish we had stayed longer, but it was still worth it, one of my favorite trips to date.
Getting to Oman with a baby
Flying to Oman from Dubai
We took a quick morning flight from DWC (Dubai's other airport, closer to the Palm) to Muscat. After we saw the dry Dubai desert start to drift away, we already had to prepare for landing, it's only a 1-hour flight. Muscat looked beautiful from above and it did not disappoint once we were on the ground.
Driving from Muscat to the desert
We reserved a car rental ahead of time through Sixt. We had to wait in the baggage terminal at the rental counter for a while where we filled out some forms, but mostly we were waiting for no known reason. Later we found out they were trying to find us a 4WD vehicle rather than only front-wheel drive. There were a lot more men than women hanging around as we've noticed in other Arab countries as well. I dressed conservatively, but still, several people stared. We finally got the car, car seat and GPS. It was only a 3-point harness car seat (ahh crazy car seat mama panic!), but it was okay and obviously better than no car seat. We set up everything and hit the road.
Steve drove. It was a little hectic leaving the airport, but nothing too crazy. Shortly we were out of the city and heading to the desert. We drove along some mountains, saw a few oases (so neat!), but mostly it was dry, barren land. There was a lot of road expansion construction which puzzled us since we didn't see much out there. We passed through various small towns, and then there would be nothing for a while.
Originally we were supposed to drive to a nearby gas station for the hotel to shuttle us to the desert camp. Since we got a 4WD vehicle, however, we decided to drive straight in ourselves (reviews claimed this was totally doable with 4WD). The GPS didn't work outside of the city and our phones didn't work. We had paper directions, but they were extremely simplistic and paper doesn't show you where you currently are in relation to your destination! It was a bit nerve-wracking when we were driving with nothing else in sight. We thought we had missed our turn a couple of times and debated turning back, but we kept going.
Eventually, we reached the spot. We turned off (no exit ramps) the highway road directly onto a dirt road. We kept driving straight, and the sleek orange sand started to disrupt the brown dirt rubble. Soon there was more sand than dirt and we were in the desert. There was a road if you can call it that. The road or trail was compact and you could see several tire treads so we knew we were going the right way, but nevertheless nerve-wracking since we were in the desert.
Sand and dunes were all around, there was nothing else in sight. It was about 100°F (38°C), we had a baby in tow, and our phone didn't work. On top of that, we had just found out I was pregnant. Thankfully all went well and we didn't have any emergencies! The ride was sometimes bumpy and other time super smooth, and then too smooth and we'd lose traction as if on ice. Either way, I was glad we drove ourselves and Elden was in that 3-point harness car seat rather than bouncing around in the hotel's truck with no car seat. He slept the whole way in!
A night in the Oman desert with a baby
Desert Nights Camp
We were very happy to see the white tents indicating our arrival at camp, Desert Nights Camp. We checked in and were brought to our tent. It was amply spacious with a sitting room, separate bedroom, and bathroom. They provided us with a baby crib/cot. The tent had AC which was comfortable for us, but also mind-boggling how they sustain the camp in the middle of the hot desert. We settled in our room then headed back to the lobby. The lobby had a low couch/floor pillow set up which Elden loved climbing up and down on. A playroom away from home – hotel lobbies are great for that!
Desert dunes
Every night shortly before sunset the hotel shuttles everyone up to the top of the dunes to watch the sunset. This was the major draw for me and I was not disappointed. The Wahiba Sands desert was stunning, I still have a photo of it as the background on my phone.
At first, the sand was still hot and we had to keep our shoes on, but as the sun dipped a little it cooled off quickly. The sand's saturation was so rich, changing from a golden hue to a rust-like color. It was the softest sand, I'd never felt anything like it. The camp provided drinks at the top to keep everyone cool. Elden had never played in a sandbox before this, he wasn't sure of the sand at first but quickly realized the fun and didn't want to stop. We walked around, took photos, played with the sand and watched the sunset. It was a perfect, awe-inspiring travel moment.
Eating in the desert
We were shuttled back down to the lobby and ushered to dinner. They provided a yummy buffet dinner with plenty of options: Omani, Middle Eastern, and International food. The restaurant had a nice outdoor dining patio, but a small sandstorm kicked up so we had to go inside. The staff was kind and attentive. They provided us with a highchair for Elden. It was a very peaceful and extra quiet night sleeping under the stars.
The next morning we had a buffet breakfast at the restaurant. Like dinner, there were several options and plenty of food. Everything was fresh and tasty. After breakfast, we went to meet some camels in the camp.
Meeting some camels
A local Bedouin (nomadic Arab people) family brings their camels by the camp regularly. Previously I'd only seen camels in a zoo or fair, but never up close. Their legs fold under them when they sit. I had to swing my leg up and over to climb up, then Steve handed me Elden and the camel owner told me to basically pin Elden using my forearms/elbows (because I still had to hold the ropes with my hands to steady us on the camel). The camel stood up which results in a big rocking motion for the rider. It was awkward and Elden was having none of that, so he basically went up and then back down.
I stayed on the camel for a ride around camp. I would've liked to go on a longer ride through the desert (which the camp offers), but we didn't have time and it would've been too hot for baby. The camp offers a variety of activities (dune bashing, sandboarding, souq visit, bedouin family visit and more), but we had to continue onward.
We left shortly after the camel ride. We rode much more confidently out of the desert versus in.
A day in the city
I had aspirations of us stopping in Nizwa (an ancient Omani city) but it would've increased our driving by at least 1.5 hours. We didn't feel up to it with our limited time remaining so we went straight back to the capital, Muscat.
We had lunch at Ubhar, a middle eastern restaurant specializing in Omani food. It was poshly decorated and I was slightly worried about bringing a messy baby in there, but the staff accommodated us graciously and didn't seem to mind. They had a booster seat high chair for Elden. We started with a sample platter of various Omani and Middle Eastern appetizers. Steve had the camel biryani (when in Oman…), and I had chicken with rice.
The Chedi Muscat
After lunch, we checked in our hotel, The Chedi Muscat. Muscat has very few hotel options, and since we wanted to be in the downtown area the pool was even further narrowed. This hotel almost felt like an attraction itself. We didn't truly have enough time to enjoy the hotel, unfortunately, but we did spend some time touring the grounds. It has a modern Omani style and is right on the water – gorgeous.
Despite its beauty, I did feel like we were a bit intrusive to the tranquil environment with a baby. No one seemed to mind, but it was very quiet and calm all around, so Elden's sounds and movements clashed with the vibe. The hotel staff were ready and accommodating a baby though, providing us with free milk for Elden and a travel-sized bag full of baby toiletries.
Sultan Qaboos Grand Mosque
We drove to see the Sultan Qaboos Grand Mosque. They only allow visitors inside on certain days during very limited hours in the morning or if you're Muslim. We couldn't get there in time, unfortunately, but I'm so glad we stopped to see the outside at least. Elden fell asleep in the car so Steve stayed and I walked around by myself. I had to cover my head but felt perfectly comfortable walking around alone. The grounds are gorgeous and the mosque is set in front of a beautiful mountainous landscape.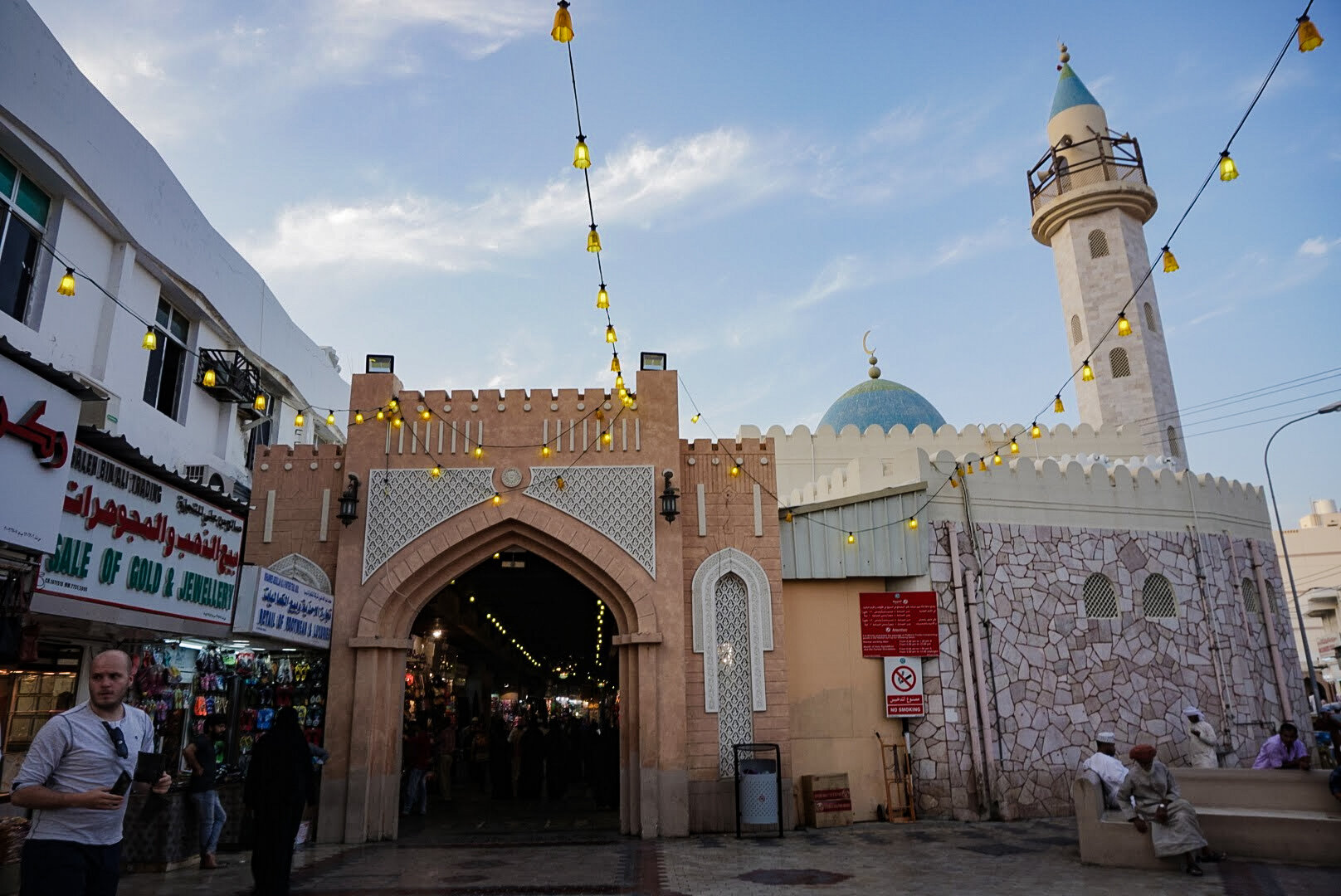 Mutrah
We drove around to let Elden sleep more and got a better idea of the city. Next, we headed to the Mutrah Souq. We only purchased a magnet, which is the one travel item we collect. Both tourists and locals frequent this souq, so standard household items were also for sale, not only tourist tchotchkes.
If we had more time in Oman, I would've spent another day in the desert, in the city and would've loved to visit Wadi Shab and Nizwa as well.
---
RELATED READING
---