On our trip to Dubai, I knew I wanted to look beyond Dubai and discover other places nearby. Abu Dhabi was a top pick, even with a baby. Actually, we found the UAE to be very family-friendly.
We're not huge tour people, we prefer to wander around ourselves, but sometimes we find a tour helpful. Figuring out transportation in a place you're not used to can be a challenge, especially if you want to jump around from sight to sight and/or travel long distances. Tours can be very helpful for this – they arrange and provide all the transportation so you don't need to worry about it. I've also found private tours a great way to get a car seat for baby if you don't want to bring your own or don't want to rent a car with one.
I considered having us take the bus from Dubai to Abu Dhabi, but decided the private tour would be easier and comfier with a baby. We booked a private car, with a car seat, through the Dubai Private Tour company. Two guides picked us up from our hotel for the tour, one drove on the way there and the other narrated UAE facts and answered our questions. They switched on the return trip. They were nice and informative, and the trip was enjoyable. The only negative was they were 2 hours late! I'm not sure the whole story, but essentially I think someone overslept and they were scrambling to wake up the person or find someone else. It worked out, and as I said, it went well, but it wasn't a good start to the day.
What We Did in Abu Dhabi with a baby:
If you go to Abu Dhabi this is the top must-see attraction. This was our first stop and absolutely my favorite. The mosque is stunningly beautiful. I could've stayed there for hours admiring every inch. It's so grand, pristinely white and dazzlingly dramatic – don't miss it!
Good to know:
Dress modestly: women – cover down to your wrists, down to your ankles and your head must be covered (they provide an abaya if necessary); men – cover down to your ankles and preferably your wrists, but short sleeves may be accepted; young children do not need to dress as modestly
Remove your shoes: you can walk the outside grounds with your shoes, but when you step into the mosque (both the exterior corridors and inside), you need to remove your shoes; there are cubbies to hold your shoes
Refrain from embracing: men and women should avoid embracing, holding holds, and other displays of affection while in and around the mosque (There are plenty of awkward photos of me and Steve standing next to one another not sure how to take a photo without touching somehow!)
Rein in your modeling: you should avoid taking dramatically posed photos; they will make you delete them, we saw this happen, seriously!
Strollers are okay
Palaces
We drove by the Presidential Palace and by the royal family's residences. We couldn't see much from the road and tall walls. All the emirates are governed by absolute monarchs. Abu Dhabi has a president and serves as the capital of the UAE.
Next, we stopped at the Emirates Palace. Marble and gold galore, this hotel oozes opulence. You can order a Palace Cappuccino that's sprinkled with 24-carat gold, and there was an ATM that dispensed gold inside the palace but not anymore. Not my style (or budget) at all, but it was interesting to see what all the fuss was about.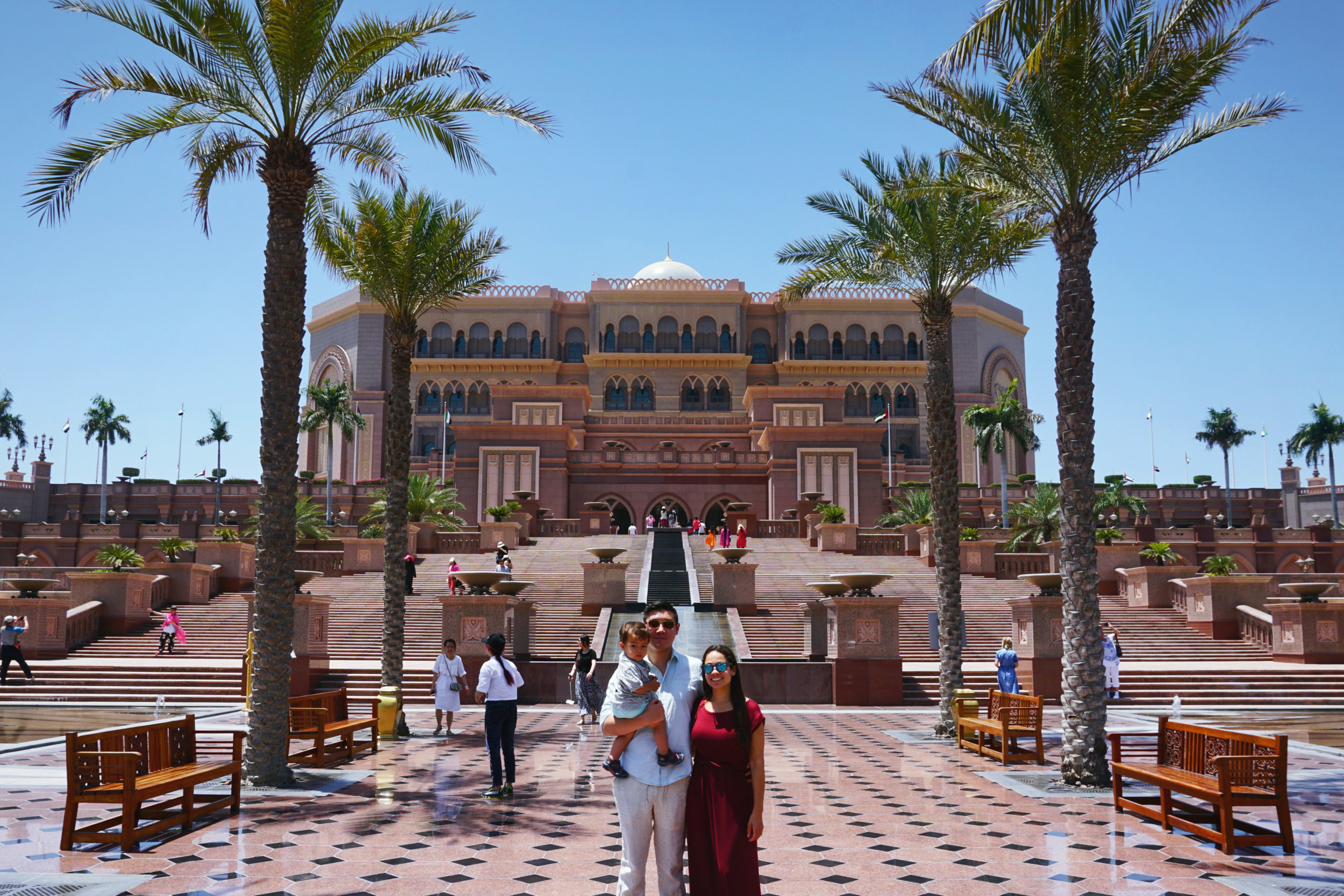 The Etihad Towers are on the other side of the palace. They're a collection of 5 modern sleek buildings used for residences, businesses, and a hotel. They've been filmed in a few movies too.
Beach
We drove along the Abu Dhabi Corniche and stopped to admire the beautiful blue water for a bit. Elden kept sleeping in the car (private tour perk). It's part of the Persian Gulf, but almost like a lagoon since Lulu Island creates a natural barrier to the open sea. It didn't fit with our schedule, but this would be a great beach to enjoy for longer, especially for kids – extremely clean, calm and pristine.
Yas Island
Our last two stops were both on Yas Island. We saw the track, Yas Marina Circuit, where Abu Dhabi hosts a Grand Prix Formula One race annually. Elden was still sleeping, Steve managed to take him out (still asleep), walk around a bit in the scorching sun and put him back in his car seat still asleep. This never ever happened in his life! We were astounded, but I think we just weren't letting him sleep enough on this trip. Thankfully he stayed in good spirits and was fine sleeping on the go in the car or stroller.
Lastly, we stopped at Ferrari World Abu Dhabi, a Ferrari theme park. They like their cars in the UAE! We only went into the outer market area – there were restaurants, shops and of course a Ferrari and other Ferrari-related items. As Elden was still a baby we couldn't take advantage, but if you have older kids, there are a bunch of fun theme parks in Abu Dhabi and Dubai.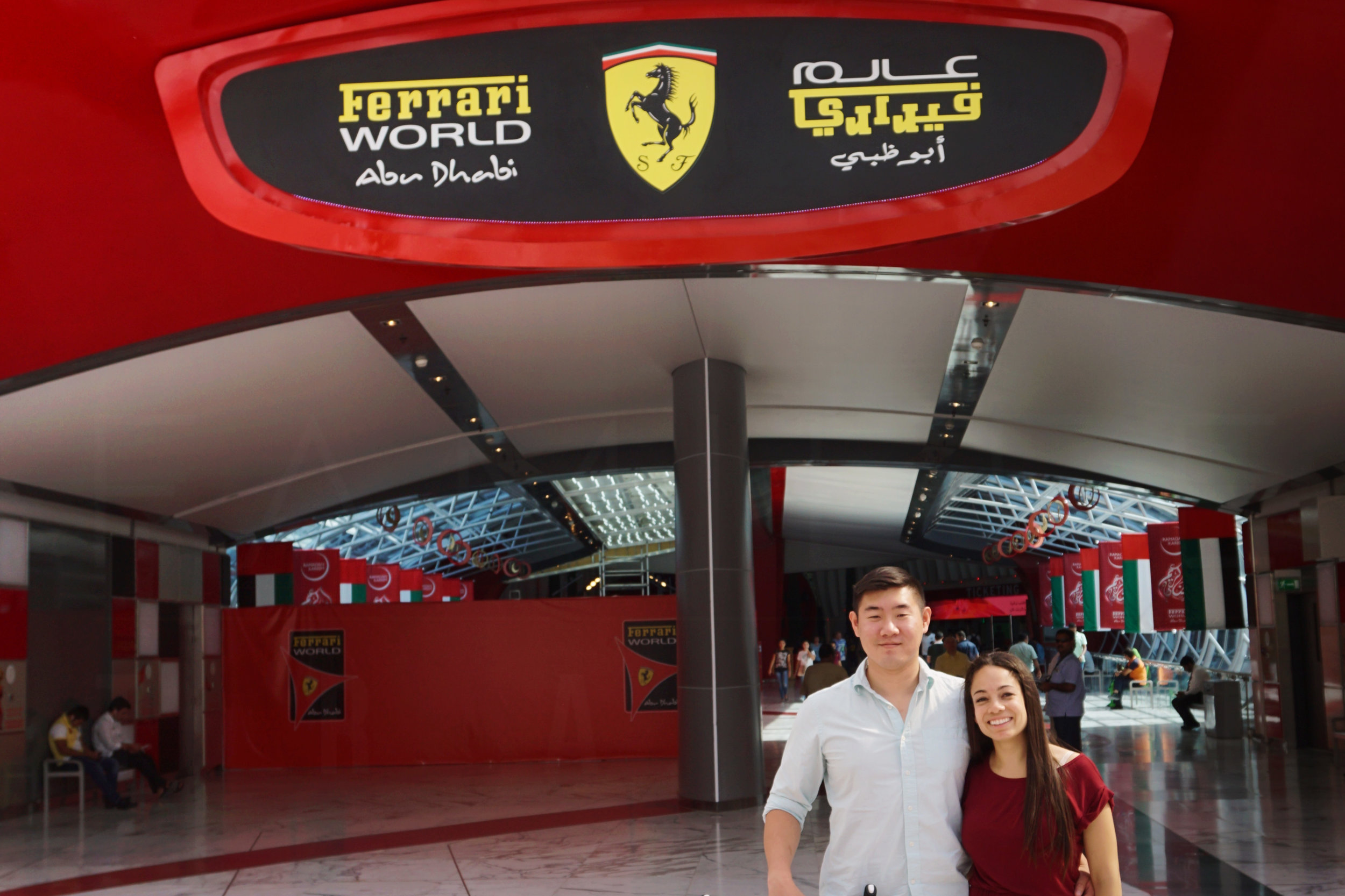 We drove back to Dubai within 1.5 hours and were back in time to have dinner. I think a day trip to Abu Dhabi was enough for us, we were satisfied with what we saw and felt we had enough time.
For our other side trip from Dubai, check out our Oman post, one of my favorite trips to date!
---
RELATED READING
---